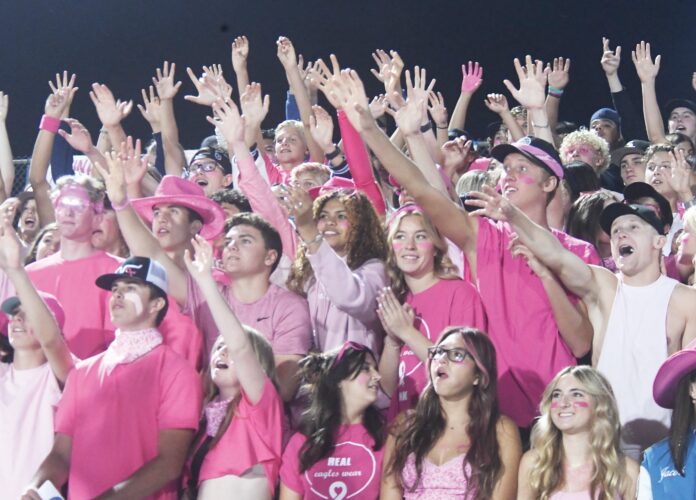 The Granite Hills High School football team has never won a San Diego Section championship. But that could change this weekend after the top-seeded Eagles defeated the fifth-seeded Mira Mesa Marauders, 45-8, last Friday in the Division II semifinals.
With the win, Granite Hills (10-2) advances to Saturday's championship game against the third-seeded Ramona Bulldogs (8-4) at Escondido High School. Kick-off is 7:30 p.m.
The Eagles have waited a long time for a chance to make school history after last qualifying for the 1969 section championship game when Granite Hills placed runner-up to Morse by a score of 28-7 in the Class 3A title game.
That's 43 years and nearly a couple generations ago.
"It was a great win for our kids," Granite Hills head coach Kellan Cobbs said about the semifinal victory. "We handled business in all areas of the game. Special teams' units did a great job of keeping the ball away from their best players and our punt return unit scored a touchdown.
"Offensively we capitalized on turnovers from our defense and put some points up on the ground and in the air. On defense, we had four interceptions."
The Eagles got out to a fast start to set the tone in last Friday's game, the most important contest of the season for both teams.
Sophomore Isaiah Jackson scored on a 16-yard run to give the hosts a 7-0 lead and senior Nico Tomasello fired a 20-yard scoring pass to sophomore Maxwell Turner to double the score. Tomasello later connected with senior Colin Riley on a 56-yard touchdown pass and the rout was on.
Makei Thompson (22 carries, 77 yards) scored Mira Mesa's lone touchdown in the third quarter but the Eagles kept dropping bombs on the Marauders as senior Easton Peterson scored on a 78-yard punt return for the reigning Grossmont Hills League champions.
Tomasello passed for 126 yards and two touchdowns while Jackson (nine carries, 93 yards) scored two rushing touchdowns. Senior Cedric Holden (three carries, 21 yards) also scored one rushing touchdown. Riley had two catches for 70 yards.
Granite Hills chalked up 364 total offensive yards compared to 234 for Mira Mesa (9-4).
Peterson led the hosts with nine tackles. Overall, the Eagles defense registered six sacks and four interceptions.
Junior Tyler Bertalan had two sacks while junior Jordan Glaze and senior Jon McClement both had one sack. Seniors Tyler Black, Daniel Netto and Derek Ibarra and junior Damarrion White each had a half sack. Netto recorded three tackles for a loss.
The Eagles and Bulldogs have not met on the field this season but both teams are clearly looking for respect. Granite Hills enters Saturday's championship game riding the crest of a six-game winning streak while Ramona has won its last four games.
There's a bit of history on the Bulldogs' side as well. It's the first time since 1973 that Ramona has played in back-to-back CIF finals after finishing runner-up in 1972 and as co-champions in 1973.
Ramona lost to Mater Dei Catholic in last year's Division III championship game.
The Bulldogs received a bye in the opening round of this year's divisional playoffs, as did the Eagles. Ramona eliminated sixth-seeded San Marcos, 21-14, in the quarterfinals to meet second-seeded Central Union in last Friday's semifinals in El Centro.
Ramona defeated the host Spartans, 19-7, to advance to Saturday's CIF final as senior Colin Lester threw a 51-yard touchdown pass to senior Jonny Cohen and also rushed for a one-yard touchdown.
Lester scored two rushing touchdowns in the playoff win over San Marcos.
"As far as Ramona goes, we need to contain their No. 12 (Lester)," Cobbs said in offering a preview of Saturday's CIF championship game. "He does a great job in the read run game and when they jump into their single wing packages. Ramona is a solid program who has played in the championship game many times, so I know they will be well prepared."
All that glitters
This year's section finals will crown seven champions – six at the 11-man level and one at the eight-man level.
Second-seeded Lincoln pulled off the shocker of the season by stopping top-seeded Carlsbad, 28-24, in last Friday's Open Division championship game at SDSU's Snapdragon Stadium.
The top-seeded Lancers (10-2) built a 21-6 lead only to have the Hornets (11-1) storm back with 22 second-half points, all in the fourth quarter.
It was the glamor game of the season.
Carlsbad scored on its first play from scrimmage as junior running back Mason Walsh scored on a 74-yard breakaway run. The Hive countered with a touchdown to pull to within one point by the end of the first period. The Lancers led 14-6 at halftime.
Neither team scored in the third quarter to set up a stupefying 32-point thrill-a-minute fourth quarter scoring extravaganza.
Lincoln came out victorious by scoring 22 of those points on breakaway touchdown catchand-carries.
Justin Johnson scored on a 57-yard interception return to put the Avocado League champion Lancers ahead by 15 points just 14 seconds into the fourth quarter. That served to unleash the Western League champion
Hornets' sting.
Senior K.J. Chatham completed an 80-yard field march with a 25-yard scoring strike to senior Josiah Cox to cut the deficit to 21-13.
Carlsbad inched ahead 24-13 on a field goal before the Hive tacked on the final two touchdowns in the game.
Chatham connected with junior Mahki Gray on an 80-yard strike up the middle of the field. Chatham came back with a two-point conversion pass to senior Raylon
Logan and the game suddenly took on a new face at 24-21. The game's outcome hinged on one huge play. Facing a fourthand-10 conversion, Chatham passed to senior Corey Thompson-Miller for a clutch first down.
But Thompson-Miller kept going after the Carlsbad defense failed to bring him down, the end result of which was a 65-yard scamper down the sideline to score the game-winning touchdown with 3:38 to play.
Chatham finished the game with 231 yards and three touchdown passes while Lincoln senior star running back Roderick Robinson rushed for 121 yards as the Hornets topped 400 yards in total offense.
Walsh countered with 202 rushing yards for the Lancers, whose season ended with a pair of sacks by Lincoln senior D.J. Peavy and junior teammate Jerome Roberts.