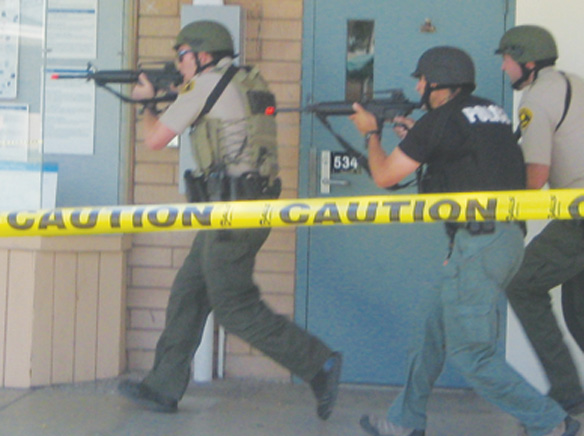 On Dec. 7, recruiters Teri Black and Tina White held a community forum where anyone could call in with suggestions on hiring the next La Mesa Chief of Police. Every single caller mentioned concerns such as eliminating systemic racism within the law enforcement agency, building shared culture with the community and a desire for neutral, possibly external applicants who are unbiased by recent race-related events.
Nearly seven months ago, the suburban community of about 59,000 residents was the unlikely location of violence that developed when a peaceful May 30 Black Lives Matter-associated afternoon rally escalated into mayhem during which protesters were shot with rubber bullets, several storefronts were destroyed by looters, and the historic Randall Lamb building was burnt to the ground.
In addition to nationwide protests born from the May 25 death of George Floyd, a Black man who died in handcuffs while a white Minneapolis police officer knelt on his neck for almost nine minutes, locals condemned a May incident in which a Black man, Amaurie Johnson was shoved and arrested by white La Mesa police officer Matthew Dages for allegedly smoking near the Grossmont Trolley station, assaulting a police officer and resisting arrest.
Since then, La Mesa has been the gathering point for at least three additional protests attended by hundreds of individuals demanding racial justice, as well as destination for several vigilante groups.
La Mesa Christian Church Pastor Rebecca Littlejohn advised Black and White to remember the  La Mesa Police department has a broad reach that affects everyone who regularly passes through La Mesa, whether or not they are residents.
"I kept hearing people say the people at protests weren't coming from La Mesa, like there was no way little La Mesa had a problem. The community of La Mesa is more than just its residents. I live in unincorporated El Cajon but I'm a pastor in La Mesa. The community is all about people who work or shop, the reality is that all our municipal boundaries in San Diego are very porous," Littlejohn said.
Janet Castanos, a 38 year resident of La Mesa, said building trust with the community is most important, that a strong change agent is needed who will address concerns transparently.
"It's not enough to be not a racist you have to be an anti-racist," Castanos said.
Resident Andy Trimlett also said he wants 'a police chief who adopts an anti-racist approach" because merely being 'not a racist' is not enough to affect change.
Resident Natalia Rogers said she is an immigrant from Mexico who has lived with her husband in La Mesa for six years, and has concerns.
"My husband is black and we have concerns. We'd like the new police chief to understand the difference between equity and equality. The leadership needs to understand what culture needs to exist in the police environment to promote equity and how the police union promotes equity in the community," Rogers said.
Justin Joseph, a lifetime San Diego resident who does business with Helix Water district also said a culture shift is needed.
"Police can and do violate our rights without recourse. A shift in culture in the department is needed, and an outside leader doesn't bring any baggage that already exists within the department," Joseph said.
The ideal police chief, Trimlett said, would "go out of doors and meet with people, listen to what people are saying and answer their questions' and take a firm stand against officer misconduct.
"Also, stop with the acquisition of military hardware. I want to see an end to the political statements like the 'thin blue line flag' on uniforms. I'd like to see police take a firm stand against vigilante activity," Trimlett said.
Susan Wayne also said she'd 'like to see the next police chief denounce the vigilantism in our community' and that she'd like the city to hire a police chief who lives in the community.
La Mesa residents and business owners are welcome to submit feedback to recruiters at: https://www.cityoflamesa.us through Dec. 31.
Recruitment closes in January and a new Chief of Police will be announced in March.
A previous version of this story incorrectly identified Janet Castanos as 38 years old.
At the time of publication Castanos was a 38 year resident of La Mesa.
The East County Californian regrets the error.