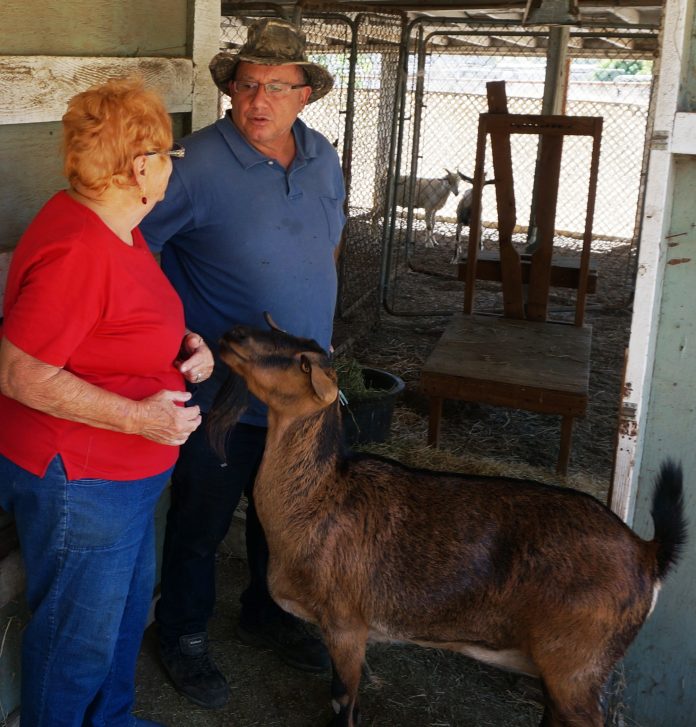 On the Saturday morning of July 6, Evelyn McCranie went out back – like she does every morning – to check on her two pet goats, Bambi and Cindy Lou. She found both in the open corral at the rear of her Moreno Valley property in Lakeside, but only Bambi was alive. Cindy Lou lay dead and partially eaten.
Evelyn soon learned a neighbor's pet goat had been killed the same night, just a few houses away. In fact, at least 10 goats have reportedly died in the Moreno Valley area in recent weeks. So far, the clues are minimal: no noises, no sightings, no photographs – nothing but a few suspicious animal prints left behind. According to some, the prints suggest a mountain lion may be using the valley to feed.
Mountain lions have been in the local news frequently in recent months, from live sightings to the attack and injury of a young child in a Peñasquitos canyon park. That lion was immediately located and killed.
The possibility of mountain lions in the area and preying on pets has some locals concerned, and a common reaction is to hunt down and destroy the creature responsible for such cruelty, but the reality, according to Billy Ortiz, a Lakeside resident, is that lions are neither good nor bad – they are just being lions.
"This is not a bad lion, it's just doing what it usually does" said Ortiz, who has spent his entire life in the backcountry learning about nature and the predators inhabiting backcountry hills.
Ortiz received a text message about the killing from a friend – he is well known in the community – and decided to look into the matter and see what he could do to help.
Ortiz went to the scene and contacted McCranie and her husband, Earl. McCranie, though still reeling from the violent death of one of her pets, was willing to let Ortiz have a look around.
"I walked the perimeter, found large tracks and small tracks," he said, surmising that he believes it may have been a mother cougar and her cub.
Ortiz took to Facebook (his popular Lakeside site boasts nearly 4,000 followers) and documented the event, in an effort to get the word out. The post attracted the attention of San Diego News 8 and a reporter was dispatched to cover the story. It aired Monday evening, July 8, alerting an even larger circle of people to the potential danger.
While Ortiz and a growing number of individuals are convinced a lion is wandering the Moreno Valley, others are not so sure; not yet, anyway.
Renee Owens is a wildlife and conservation biologist who lives in the Lakeside area. In addition to international research, Owens has hiked throughout the area, including in the nearby El Monte Valley. She has been in contact with Lakeside's River Park Conservancy and the Mountain Lion Foundation.
"My biggest concern regarding this latest issue is that fear-mongering will result in a dead lion," she said. "I have asked quite a few people to send me anything they know of indicative of actual evidence, first hand observation, etc., and have received nothing, including any photos of tracks that are actually determinate of a mountain lion. Usually when people do have evidence or a first-hand account, they are eager to share, so when nothing is forthcoming it is telling."
Owens said she also worries about opinions being perceived as facts.
"I appreciate people wanting to share their personal opinions about local wildlife, but when reporters … quote speculation as fact it can blow up quickly," she said.
Owens added that she contacted the news station covering the story, but they disregarded her input.
"Mountain lions eat goats because they can," Owens said. "Their motivation is hunger. Most humans are never really hungry, so people don't and can't understand this motivation. I hope the takeaway is that living in the back country, even in the suburbs, with outdoor pets and livestock means you have to be responsible for keeping them safe whether it is from the weather, disease, predators, big and small, dogs or sketchy neighbors."
If a lion or a coyote sees an easy way toward their next meal, they will take it. Smaller pets and farm animals wandering in an open yard after dark are simply an invitation for dinner.
In the case of Evelyn's goats, the pair had lived unmolested in a large yard behind the house for many years. The yard contained an animal shed, but the goats rarely used it. Ortiz suggested some upgrades to the structure and offered to do it himself, having experience in building and construction. Evelyn thankfully took him up on his offer. She can now secure her pets every evening, something that gives her peace of mind after the tragic loss of her Cindy Lou. She was very appreciative of Ortiz and his help.
Ortiz's attention to the incident helped Evelyn in another way. His Facebook post reached a Chula Vista man who was moved to get involved.
"Immediately, I felt a sense of duty to help," said Joe Diaz, a high school teacher who happens to raise goats as well. Diaz contacted Ortiz with an offer of two, five-month-old goat siblings for Evelyn. Evelyn loved the idea.
On July 9, Diaz delivered the two Nubian/Saanen breed brothers to Evelyn. Though the goat meeting was a bit tentative – Bambi being a little leery and the new goats a little skittish – it did not take long for the trio to get along. Two days later, the progress was evident. Bambi was definitely in charge, but Calvin and Billy Joe (as Evelyn has named them) were looking pretty comfortable in their new home. Evelyn locks them up every night before dark.
Ortiz has installed a critter cam on the property, but there has yet to be any sign of further visits or predation.
The Mountain Lion Foundation is planning a community meeting in August to address the issues of living in the back country. Representatives will explain lion myths and facts and offer suggestions on how to keep your pets and livestock safe. The time and place of the presentation will be announced soon. It will be free to attend.