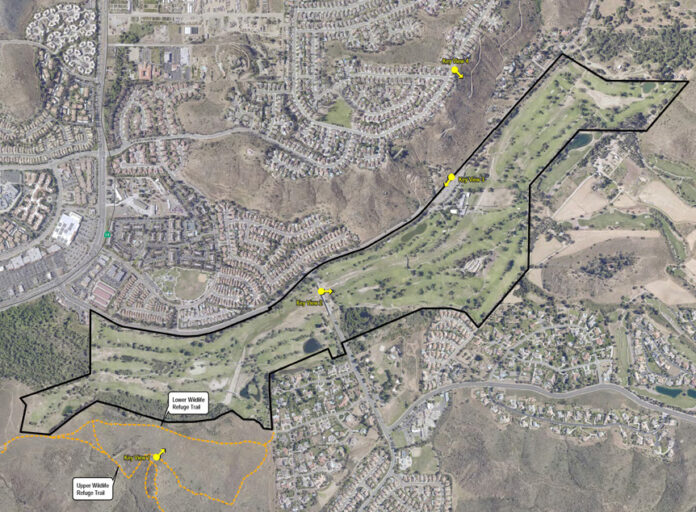 After two in-person public meetings cancelled due to the COVID-19 pandemic, the public input for the Cottonwood Sand Mining Project is extended to Feb. 18.
There is a virtual/phone-in public meeting/teleconference to be held on Wednesday, Jan. 19, from 7 p.m. until 9:30 p.m. The meeting may be accessed at : https://bit.ly/CottonwoodSandMine or the meeting can be access by calling (619) 343-2539 and providing conference ID number 972 237 701#.
Cottonwood Golf Club, located on Willow Glen Drive within Rancho San Diego in unincorporated El Cajon, was purchased by Michael Schlesinger in 2018 through his company, New West Investment Group, Inc., located in El Cajon, four years after the golf club went bankrupt in 2011.
The county confirmed New West Investment Group is the applicant for this project.
The project proposes extracting from approximately 213.4 acres of the nearly 280-acre site, in four phases. Phases one through three of extraction would span over 10 years, with the fourth phase of cleanup, equipment removal, and final reclamation spanning two years.
Mining operations would extract, process, and transport aggregate consisting primarily of sand suitable for Portland cement concrete. Approximately 4.3 million cubic yards (6.40 million tons) of material are proposed to be extracted, with approximately 3.8 million cy (5.7 million tons) produced for market use. Operations would occur Monday through Friday, between the hours of 7 a.m. and 5 p.m. Trucking operations for material sales would occur Monday through Friday from 9 a.m. to 3:30 p.m. There would be no processing of materials or trucking from the site on Saturdays, Sundays, and major holidays. The project is projected to employ 21 trucks per hour.
The DEIR identified significant environmental impacts to the existing and surrounding area. Factors identified are aesthetics, biological resources, cultural resources, noise, paleontological resources, and tribal cultural resources. It states that impacts with aesthetics, even with mitigation measures, would be significant and unavoidable, but that the other factors can be reduced to less than significant with implementation of mitigation measures.
The project requires a major use permit and reclamation plan. The site extends west east from approximately 600 feet east of the intersection of Willow Glen Drive and Jamacha Road, to approximately 0.25 miles west of the intersection of Willow Glen Drive and Hillsdale Drive. Willow Glen Drive parallels the north side of the project site and Steele Canyon Road bisects the western portion of the site.
DEIR documents can be reviewed on the County's website at www.sandiegocounty.gov/pds/ceqa/MUP-18-023.html. DEIR documents can also be reviewed at the Rancho San Diego Library located at 11555 Via Rancho San Diego, El Cajon, and the Casa de Oro Library, at 9805 Campo Road, #180, Spring Valley. The public review period has been extended to end on Feb. 28. Comments on the DEIR must be received by the County no later than Feb. 28, 2022 at 4 p.m. Comments on the DEIR must be sent to Robert Hingtgen, Planning & Development Services, 5510 Overland Avenue, Suite 310, San Diego, CA 92123 or emailed to Robert.Hingtgen@sdcounty.ca.gov.