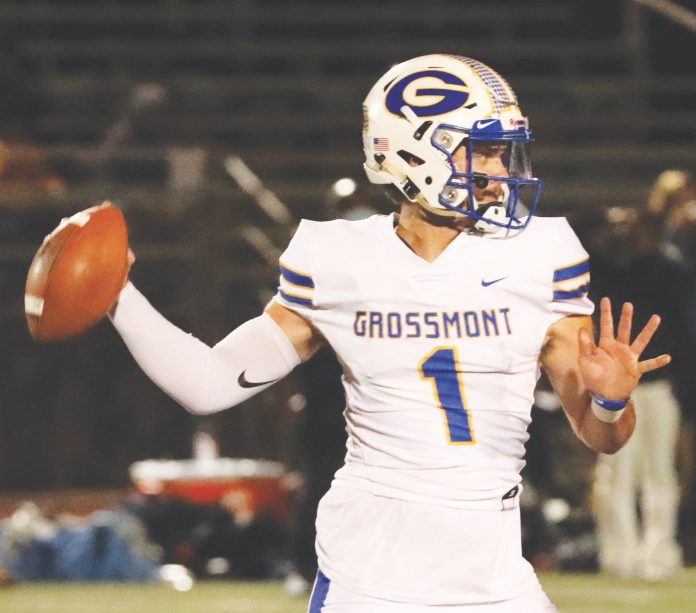 The high school football season — as short as it was this spring — did not end with a bang or a whimper. It just ended.
Prior to the much-delayed kick-off of the 2020 season, it had already been determined there would be no divisional, regional or state playoffs.
The season would consist wholly of regular season games.
The schedule was not uniform, either.
Grossmont Conference teams played between four and six games. None of the 11 conference teams finished undefeated and not all member teams played all their scheduled games.
Mount Miguel High School was unable to complete its five-game season because of a lack of available varsity players.
The Matadors, led by senior quarterback Jacob Laverdiere (1,152 total offensive yards, 10 touchdowns), ended their season 2-2 in the four games they did play, recording a 2-1 mark in Grossmont Valley League play.
The final week's schedule required some tweaking with the Steele Canyon Cougars filling in for the Matadors against Monte Vista High School on April 16 in what turned out to be a non-league contest.
Steele Canyon had originally been scheduled to play Helix Charter in a Grossmont Hills League clash, which necessitated the Highlanders to play a high-profile non-league game at La Jolla High School, ranked eighth among section teams and first among Division II squads.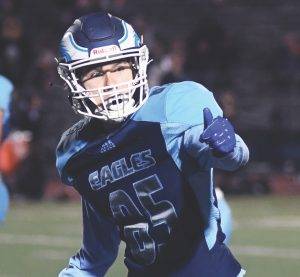 The two other Grossmont Hills League teams that had originally been scheduled to play one another — the Granite Hills Eagles and Grossmont Foothillers — both found other opponents for their April 16 finales. Granite Hills put its undefeated 5-0 record on the line by hosting second-ranked Carlsbad while the Foothillers hosted Santa Fe Christian, ranked third among the section's Division III teams.
Both games were suggestive of bowl-type matchups.
Who's on top?
Officially, no league championships were awarded this spring, though the win-loss column obviously sorted the stronger from the weaker teams.
The four Grossmont Hills League teams did not play their final round of games for various reasons but did play each opposing team once.
Granite Hills, led by senior quarterback Justus McComb (1,603 total offensive yards with 16 touchdown passes and seven rushing scores), finished 3-0 in matchups against Grossmont, Helix Charter and Steele Canyon to capture a "mythical" league title. Helix, paced on the ground by junior Christian Washington (1,242 all-purpose yards, nine touchdowns), finished 2-1 in league with victories against Steele Canyon and Grossmont.
Steele Canyon, keyed by sophomore Major Givens (1,060 all-purpose yards, nine touchdowns), defeated Grossmont for its only league win while the Foothillers finished 0-3.
Not all of the seven Grossmont Valley League teams played the same number of league games.
El Cajon Valley only played three other league opponents, finishing 0-3 with losses to Mount Miguel, Monte Vista and West Hills.
Monte Vista, Santana and El Capitan all finished 3-1 in league play to share a "mythical" tri-championship. Santana entered its final regular season game against crosstown rival West Hills sporting an undefeated 4-0 record but fell, 20-7, to the Wolf Pack to miss posting an undefeated season.
El Capitan, paced by junior Savigon Yokley, ended the season with a rush following a lopsided 0-3 start by reeling off consecutive league wins against West Hills (27-14), Monte Vista (23-21) and Valhalla (28-6).
Monte Vista, which racked up 1,287 rushing yards and 18 touchdowns in six games, kicked off defense of its 2019 league championship with commanding wins against Valhalla (35-0), West Hills (36-6) and El Cajon Valley (42-8) but could not complete the task with the loss to the Vaqueros.
West Hills finished 2-2 in league play while Valhalla finished 0-5.
Santana finished with the best overall record among Grossmont Valley League teams at 4-1, followed by Monte Vista at 3-2, El Capitan at 3-3, Mount Miguel at 2-2, West Hills at 2-3, El Cajon Valley at 1-4 and Valhalla at 0-6.
Granite Hills had its hopes of an undefeated season dashed in a 63-14 loss to visiting Carlsbad to conclude the season with a 5-1 record, tops among Grossmont Hills League teams.
Helix, fielding one of its youngest and most inexperienced lineups in years, overcame a stunning 0-2 start to finish 2-4 with victories in two of its final four games. The Highlanders dropped a highly competitive 28-21 contest at La Jolla to finally end the season.
Grossmont, which had its initial game against Mission Hills cancelled due to COVID-19 protocols on the part of the Grizzlies, did finish the season on a high note with a 37-22 win over Santa Fe Christian to end a three-game losing streak with a final 2-3 overall record.
Final conflict
Granite Hills' matchup against Carlsbad (5-0) continued to show a gap between the top four Open Division teams and the remainder of Division I.
The Lancers, displaying some razzle-dazzle and trick plays, built a quick 28-0 lead on an otherwise stout Eagles defense.
McComb passed 14 yards to fellow senior Wyatt Henderson in the second quarter for Granite Hills' opening touchdown. McComb later ran for a two-yard score as Carlsbad led 42-14 at halftime. The high-powered visitors kept rolling with 21 second-half points.
"Carlsbad is the standard for public schools in the state of California," Eagles coach Kellan Cobbs said. "It was a good measuring stick, and we know we still need to put some work in and make some steps to get to that level. Excited about the direction of our program."
Making the grade
Coaches approached the shortened schedule in varying ways. All agreed it was for the seniors, some of whom were able to capture invaluable film to sway college recruiters. Some coaches looked at the short season as a way to evaluable talent for the upcoming fall season.
Eight teams in the section's top 25 rankings finished with undefeated records: No. 1 Cathedral Catholic, No. 2 Carlsbad and No. 3 Mission Hills, No. 6 La Jolla, No. 8 Poway, No. 14 Ramona and No. 25 Central Union all with 5-0 records while No. 10 Eastlake finished at 4-0.
A total of nine teams finished undefeated. Sweetwater, which finished ranked third among Division IV teams, also finished 5-0.
Not everyone felt ready to compete due to player shortages and other issues.
Point Loma only played one game before canceling its season following a 64-0 Western League loss at Lincoln.
Other teams that failed to start or end the season included the Southwest Raiders, Clairemont Chieftains, Bishop's Knights, Calipatria Hornets, El Camino Wildcats, Army-Navy Academy and Francis Parker Lancers.
Oceanside, a longtime section power, canceled its final two games due to a positive CIVID-19 test to finish its season with an uncharacteristic 0-3 record.
While no divisional playoffs took place this season, rankings served as a stand-in for "mythical" divisional champions.
Taking that lead, Cathedral Catholic (5-0) would be noted as the top team in the Open Division while Torrey Pines (3-3) stood tallest among the remaining Division I teams. Other top-ranked teams in their respective divisions included La Jolla (5-0) in Division II, Mater Dei Catholic (3-2) in Division III, Patrick Henry (3-1) in Division IV and Tri-City Christian (4-1) in Division V.
Granite Hills finished ranked 11th overall among section teams, ninth in Division I, while Helix came in at 17th overall (12th in Division I), Steele Canyon at No. 19 (14th in Division I) and Grossmont at No. 24 (16th in Division I).
Christian (3-2) finished ranked ninth among Division II teams while Monte Vista, Santana, El Capitan and West Hills finished ranked sixth, eighth, ninth and 12th, respectively, among Division III teams.
Mount Miguel finished ranked fourth at the Division IV level while Valhalla was 11th. El Cajon Valley finished ranked seventh in Division V while Mountain Empire (0-6) was ranked 12th.