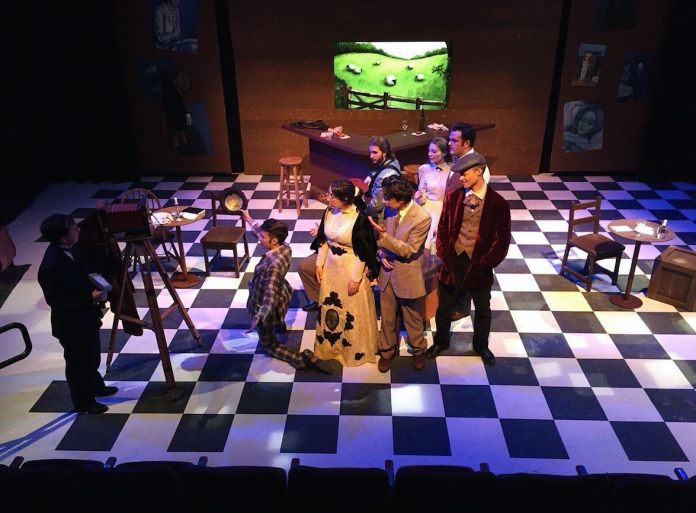 Two guys walk into a Montmartre bar in the devil-may-care Paris of 1904. One turns to the other and exclaims, "The idea is coming!"; unmoved, the other responds, "Well, so what?"
Out of context, that dialogue isn't particularly connected, much less funny — but it does reveal a lot about Pablo Ruiz Picasso and Albert Einstein, the two principals behind "Picasso at the Lapin Agile," comedian Steve Martin's 1993 nod to the human intellect and its capacity to astound.
The Grossmont College Theatre Arts Department is currently having its way with this selection, and with good reason — the story behind the collision of the two minds (the men never met) makes an ideal college-level play for inquiring young brains. Equally, the characters are roughly the same ages as the students who'll see the show, yet they're historically remote enough that their theories on art and science play ceaselessly on everybody's imagination.
Director and department chair Beth Duggan has created a nice state of affairs, plausible in its coherence and quite watchable in its culture of ensemble.
The men match wits behind their world-beating genius, in full view of Lapin Agile owner Freddy (James Allen), his prevaricating girlfriend Germaine (Piper Fullington) and art dealer Clovis Sagot (Remus Harrington), who evidently were all alive at that time.
Picasso would have been 23 back then; Einstein, 25 — both were knocking at history's door as the world awaited Einstein's special theory of relativity and Picasso's ground-breaking "The Ladies of Avignon" (Sagot would eventually take up Picasso's Afro-Cubist cause with a vengeance).
Both men are the Western world's captains of art and science, and both eventually recognize how the natures of their talents complement one another. For comparison's sake, Martin introduces pseudo-inventor Charles Dabernow Schmendiman (Harrison Harper), a legend in his own mind, and a time-traveling Visitor (Ewan Sabri) whose "Heartbreak Hotel" is a counterweight to the discussion of what constitutes art.
Martin, a seasoned art collector himself, drew a lot of his story from quoted matter, which Picasso would have loved. The icon was ever the self-promoter, while his counterpart stayed relatively conflicted in matters scientific (perhaps he somehow knew that his theories would foreshadow development of the atomic bomb).
In any case, Martin has drawn both figures disparately and with both egos firmly intact while the Lapin Agile patrons endorse both sides through their nonchalance. Weathered Gaston (a good Aaron Duggan) is authentically French, somehow reassuring in his worldly, aging je ne sais quoi. Suzanne (Sofia Scafidi) squarely occupies the other side of the spectrum — she knows Picasso's womanizing side well, if you get the drift, and for her, the difference between art and science is important only if it benefits herself.
The show's technical traits hold up relatively well, with Veronica von Borstel's costume designs addressing the play's plot points and the characters inside the clothes. Craig Everett's substandard scene design represents a point of departure.
Einstein and Picasso's debate on the corollaries between art and science is older than time; yet Everett's bar is just a bar, neither a statement on Martin's play nor a watering hole with a corresponding history.
Even so, this "Picasso" carries some very thoughtful moments on the nature of ideas, which in the animal kingdom is an exclusively human domain. Everybody has opinions, it says, and everybody's willing to make them known, even uninvited — in the end, it declares, our viewpoints aren't all that far apart. Very good.
This review is based on the matinee performance of Oct. 5. "Picasso at the Lapin Agile" runs through Oct. 12 at the Stagehouse Theatre, 8800 Grossmont Blvd. in El Cajon. $15, $12, $10. 619-644-7234, grossmont.edu.