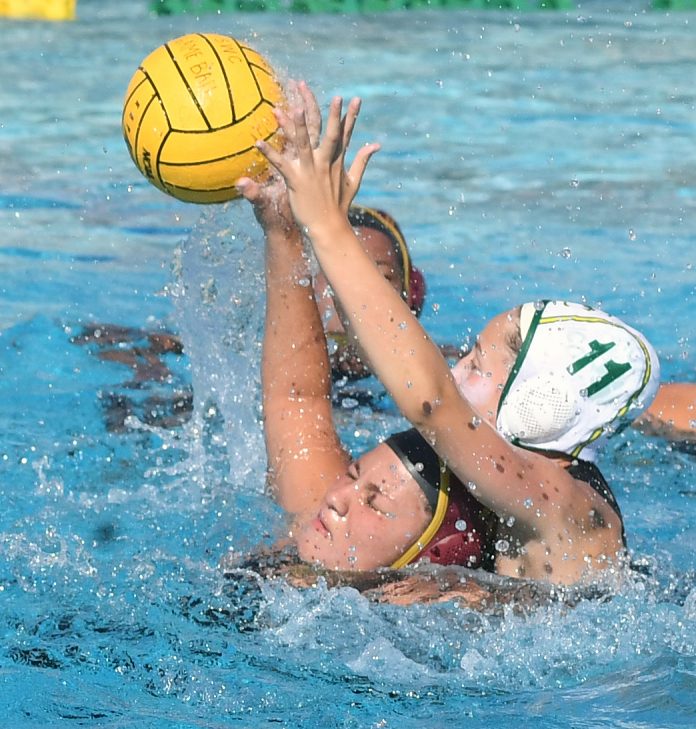 Grossmont College's men's and women's water polo teams swept a doubleheader from Southwestern College Sept. 25 at the Salvation Army Kroc Center pool to open Pacific Coast Athletic Conference play on a winning note.
The Grossmont College men's team, defending PCAC champions, defeated the Jaguars, 16-4, while the Griffins' women's water polo team, the third-place finisher at last year's conference finals, used a 6-0 start to top the Lady Jaguars 18-9.
The Grossmont College women improved to 6-1 on the season by claiming the team's six consecutive win following a 16-4 loss to Fullerton College at the season opening Saddleback College tournament.
Valhalla High School alumna Jasmine Miller led the Lady Griffins with eight goals and two assists in the win over Southwestern College while Granite Hills alumna Madelyn Ward collected two goals and two assists.
Three other players scored two goals for Grossmont College in the game: Cassandra Greene (Olympian), Maria Jimenez (Otay Ranch) and Madison Logsdon (Valhalla).
Logsdon and Leslie Garcia (Steele Canyon) paced the Lady Griffins with four steals.
Jasmyn Austin (Bonita Vista) led Southwestern with four goals, one assist and six steals in the loss.
Prior to the game against the Lady Jags, Grossmont participated in a mini-tournament Sept. 20 at Southwestern College, finishing 2-0 with victories against Chaffey (17-8) and Pasadena City (15-2).
Miller led the Lady Griffins with 10 goals in the win over Chaffey while Ward scored three goals. Ward had four goals against Pasadena City while Miller scored three times as Grossmont built a 10-1 halftime lead.
Grossmont College's men's team defeated Palomar College, 21-7, in last year's PCAC championship game en- route to a final 24-6 finish as brothers Brock and Cole Kammerer earned All-Southern California first team honors.
However, the Griffins will be fielding a much younger lineup in 2019 — one that includes a dozen freshmen recruits from seven high area schools.
Grossmont head coach Ty Lackey said the plan is to get the new players a year of experience in the pool and pair them with veteran players who are either red-shirting this season or taking the year off.
"We have a freshman team this season and a year in the pool will give them some great experience," Lackey said in previewing this year's squad.
Keith Patrick (West Hills) led Grossmont with 15 points (10 goals, five assist) through four games while Bonita Vista sharp shooter Emiliano Castro had collected 11 goals and 14 points. Valhalla's Thomas O'Carroll followed with 10 points (five goals, five assists) to rank third on the team's scoring chart.
Grossmont College's water polo home games are played in La Mesa at the Kroc Center. The Griffins will host Palomar College in doubleheader action on Oct. 9, with the women's game scheduled at 2 p.m. and the men's game at 3:30 p.m.
The 2019 PCAC championships are scheduled Nov. 8-9 at Southwestern College.