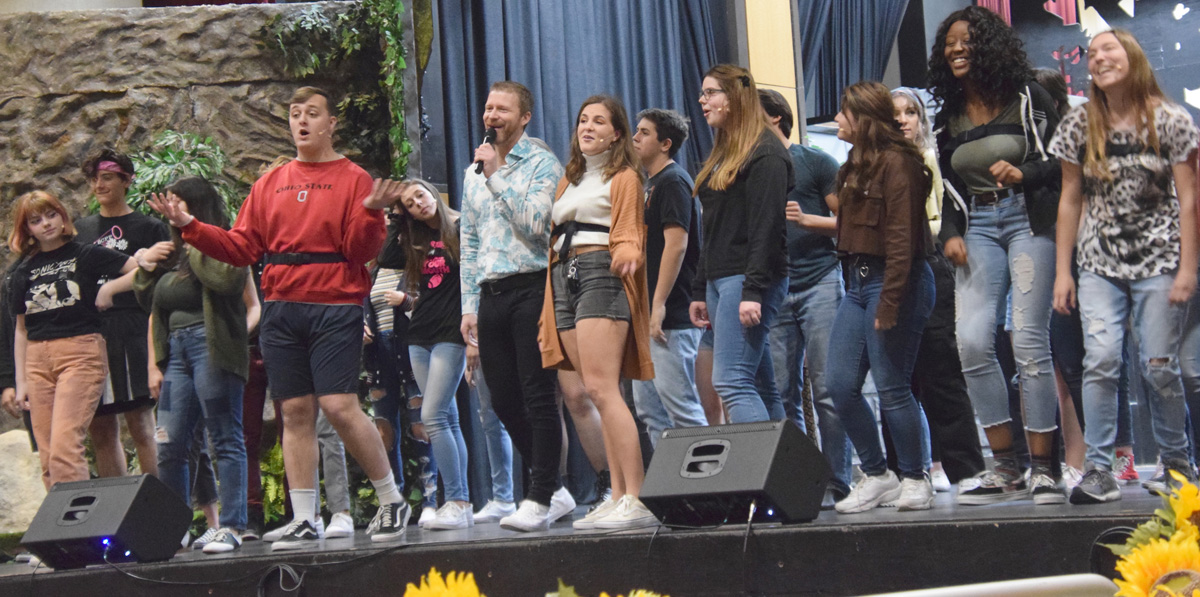 For the second year in a row, London stage actor Dean Chisnall returned to Steele Canyon Charter High School in Spring Valley to work with theater students for one night only in "An Evening with Dean Chisnall" benefit for the school's theater program on Feb. 29.
Chisnall spent three days prior working with the Steele Canyon players, not only on the material for the show, but also for their upcoming performance of "Shrek, the Musical" March 18-29.
The first half of the production was an intimate look into the actor's life and experiences in working with the Steele Canyon players and directors. Chisnall charmed the audience with unswerving dedication in support of the students, and direct answers for those who have the dream to make musical theater a career in an intimate fireside setting.
In between Q&A with Steele Canyon theater director Nicole LaBella and music director Heather Luck, he performed a few of his favorite songs.
Chisnall immediately captured the audience with one of his favorite songs, "Maria" from "West Side Story." A difficult song, Chisnall showed his expertise and range with this stunning rendition. The transitions from chest voice to head voice were seamless, never needing to go into falsetto.
"One Song Glory" from the musical "Rent" was a showstopper with Chisnall making the difficult seem second nature.
The theater went silent as Chisnall revisited his leading role as Jean Valjean singing "Bring Him Home" from "Les Misérables." Another spellbinding performance was by request of the directors with "Anthem" from "Chess."
After three days of working with the students, it was pure joy to watch them perform with Chisnall on stage, starting out with "I'm a Believer" with all the Steele Canyon players joining him on stage, then joining together with a few Steele Canyon players with the finale from "Shrek, the Musical."
For the first time this year he worked with Steele Canyon's orchestra, directed by Luck. Chisnall said working with the music students was a spectacular experience and that next time he wants to utilize them for the entire show.