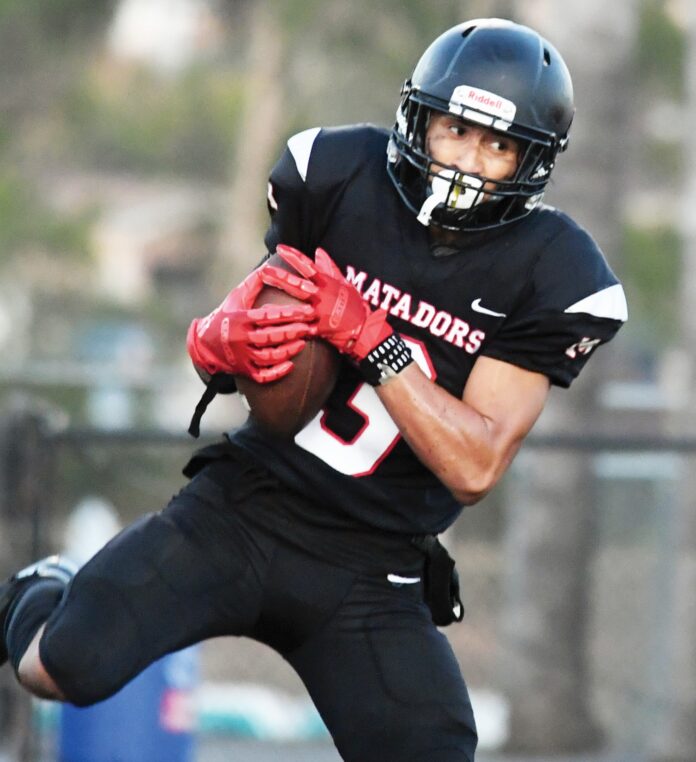 Mt. Miguel head coach Troy Starr described his team's 42-0 season-opening victory against the visiting Sweetwater Red Devils on Aug. 18 as "not too high, not too low."
It was somewhere in the middle and a good jumping off point for the rest of the regular season.
"We're a Division IV team, we have a small team," Starr said. "We capitalized on the turnovers they gave us. That was good stuff but there's a ton of things we need to get better at."
The Matadors (1-0) didn't have to employ much offense in taking a lethal 21-0 lead with a lot of time left in the opening quarter in the non-league contest.
Senior Chris Akridge recovered a fumbled snap on the Sweetwater 21-yard line just seconds into the game. Junior quarterback Matthew Barton later connected with Akridge on a 19-yard scoring pass on fourth down to score Mt. Miguel's opening touchdown of the season and a lightning-quick 7-0 Matadors lead.
The hosts were back in the end zone almost immediately after junior Hector Armenta recovered another SuHi fumble at the six yard line after sophomore quarterback Zaryan Crews's arm was hit and he lost the ball.
Barton wasted little time by hitting junior Jeremiah Castillo in the corner of the end zone. Senior Saul Salgado tacked on his second PAT in succession to put Mt. Miguel ahead 14-0.
The Matadors only had to go 27 yards on their opening two scores. They went 15 yards to score their third touchdown when a bad snap on a Sweetwater punt was downed by junior Aaron Carter at the 15-yard line. Barton gobbled up all 15 yards on one play with a second scoring pass to Castillo.
Crews later made a 30-yard run to the Mt. Miguel nine-yard line near the end of the first quarter. But the Devils were stopped on fourth down when the teams switched ends at the quarter.
Barton hit a 50-yard punt to get the Matadors out of the face of their own end zone On Mt. Miguel's next offensive series, Castillo made a leaping 35-yard catch to set up a 10-yard touchdown run by senior Antrell Burbidge to hike the Matador lead to 28-0 following yet another extra-point conversion by Salgado.
Sweetwater turned the ball over again on a low snap on a punt. The hosts recovered on the 19-yard line with 1:56 left in the first half. Armenta caught a seven-yard scoring pass with 0:55 left. Salgado's PAT made the score 35-0.
The Red Devils fumbled again but recovered the ball to mercifully end the first half. Castillo completed his touchdown hat trick after hauling in a 10-yard pass from Barton in the back of the end zone on a fourth-down play late in the third quarter.
Sweetwater played better in the second half but by then the game's outcome had been decided.
"We turned the ball over on our first three possession, we were down 21 points early," Devils head coach Ervin Hernandez said. "We've got to get things together. We shot ourselves in the foot a lot."
Barton completed 15 of 23 passing attempts for 161 yards with five touchdowns and a 125.2 quarterback rating.
Much of the Matadors' damage on the scoreboard came courtesy of Castillo, who caught six passes for 92 yards with three touchdowns. Akridge had five catches for 30 yards and one touchdown while Armenta caught two passes for 11 yards and one touchdown.
Burbidge logged 10 carries for 37 yards and one touchdown. Junior Davian McGowan had nine carries for 36 yards.
Castillo led the hosts with 107 all-purpose yards while tacking on 15 kick return yards; Barton led all players on the field with 178 total yards while adding 17 rushing yards to his stat total.
Defensively, senior Jesse Murguia had one sack while Akridge and Armenta both had fumble recoveries.
Barton punted twice for 86 yards while Salgado amassed six kicking points. Zaryan Crews completed one of three passing attempts for minus two yards. He fared much better with his legs by rushing 21 times for 54 yards.
Overall, the visitors rushed 29 times for 105 yards for an average of 3.6 yards per carry.
Junior Xzavier Crews had two carries for 17 yards, an average of 8.5 yards per carry, while Julian Ramos had four carries for 29 yards, an average of 7.3 yards per carry.
Senior Cesar Guerra had two carries for five yards while making a team-high seven tackles. Xzavier Crews chipped in with six tackles and one pass deflection on defense, including one for a loss, while Miguel Mireles and Carlos David Delgado both were credited with five stops.
But the inability to hold onto the ball proved costly.
Sweetwater will attempt to regroup with a home game Friday against Coronado (1-0). The Islanders won their season opener last Friday, 13-6, at Montgomery.
Mt. Miguel will attempt to remain undefeated on the season when the Matadors travel to Chula Vista High School for a non-league game on Friday. The host Spartans are coming off a 30-27 nonleague loss to La Jolla Country Day in their opener on Saturday.
"On to the next week, that's all I'm going to say," Armenta said.
Monarchs roar
Monte Vista (0-10 in 2021) will not go winless in 2022 after steamrollering visiting Maranatha Christian, 42-21, last Friday. Senior Uziel Avalon scored two touchdowns to go with 153 rushing yards while junior Daniel Renteria also scored twice. Sophomore Alex Villanueva scored on an interception return.