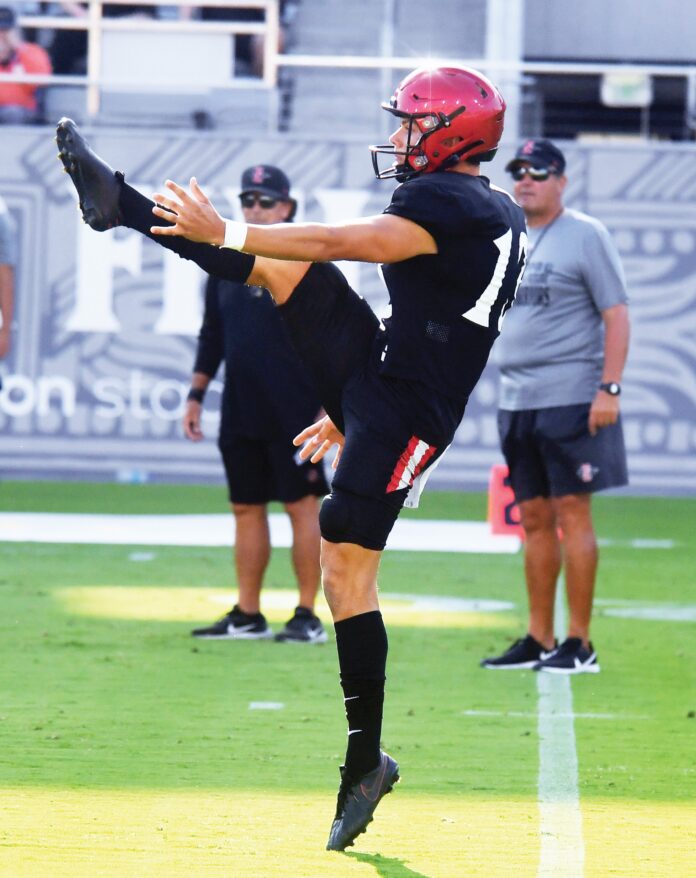 It was a homecoming that had to rank high on the list of SDSU senior receiver Jesse Matthews. The Christian High School alumnus soaked in the sun and atmosphere Saturday evening as the Aztecs returned to Mission Valley after playing two years of home games on the road while Snapdragon Stadium was under construction.
Ready and waiting following last Friday's ribbon-cutting ceremony, the new 35,000-seat venue welcomed its first fans — SDSU season ticketholders and special guests — and the football team for an extended preseason intrasquad scrimmage to test both the players and the stadium in advance of the Aztecs' season opening game against the University of Arizona on Sept. 3.
Both the team and the stadium appeared to get passing marks as an estimated 9,000 fans watched the SDSU offense post a 24-0 victory over the Aztec defense. Matthews caught four passes for 64 yards, including one long range 39-yard bomb early on that got the Aztec faithful leaping to their feet.
The return to San Diego was a special moment for Matthews and other locals on the team.
"It's all so surreal," the El Cajon native said. "I was talking to some other guys and I said that I can't believe that we're finally back here in this community as well. Just to be back home and see the fans and the atmosphere. This is a beautiful stadium that we have. It's really exciting. I'm grateful and feel blessed to be here my senior year."
Matthews, originally a walk-on with the Aztecs, could be headed for a record-breaking season in 2022 as SDSU celebrates its 100th season of football. The former Patriot turned it on at the end of last season to lead the Aztecs with 57 catches for 642 yards and nine touchdowns to set single-season personal records. He looks to be a player to watch at the national level again this season based on a rather prestigious series of honors he's already racked up thus far in his career.
He was the team's offensive scout player of the year in 2018, the team's co-outstanding freshman and offensive player of the tear award-winner in 2019, the New Mexico Bowl co-most valuable offensive player in 2019, Frisco Bowl most valuable offensive player in 2021 and a member of the 2021 ESPN all-bowl team.
The Aztecs appear to have solved their woes at the signal calling position with senior transfer Braxton Burmeister, the acclaimed prep superstar from La Jolla Country Day who went on to play two seasons at Virginia Tech after transferring from the University of Oregon.
In four varsity seasons at LJCD, he set San Diego Section career records for total yards (14,972), passing yards (11,512), passing touchdowns (127) and pass completions (853).
It's apparent to seasoned onlookers that Matthews and Burmeister have already developed a special chemistry.
"I texted him as soon as he transferred over here and we got to work together starting in January," Matthews said. "We've been building that chemistry from that point on, and he's been my lifting partner ever since he arrived on campus. Just building that friendship, as well, has really helped our chemistry. I think we going to keep growing. There's still room for improvement, but I think we're off to a good start so far."
"Number one, both being San Diego guys, there's a connection there," SDSU head coach Brady Hoke said. "They work hard, both are tough guys and love the game."
Burmeister drew the start in Saturday's scrimmage but understandably did not play long out of fear of possible injury. He completed two of five passes (both to Matthews) for 47 yards with no interceptions while rushing once for three yards.
Hoke auditioned four quarterbacks for the fans in attendance.
Freshman Kyle Crum completed seven of 10 attempts for 87 yards with two touchdowns (both to junior Brionne Penny) while freshman Lui Aumavae completed 11 of 15 passes for 97 yards and one touchdown. Redshirt freshman Will Haskell hit on five of nine attempts for 22 yards while rushing four times for 11 yards. The four SDSU signal-callers completed 25 of 39 passes (64 percent) for 253 yards and three touchdowns.
Redshirt freshman Phillippe Wesley was the leading receiver with five catches for 79 yards, though Penny (three catches, 36 yards) led the unit with two touchdowns. Sophomore Darius De Los Reyes, a former standout at Eastlake and Lincoln high schools, had two catches for 51 yards, including an 18-yard touchdown in the fourth quarter.
Penny's TD grabs came on acrobatic catches of 25 and six yards in the second and fourth quarters.
Rushing leaders included redshirt freshman Cam Davis (six carries, 45 yards), freshman Martin Blake (four carries, 25 yards) and sophomore Jaylen Armstead (two carries, 19 yards). As a team, the offensive unit rushed 19 times for 116 yards.
Junior kicker David Delgado (Hilltop High School) actually put up the first points in the Snapdragon scrimmage when he split the uprights on a 26-yard field goal with 1:18 remaining in the first quarter to cap an eight-play, 64-yard field-march.
Hoke was excited to showcase his team in front of fans in the spanking new stadium.
"It's a great venue, obviously," Hoke said. "It was good to be here, nice to have families in attendance. I know our guys really enjoyed that part of it. I thought we had some really good energy out there. In the first half we brought the energy. The young guys flew around. Go to the second half, and you get not quite the same energy that we did in the first half. We accomplished what we wanted to."
Despite allowing 24 points, the SDSU defense had its moments, especially in the second half. The Aztecs D-men did not allow a rushing touchdown while generating seven tackles for a loss (34 yards total), five sacks (26 yards total), one fumble recovery and four pass break-ups.
Helix Charter alum Michael Shawcroft had one sack and one tackle for a loss (seven yards) while on the field. The senior linebacker also logged on assist for two tackles in the scrimmage.
Freshman Trey White's play was singled out by Hoke in the team's postgame press conference. The Eastlake alum was credited with two tackles, including one for a four-yard loss.
"He came out of nowhere to make a play," Hoke said. "He's a good football player."
White, the Metro Mesa League's 2021 spring Defensive Player of the Year, logged 119 tackles (81 unassisted) and 26 sacks (13 his senior year) while at Eastlake.
Freshman Max Garrison paced the Aztec defense with six tackles while redshirt freshmen Dominic Oliver and New Zealand Williams both recorded five stops. Williams recovered a fumble in the third quarter while junior Wyatt Draeger, freshman Ryan Henderson, redshirt freshman D.J. Herman and freshman Keion Mitchell also logged sacks.
Hoke said he was pleased there were few penalties in the scrimmage. "That's a positive," he said.
However, the SDSU head coach said there's still a lot more work to do before the Aztecs actually get on the field to tackle the Wildcats. "We're young in a lot of positions when you look at our seconds," he said.
Locals only
Hoke said the first team kicking chores are still up for grabs. "I get excited about one guy one day and I get excited about another guy another day," the SDSU head coach said. "Jack (junior Jack Browning) has hit kicks, but you'd like to see more consistency from him. We need to be consistent."
Delgado, who also played soccer and volleyball in high school, connected on seven of 12 field goal attempts and converted 43 of 48 extra-point attempts during his two-year varsity football career at Hilltop (2017-19) during which he collected 64 kicking points and helped lead the Lancers to a pair of league titles.
A scholar-athlete at Hilltop, he also was a member of the Mountain West All-Academic team in 2020. He appeared in one game last season as a holder on field goals and PATs for All-MW performer and Ray Guy Award winner Matt Araiza (now the with NFL's Buffalo Bills).
Delgado would convert both his field goal attempts during Saturday's scrimmage. Browning (West Hills High School) is bidding to handle all three kicking duties — PAT/field goals, kickoffs and punting. He appeared in 13 of SDSU's 14 games last season with a 62-yard kickoff and a 13-yard touchdown run on a fake field goal. He served as the team's primary holder last season.
The Lakeside native spent one season at Grossmont College where he kicked and punted for the Griffins while earning second team all-conference honors.
"I'm a very competitive person, so I want to win all three jobs," he said succinctly.
Madison alum Kenan Christon (two carries, 14 yards), Cathedral Catholic's KUSI Silver Pigskin winner Lucky Sutton (two carries, 10 yards), Francis Parker grad Sam Camposeco (two carries, eight yards) and Scripps Ranch alum Nick Gardinera (one carry, five yards) rounded out the local ground-gainers.
Redshirt freshman Josh Simmons (Helix) also got reps on the offensive line.
Extra points
The SDSU-Arizona opener is tabbed for 12:30p.m. PT on CBS Sports. The Aztecs finished 12-2 last year with a 38-24 victory over the University of Texas-San Antonio in the Frisco Bowl while the Wildcats finished 1-11 (1-8 in Pac-12 play).
The Aztecs return to Snapdragon Stadium for a Sept. 10 game against Idaho State.
Granite Hills alum Tyler Gonzalez is among several San Diegans on the Bengals. A sophomore defensive lineman, Gonzalez appeared in nine games last year with 14 tackles, one sack, one tackle for a loss and a fumble recovery. In three varsity seasons at Granite Hills, he registered 127 tackles (30 unassisted), 15 sacks, one interception and one caused fumble. He rushed for 291 yards and two touchdowns while reeling in 144 receiving yards and three TDs.