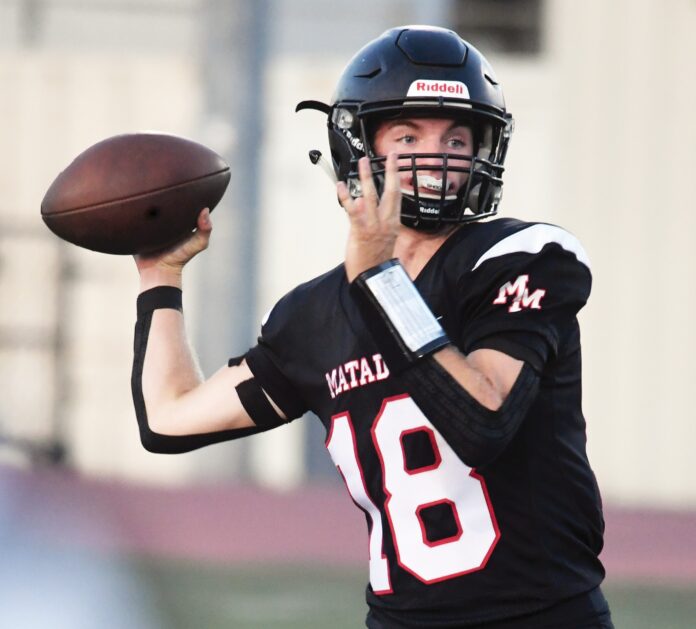 Two weeks into the 2022 high school football season, three East County teams are still undefeated: the Helix Charter Highlanders, El Capitan Vaqueros and, drum roll, Mt. Miguel Matadors.
Fifth-ranked Helix is no surprise and El Capitan, in the middle of pack in Division III, similarly so. But Division IV Mt. Miguel?
The Matadors have definitely made a statement for recognition with commanding shutout wins over Sweetwater (42-0) and Chula Vista (29-0), both vying for Division IV playoff berths along with the Spring Valley team, to start the season.
Two-and-oh
Helix improved to 2-0 after dropping visiting Otay Ranch, 52-0, in a non-league game last Friday, while El Capitan had to claw its way past host Hilltop, 9-7, in another non-league game last Friday.
The Vaqueros came within a whisker of starting the season 1-1 before engineering two scores in the fourth quarter and recording a huge defensive stop in the final seconds.
"We have a lot still to correct," El Capitan head coach Ron Burner said after this team pulled out the harrowing victory. "We were in the red zone four times and scored only once. We need more consistency."
Burner said the competition for the starting quarterback position is ongoing. But so far, so good, with sophomore Brandt Barker and senior Bruce Newland III sharing the signal-calling duties.
"We have two quarterbacks who are still competing," Burner said. "Both have their strengths and weaknesses."
The Vaqueros showed more strength than weakness in upping their early season record to 2-0.
Hilltop, which kicked off its season with a 28-14 home victory against the Valhalla Norsemen on Aug. 19, scored the lone points in the opening quarter when sophomore Mason Vaquero reeled in a five-yard pitch from senior quarterback Jorge Garcia.
The Lancer defense held the lead until 1:45 into the fourth quarter when El Capitan junior Julian May scored on a 34-yard pass from Newland. The two-point conversion attempt failed, however, allowing the hosts to cling to a tenuous 7-6 lead.
But not for long.
Hilltop had a punt attempt go awry — the ball squirted between the legs of the punter and the ensuing desperation pass was incomplete — to give the Vaqueros possession of the ball at the Lancer 26-yard line.
El Capitan was able to move the ball close enough for a 35-yard field goal by senior Aden Ramirez, who split the uprights on his first attempt this year. That put the visitors ahead 9-7. But the game was far from over.
Hilltop received the kickoff and proceeded to move down the field in chunks, eventually advancing the ball to the El Cap 10-yard line. Junior Ryder Lynn prevented a touchdown with a shoelace tackle on Vaquero, who appeared headed to the end zone on a breakaway catch.
It appeared the Lancers, in the least, were in position for a potential game-winning field goal as precious time began to tick down.
On the fateful play that won the game for the Vaqueros, the visitors showed blitz and Hilltop fumbled the exchange from center. The ball wound up in the grasp of senior Austin Cordeiro, who promptly held the ball high in the air as his recovery prize. Just 1:13 remained on the score clock.
El Capitan handed the ball off twice to senior Angel Diaz to move the clock to 1:02 with a Vaquero first down. Barker knelt with the ball twice in victory formation to take care of the rest of the time.
It may not have been pretty, but it still counted as a win.
"It was a tough football game," Burner admitted. "They used up a lot of time on the clock with their veer formation. The fumble recovery was a huge play; it got us the ball."
And the win.
Newland completed nine of 15 passing attempts for 118 yards with one touchdown while Barker completed five of eight attempts for 33 yards.
Diaz had 16 carries 94 yards and three receptions for 25 yards. Chance LaChappa caught four passes for 36 yards while May caught three passes for 50 yards with one touchdown. Cordeiro finished the game with 12 tackles, five unassisted, with a fumble recovery. Lynn recorded eight tackles (two unassisted).
Ramirez launched three kickoffs for 142 yards. Garcia completed eight of 12 passes for 141 yards, with a 55-yard completion to Vaquero, to highlight Hilltop's aerial game. Garcia also rushed 11 times for 63 yards to finish the game with 234 total yards in defeat.
While off to a promising 2-0 start, the Vaqs have key games coming up. El Capitan travels to La Jolla (1-1) for a non-league game on Friday, then hosts Rancho Buena Vista, currently off to a 2-0 start, on Sept. 9. Both games kick off at 7 p.m.
Matador pride
Mt. Miguel wasted little time in taking command of the game for the second week in a row by rolling up 22 points in the first half, including a 15-0 lead through the first quarter.
Junior Matthew Barton completed 11 of 25 passing attempts for 174 yards and one touchdown while senior Antrell Burbidge rushed 14 times for 104 yards and scored two touchdowns.
The visitors rushed 32 times for 200 yards, scoring three times. Junior Davian McGowan had nine carries for 49 yards and one touchdown while junior Jeremiah Castillo had five carries for 52 yards. Castillo had six catches for 86 yards and one touchdown while senior Chris Akridge had two catches for 55 yards, including one grab good for 35 yards. Junior Hector Armenta caught one pass for 22 yards. Castillo tallied 138 total offensive yards in the game.
Junior Aaron Carter led the Matadors with nine tackles, including seven unassisted stops and four tackles for a loss. Armenta had seven tackles, five unassisted, while classmate Christian Lopez also logged seven tackles (four unassisted). Akridge had six unassisted tackles.
Mt. Miguel's defense recorded eight sacks, including three by Carter, two by junior Eric White and one each by Akridge, junior Marvin Jacobs and senior Jesse Murguia.
Barton punted three times in the game for 87 yards. Senior
Saul Salgado recorded three kicking points while McGowan tacked on a two-point conversion. In two games, Barton has passed for 335 yards and six touchdowns while Castillo has 178 receiving yards and four TDs.
The Matadors had a short week by traveling to play at Montgomery (1-1) on Thursday. They return home to host Crawford in another non-league game on Sept. 9 at 7 p.m.
The Aztecs are coming off a 6-0 non-league win over visiting Santana last Friday as Jordan Benton caught a 23-yard scoring pass from backup quarterback Nathan Ong with just 1:28 remaining in the contest.
Airing it out
Junior quarterback Ryland Jessee completed seven of 11 passes for 100 yards and four touchdowns in his latest trip to the gridiron for Helix. Two scoring passes went to senior Quincey Herron (two catches, 26 yards) and two also to senior Adren Parker (two catches, 31 yards). Junior Walker Laub also saw action at signal-caller, completing four of five attempts for 52 yards.
The Highlanders scored a total of six touchdowns — four passing, one rushing by junior Kevin Allen III and one on an interception return by junior Jackson Daniels, who finished the game with three picks.
Herron added one two-point passing conversion while junior Jason Sisneros had one two-point rushing conversion. Sisneros led the Scotties on the ground with three carries for 31 yards.
Josh Hossman-Lees supplied four extra-point conversions and a 23-yard field goal in the win to finish the game with seven kicking points.
Besides three interceptions, the Helix defense also registered three sacks — one each by junior Kairio Kehananui and seniors Anthony Gasanov and Premiere Whitley. The Highlanders also recorded one defensive safety. Jessee has thrown for eight touchdowns in two games while Herron has caught six touchdown passes.