Living with heart failure often means following careful advice from your doctor, including a heart-healthy, low-salt diet. Judd Canepari, executive chef for Sharp Grossmont Hospital, offers these low-sodium recipes to keep both your heart and taste buds happy.
Broccoli and Cranberry Salad
Yields 6 servings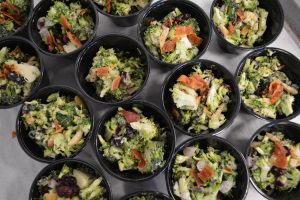 Broccoli salad is usually drowning in a creamy, often very sweet dressing, and studded with a half-pound of bacon, making it more about the creamy dressing and bacon than about the broccoli.
This salad uses a combination of canola mayonnaise and Greek yogurt to keep the calories in check. Opt for a small amount of center-cut bacon and swap the usual raisins for lower-sugar, dried cranberries to pack a subtle punch of tart.
The best part of this salad? The longer it sits, the better it gets.
Ingredients for dressing
1/4 cup red onion, finely chopped
1/3 cup canola mayonnaise
3 tablespoons 2% low-fat Greek yogurt
1 tablespoon apple cider vinegar
1 tablespoon honey
1/4 teaspoon freshly ground black pepper
Ingredients for salad
4 cups broccoli florets (about 1 bunch), coarsely chopped
1/3 cup toasted slivered almonds
1/3 cup reduced-sugar dried cranberries
2 center-cut bacon slices, cooked and crumbled
Directions
In a small bowl, combine and mix all dressing ingredients.
In a large bowl, combine and mix all salad ingredients. Top with dressing before serving.
Nutrition Facts Per Serving — Calories: 168; Fat: 8 grams; Sodium: 141 mg
Tandoori Chicken Skewers With Cashew-Mint Chutney
Yields 4-5 servings
Ingredients for tandoori chicken skewers
1/2 cup Greek yogurt
1 tablespoon lemon juice
1 tablespoon vegetable oil
1 tablespoon dry fenugreek leaves (kasoori methi), optional
2 garlic cloves, grated
1/4-inch piece ginger, peeled and grated
2 teaspoons coriander powder
1 teaspoon cayenne pepper powder
4 boneless, skinless chicken thighs (about 1 1/4 pounds), cut into big chunks 4-5 bamboo skewers
Ingredients for cashew-mint chutney
1 cup packed mint leaves (about 1 small bunch)
10 raw or roasted cashews
2 tablespoons Greek yogurt
1/2 tablespoon lemon juice
1/2 jalapeno pepper
1 garlic clove
1/2 teaspoon sugar
Directions for tandoori chicken skewers
Make the tandoori marinade: In a medium bowl, combine and stir all ingredients (except the chicken). When marinade is thoroughly mixed, add chicken and toss to coat well. Cover bowl with plastic wrap and let marinate in refrigerator for at least 2 hours or overnight.
Set oven to broil. Place an oven-safe wire rack on a baking sheet and set aside.
Thread 4-5 pieces of chicken on each bamboo skewer and place on the prepared baking sheet (the wire rack will help all excess moisture drip down). Alternatively, you can place the chicken pieces on the wire rack in a single layer.
Place baking sheet about 6 inches from heat element and broil on high for about 20 minutes, until chicken is cooked and slightly charred. Alternatively, you can cook chicken on your outdoor grill.
Leave chicken on the wire rack to cool slightly, before serving.
Directions for cashew-mint chutney
Place all ingredients in a food processor and process until finely ground.
Serve skewers with chutney on the side, for dipping.
Nutrition Facts Per Serving — Calories: 264; Fat: 14 grams; Sodium: 87 mg
This article features experts from Sharp Grossmont Hospital. For more health stories visit www.sharp.com/news.