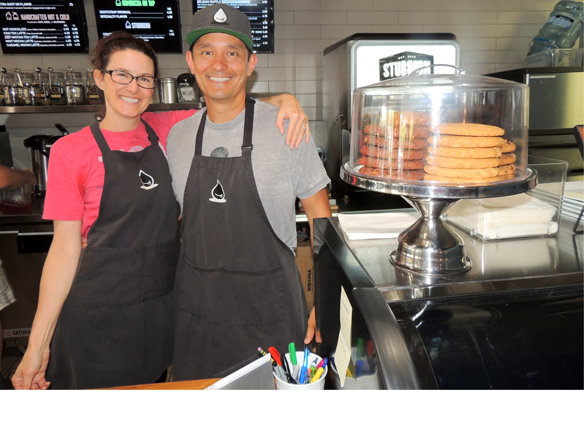 The summer is long and lazy, and sometimes you just want to read or relax for a couple of hours with an iced frappuccino or a cup of joe and a tidbit. Brew Coffee Spot is the new favorite go-to place for locals.
The summer is long and lazy, and sometimes you just want to read or relax for a couple of hours with an iced frappuccino or a cup of joe and a tidbit. Brew Coffee Spot is the new favorite go-to place for locals.
Located at the south end of the Big Lots strip mall on Lake Murray Boulevard, the Brew Coffee Spot catches our eye at first glance. The windows are large and clean, and the outdoor patio with a view of Cowles Mountain in the background lends the entire strip mall a more friendly nature.
The first time I'd seen Brew Coffee Spot was on my way to Patty's Café one Sunday afternoon. The new coffee house's patio was packed with smiling coffee-drinkers and a few of their canine friends. I made a mental note to have lunch there one day. On the afternoon of July 4th, my husband and I decided it was a good time to do so.
As soon as we walked into the place, I felt at home. Several students were seated at the brick wall side of the coffee shop, tuned in to their iPods and hunched over their laptops. Directly opposite them were lower tables big enough for a group of six or eight. Behind a metal rail topped with planter boxes were high tables with stools where a young couple sat and talked over big bowls of Coconut Yogurt Parfait with berries and bananas.
When my husband and I stepped up to the counter to look at the menu, Heather Paraiso, who owns and operates the coffee shop along with her husband Joe, helped me with deciding what I wanted to get. Usually, Heather is at her day job as vice-principal of a charter school. But because it was a holiday, she and her husband and their business partner Ralf Wilkowski were spending their day helping the employees with cooking, serving and cleaning.
"It's like our second home here for Joe and me and Ralf," Heather said.
I decided that I wanted something creamy and tasty like a latte. She suggested a Lavender Latte. "It's one of our favorites," she said.
At first, I hesitated at the idea of drinking anything with lavender and then decided to go with it. My husband ordered a plain Latte, too, and Heather offered us both sample tastings of kombucha, a type of fermented tea.
"The one that everyone seems to like is Ginger Peach kombucha," Heather said.
So we tried our first sample of it. To me, it tasted like a combination of soda and a light alcoholic cider.
"There is a tiny bit of alcohol in this tea, but you'd have to drink a whole lot to feel anything. People drink it for the probiotics it has, and it's a good drink for hot days like today," Heather said.
For our sandwich, my husband and I decided on the classic Grilled Cheese, with a side of potato chips.
"It's a good one. You'll like it," Heather said. .
My husband and I chose a table by a window and got out our books to read while we waited for Heather and Joe to come with our orders and to talk with us. Outside our window two ladies in red, white and blue clothing sat at a table with their iced coffee drinks.
Our lattes came in large white cups. Gingerly, I took a sip of my Lavender Latte. I'd never tasted any coffee drink so smooth in my life.
"You thought it was going to taste like perfume, didn't you?" said Joe Paraiso, who scooted up to the table with Heather for my interview with them.
I admitted I did. My husband said his latte was good, too. I took a sip of his to try. Very smooth, no muddy taste or bitterness. "It's the coffee we use and our water," Joe said.
Brew Coffee Spot buys the coffee from Café Virtuoso in Barrio Logan. The coffee is 100% organic. "And the water is as pure as it tastes—we invested in a super high quality water filtration system, which makes our water very pure and allows the complex flavors of the coffee and tea to be tasted," Joe said.
The grilled cheese sandwich was luscious, too, not at all oily. Everything in the coffee house is locally grown or made, such as the three different flavors of cinnamon rolls and several varieties of baklava, along with muffins and cookies.
Though Brew Coffee Spot has been open sonly since March, the Paraisos have been dreaming of owning a place like this for decades.
"It just wasn't the right time," Heather said. "We had our kids to raise. And then we didn't know how the money would work out. We thought we might have to win at a lottery," she said, laughing.
They were finally able to open their coffeehouse because Ralf came to the table as their partner.
When asked why a coffee shop had been their dream for their future—after all, any kind of restaurant business is non-stop work—Heather said that they had the conversation one day while they were once again at a coffee place in North Park.
"We just wanted a place that people could come to in La Mesa. We only live a couple miles away, our kids went to school around here, and we know so many of the moms and dads and kids who hang out," Heather said.
"And we do want people to feel as though they could stay here a while. We designed this place that way," Joe said.
"This is a warm, welcoming environment for everyone who opens the door and comes in. Our place is clean, but not sterile," added Wilkowski.
"As far as coffee houses go, North Park has nothing on us," Joe said, smiling.
Brew Coffee Spot is open seven days a week, with live music on Thursday and Friday nights. Game nights are on Saturday, with every imaginable kind of board game—"we have the old-fashioned ones like Scrabble along with newer ones," Joe said.
Look for additional events at Brew Coffee Spot, such as Learn to Pain in Acrylic on July 18th with Wendy Kleine.
The website is www.brewcoffeespot.com.