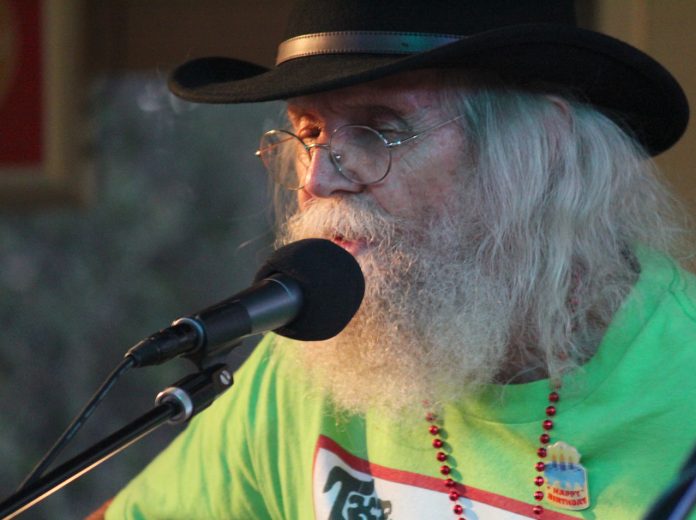 The pavement disappears abruptly, allowing for bumpy gravel and steep ascents on the sinuous hot and dry Forest Route turning into Gaskill Peak Road in Alpine.
The pavement disappears abruptly, allowing for bumpy gravel and steep ascents on the sinuous hot and dry Forest Route turning into Gaskill Peak Road in Alpine.
It used to be worse when there were just rocks on this adrenaline-inducing one lane mountain road when one would not know what was coming from the other side of the slope, with cliffs on both sides. Once at the top, wavy mountain peaks creep from under flustered clouds, tempting the eagles and hawks to fly higher. How much higher though, one may ask, as the road narrows again between two boulders with no visible houses around.
Suddenly, two older gentlemen appear. They seem to be leaving through a hidden back gate and one is carrying a guitar. This must be it.
My car gets stuck in the sand and a man named Ray Phoenix directs traffic toward more stable grounds. Tanned, upbeat and only 78 years old, Phoenix is ready to interview about the famous celebrated host he just left.
A golf cart flies by, occupied by chatty and cheerful neighbors, an encouraging sign that this maze-like wilderness is inhabited. They are coming to the party a little later, after feeding the dogs.
The party is for Cliff Niman, a folk legend who is turning 80 years old today. Phoenix has known his friend for 50 years, since Niman's days as a manager at The Candy Company, a famous coffee house opened in 1967-1970.
Steve Martin, Jackson Browne and Hoyt Axton, among others, used to perform there before becoming famous.
"He hired me to sing at his coffee house and I did two nights a week sometimes," says Phoenix, moving under a tree to escape the scorching sun.
He tells the story of Niman being a great friend to many people. "He was very important at one point in my life when I was down. He encouraged me. He was a very good friends when I needed him."
The shade is generous at the Nimans' house. Many people brought their own umbrellas and canopies, along with concert chairs and potluck food to share.
This is a very unusual birthday party indeed.
There is a huge stage built on top of a jacuzzi and it was Mrs. Niman's idea to transform the old structure that took two months to complete.
Linda Ascione Niman has shared her life with Cliff Niman for the past 30 years and says it was love at first sight. She met him during an open-mic at the Drowsy Maggie's coffee house while she was the owner's girlfriend.
"When I met Cliff, I dumped the other guy – what can I say, he's a special guy," says Mrs. Niman, adding, "I just sat across the room and fell in love with his deep-set eyes. We just connected and got married two years later."
Something becomes clear very fast, after seeing people interacting with Cliff Niman, hearing everybody's stories about a lifelong friendship or a few-years-old connection and then seeing the party flyer posted by the stage listing more than 45 people scheduled to perform until late at night. The many guests are celebrating not just Niman's longevity, but also the legend that was The Candy Company, their youth, their personal stories of success or sorrow intertwined with Neiman's life, an era of the American history filled with glorious music and artistic idealism, a slice of vintage San Diego and most importantly, everybody's love for music.
And of course, Mrs. and Mr. Niman's love story, in tune with "Forever Young," a Bob Dylan's song that lends the theme of this celebratory event.
"That's how I think of my husband," Linda Niman explains. "We have fun and play like children, even at 80 years old."
Wearing weathered jeans on a tall and slender frame, a green t-shirt showing "The Candy Company Presents" flyer above a photo of a younger self, Mr. Niman hides a benevolent smile under a black felt cowboy hat. His first name "Cliff" is as molded as his belt buckle. Long, silver hair and a thick beard fit his dreamy smile. Round eyeglasses help filter a tender baby blue glaze, while his demeanor is alert and somehow hurried to fit all the memories in as few sentences as possible.
"Let's see, let's find something," he says, turning the pages.
He shows me a flyer announcing "the famous and fabulous Jesse "Lone Cat" Fuller (…) playing five instruments during each song" on March 6. The printed note encourages the people of the '60s to "beg, borrow or steal, but don't miss Jesse Fuller."
"Have you heard of Hoyt Axton?" Mr. Niman had to ask, and I had to confess that I had not. "He wrote 'Joy to the World,' 'The Pusher Man'…There's him again, powerful singer."
Hhe points to another newspaper add announcing a full concert for November 29-30 in 1967. "And there's Steve Martin. Wow, when he was young and had dark hair. He was doing stand-up. He's just a naturally funny guy and he plays banjo really well," he said, turning the page again, while talking about Lightnin Hopkins "a famous blues player," or Big Mama Thornton, "the queen of rock and blues" who wrote "Ain't Nothin But a Houndog" that brought Elvis Presley to fame.
"Then you have Jackson Browne and there's Tempchin and then Glenn Frey and John Souther," he mentions, turning the page yet again until an old menu comes into view, announcing a tempting list of "Confections from the Candy Co."
Those were the times, when San Diego was a booming Navy town and an international center for arts, with many coffee houses hosting concerts and open-mic events welcoming all ages. There was The Heritage in Mission Beach where Tom Waits used to play and where Cliff Niman debuted in the early '60s and there was the Bifrost Bridge in Lemon Grove, Ballad Manin La Jolla where Josh White performed, Land of Oden in la Mesa, the Upper Cellar, Circe's Cup or Drowsy Maggie's in North Park.
Then there was The Candy Company at 7711 El Cajon Blvd., now the address of a modern high rise, where a Mocha Magic was sold for 60 cents while waiting in line at the hair salon that shared the same building.
At the same time, legendary Eagles song writer Jack Tempchin got paid $15 per night to play during the "hoot nights," how Mr. Niman loved to call the open-mic nights.
"Titillating food from our infra-red oven," pizza was 75 cents, going well with Sonny Terry and Brownie McGhee performances, while a "um-Yum, a frothy, delightful root beer float served with cookies used to cost 70 cents and fit perfectly with The Stone Poneys. The coffee house was open for all ages, which made it necessary for the police and fire department to look the other way when the house hosted 300 people instead of the 150 seats available.
Niman remembers, "We didn't go through all the process to getting permits and so it was a benefit to the children. In fact, the guy who owned the building felt the children should have a place to go and enjoy music, so he gave us a really cheap rent."
How did it all start, though? Niman says he was never "enticed to pick up a guitar and try to learn" the music of his generation. He graduated high school in '57, but it wasn't until he had first heard folk music that he learned guitar. Completely self-taught, Niman started frequenting the coffee houses around town to perform and learn from other musicians, when Dick Russell, a friend he used to ride the motorcycle with, approached him to open their own coffee house.
"He said, 'I put up the money, you run it.' But he didn't take any profits from it. He would come in and watch Axton play," says Niman.
He laughs quietly when asked why there's no album with his name on it, while he mentored so many artists who made it big in the industry. He bends forward as to escape the question and the sun sneaks under his hat, revealing serenity and content.
"My songs are personal songs, heart aches, heart breaks and stuff… I don't know, I just feel like… I am not out to make money," he says.
That, and life got in the way, starting with his first marriage when he had to get a normal job.
Niman says he cannot write songs when he's happy.
"I don't know what music is," he thinks out loud. "It's a compelling force. Something I'd see in the news and something would grab me and I'd say, there's a song in that and I have to express my feelings."
How did The Candy Company close?
"We weren't profit oriented and my brother and I got tired of managing. We charged $1.50 at the door to cover the rent and paid Steve Martin $10 to perform. Then everything changed and we couldn't cover the rent anymore."
Dozens of people come and go throughout the day, crowding the spacious property in what already feels like a music festival on top of the mountain in the middle of nowhere. Many are performing on the newly built stage, while others are listening in delight. Everybody is anxiously waiting for Niman to perform later in the evening.
A mysterious "special guest" is also announced and there are cheers when he finally makes it up the wild road.
It is Jack Tempchin, a San Diego native who grew up not too far from The Candy Company, well known as a solo artist and band leader, but truly legendary as the songwriter for The Eagles who delivered their two hits, "Peaceful Easy Feeling" and "Already Gone."
Tempchin met former Eagle Glenn Frey at The Candy Company and went on to write more songs that made it on the top charts.
"I used to play several nights a week for years," says Tempchin. "Cliff was the master of ceremony and he created a scene that allowed me to meet all these people that had a big influence on my career. First time I've been up to his house here. Yeah, I wanna wait till he's 80," he laughs, continuing to joke. "I like to check a guy out for a while, you know. It's beautiful up here."
Tempchin remembers young Cliff Niman as the guy who "played all these great songs, super clean finger picking, great vocals. Just an amazing all-around guy and the spirit of The Candy Company, which was the center of my life for the years that it existed."
A couple living down the street is reminiscing about their time with the Nimans "making harmony." Kevin and Lauren Krekelberg are finishing each other sentences trying to explain how they met Niman several years ago and created "Copper Creek," a band that lasted five years until the harmonica player passed away. Mr. Krekelberg says, "Cliff is my sensei, he's my guitar teacher. He is the most genuine spirit you'd ever meet. He's just a beautiful man full of kindness and love."
Dave Farrell picked up drumming when he retired and aspires to be Niman's back up.
"The best thing about Cliff is his ability to help people, to understand people and his sensitivity toward musicians," said Farrell. "He taught me a lot."
A family friend, Jamie, shares how "I've known Cliff and Linda for just over five years. I lost my husband to cancer and then I found this music family and Linda and Cliff took me in their family. And here I am today, I can talk about it and not cry."
The Nimans are still attending many coffee house events around town, but the Coffee Meister in Santee remains a staple on their musical map. Tim Woods is the organizer of the open-mic evenings there and he says, "My friendship with Cliff has been through the music. We feel that we are like a family, everybody cares about each other and people are supportive."
Niman's plans for the future are "to keep living."
"How do you stay old? You just don't die," he said. "I am preparing my 90th birthday already, same place, same time."
It is Niman's turn to perform now. His wife is watching him adoringly, sitting on the steps leading to the stage. She wears her long, wavy hair down and looks very much in love, singing along with her husband. Earlier in the day, she shared how he proposed on the third date: "You don't know it yet, but we are going to be married," he said. Linda Niman told the story of going on a road trip and eloping at one of the courthouses found on the road, while wearing overalls and flannel shirts. Mrs. Niman smiles seductively when asked what kind of husband Mr. Niman is.
"What do you mean? Let's put it this way, he cleans the toilet and does the dishes and you can't beat that."
Mrs. Niman confesses she is not a musician, but loves music and is very encouraging of her husband.
"I can't sing, but I sing with him," she says.
Displayed on a table near by along with several other old photos and memorabilia, a younger version of her husband, looking a lot like E.A. Poe, and holding an old guitar is watching over the fun. This may be the same guitar an old friend used to pawn out to Niman until the day he died. Niman wanted to return the guitar to his friend's mom, but she asked him to keep it.
People are up and dancing as the day brings purple and reddish tones in the sky and Niman starts singing one of the songs he wrote with John Souther. It fits with an earlier confession when Mr. Niman explained how he comes up with songs.
"Something I'd see in the news and I'd say, there's a song in that and I have to express my feelings. Sometimes I can't sing the song in front of the people because I am a little too pointed with the direction I go, because a lot of stuff disturbs me today, a lot of stuff." Here it goes:
"Take it, Mr. Steve," cues the singer to the harmonica player, while the magic power of music makes everybody feel forever young under the rising moon.