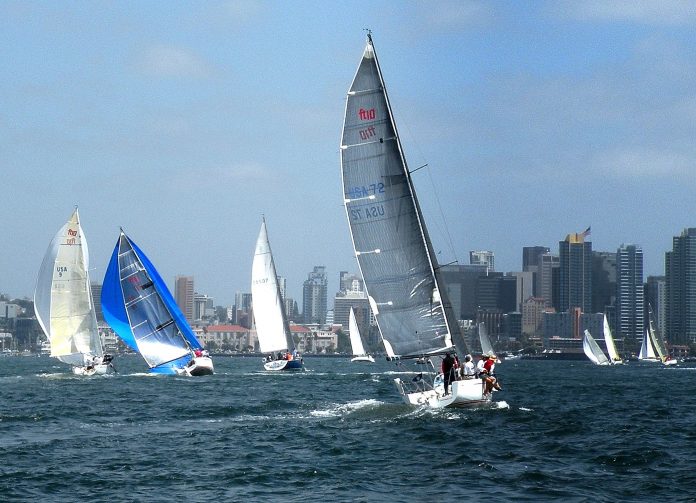 One of the most beautiful events in all of San Diego County is also one of the most charitable. Each year the magical Hotel del Coronado hosts a luxurious dinner party and dance on the last Friday evening of August. The next day, a colorful sailboat race heads out from the Coronado Yacht Club onto the sparkling waters of San Diego Bay. Big yachts follow the racecourse under the Coronado bridge and further out into the bay, waving cheers and honking horns at the winners.
This year will be the 17th year of the Sharp HospiceCare Regatta. The event, supported by the Grossmont Hospital Foundation, helps increase awareness of Sharp HospiceCare while raising funds and creating memories of a lifetime. The weekend also helps to monetarily support programs and services which augment hospice impact and reach.
"The annual regatta is a great way to enjoy a day cruising San Diego Bay in beautiful sailboats and yachts generously hosted by community members and boat owners," said Suzi Johnson, vice president of Sharp HospiceCare.
Johnson will be on hand during the event. For race day, she is a boat host greeting attendees. She is but one spokesperson of many who support Sharp HospiceCare and share the message of hope in time of need.
"I enjoy the camaraderie, the fact that so many San Diegans come together to share a great time for a great cause," said Johnson. "Without fail, there are people who come up to me to share their personal hospice story about a loved one and the difference hospice made in easing the difficulty of the dying process and losing a family member. It is a great feeling to know Sharp HospiceCare is there when needed most."
What sets Sharp HospiceCare apart from others in the county? Johnson explained that Sharp HospiceCare is the only hospice program in San Diego to offer three hospice homes, all with access to all Sharp HealthCare hospitals, physicians and medical groups.
Furthermore, there is a highly trained and dedicated staff of physicians, nurses, hospice aides, social workers, spiritual care counselors, pharmacists, bereavement counselors, volunteers and the community at large who support our programs.
"The Sharp experience and the focus on quality of life for the time remaining," Johnson said.
Patricia Camarda, a Santee resident, has participated in past regatta fundraisers. They hold special significance for her because seven years ago her late husband was in hospice care at the HospiceCare Lake-view home. He had been in great pain with esophageal cancer. Camarda did everything she could to take care of him, but once he started falling, she felt helpless. That is when the Lakeview home came into the picture.
"The wonderful lady nurse from Lakeview that I was talking on the phone with heard him screaming, and she said she would be right over to help," said Camarda. "And she did come from her house to ours. When she saw the state he was in, she convinced him that he needed to go to Lakeview, although he really didn't want to go. But once he was there, he was more comfortable than he had been in a long while."
Her husband stayed at Lake-view for a week before he passed on.
"Sure, it was sad to see my husband go, but the hospice experience at Lakeview was the best I could have expected for him in his last days," Camarda said.
Camarda chose to pay the full $150 to be a spectator on a boat.
"It's for a very good cause," she said.
Hosted by Sharp Hospice-Care, Coronado Yacht Club and Cortez Racing Association, the event kicks off on Friday, Aug. 23, with a pre-race dinner and auction featuring everything from jewelry to one-of-a-kind vacation packages, as well as spa packages, wine baskets, and tickets to sports and other special events.
Since the first year of the event in 2003, over $3,853,000 has been raised for Sharp HospiceCare. This year, $400,000 is expected for Homes for Hospice, which is the initiative to build and maintain residential hospice homes. Three homes —in La Mesa, Del Cerro and Bonita — have been built thanks to Sharp HospiceCare's efforts and fundraising.
Tickets to the pre-race dinner and dance with music by Band Overboard on Aug. 23, held at the Hotel del Coronado, and for the race portion of the event at the Coronado Yacht Club, including a post-race dinner party accompanied by Wildside Band, are available by calling Bill Navrides at 619-740-4316.   
The race portion of the event starts at 1 p.m. Saturday, Aug. 24, at the east end of Harbor Island, winding around San Diego Bay and finishing near the Coronado Yacht Club. Competitors will race for a chance to compete in the 2020 Hospice Regatta's National Championship in Charleston, South Carolina.
To learn more about the regatta, visit www.give.sharp.com/regatta. To find out more about Sharp HospiceCare, call 1-800-82-SHARP (1-800-827-4277) or visit www.sharp.com/services/hospice.