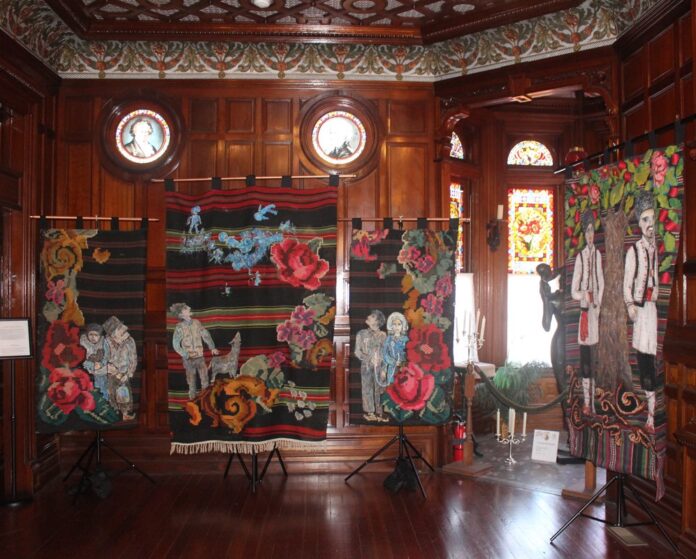 A Ukrainian art show, The Heart and Soul of Ukraine opened on Jan. 27 at the historic Villa Montezuma in San Diego, described by California Senator Brian Jones as "an event to highlight the impact of the Russian invasion of Ukraine" nearly one year after the country was thrust into war.
"This art exhibition serves as a stark and brutal reminder of the horrors everyday people are facing in Ukraine," Jones said.
Seemingly disconnected artistic elements came together at the event for a cohesive message: Ukraine still stands but needs support as the war continues.
Former state senator Ben Hueso, who was instrumental in funding preservation efforts at the historic Villa Montezuma observed of the 1887 site: Ukrainian artists were opening a show in an American house-turned-museum named for the last Aztec emperor, a sort of living proof that art and culture traverse time and place.
"The relationship between California and Ukraine is a special bond and serves as a reminder of the key democratic values that both of our societies hold dear. Here in California, we are proud to serve as an ally and partner of Ukraine in these troubling times," Jones said.
The House of Ukraine chorus opened the event with several songs, including "Carol of the Bells," or, as artist Olenka Kleban explained, a variation on "Shchedryk," a Ukrainian song which came to the United States in the early 1900s to publicize Ukrainian culture only to see the nation taken and re-taken by political powerhouses. Standing on the antique steps of the museum, the chorus, made up of grandparents and children alike in traditional clothing, sang out to the small crowd in harmony in passionate voices.
Tatiana Shavenall, speaking to the crowd, said her home city of Odesa, Ukraine holds an annual Festival of Laughter, that "even in trying times, humor comes through" and the country remains optimistic.
"Still, in this senseless war, people are becoming desensitized to what is taking place. Ukrainians desire for Americans to know what is happening to them. Slava Ukraini," Shavenall said, with many echoing the rally cry back in her direction.
All of the artists' work "has been instrumental in galvanizing support for the Ukrainian people in these challenging times," Jones said and displaying their work highlights "the impacts of the invasion of Ukraine".
With assistance from a translator, artist IraVish explained that many of the pieces found inside Villa Montezuma for the temporary art installation had to "escape Ukraine" and that one artist, Igor Poronik did not receive permission to leave the country. Hueso later said American officials were still working on the situation and were trying to bring him over.
Inside, the museum was a trove of European artistry with painted tiles surrounding the fireplace, stained glass windows featuring both Christian and Muslim warriors, and shining wood paneling as a backdrop for the Ukrainian artists' displays.
The building, originally home to singer and writer Jesse Shepherd, is decorated throughout the home with details inspired by his time in Odesa.
To the left of the entryway, the ground floor featured multiple rugs and tapestries painted by IraVish with traditional Ukrainian folkloric scenes. To the right, canvases blazoned with sunflowers painted by Vira Ustianska lit up the room.
"'Patience, patience, patience polishes you' is a quote from a poem by Vasyl Stus, a famous Ukrainian poet. I often quote these lines in difficult moments of life. It gives me strength not to give up," Ustianska wrote in a document describing her art.
Once, Ustianska said, she had a student who pushed back against the sunflowers as being too predictable but she sees them as a symbol of life and can be found in cultures around the world. Since arriving in San Diego several months ago, she has immersed herself in painting. When Ustianska fled Ukraine with her daughter in March, 2022 for Poland, then the United States, she left everything behind: her husband and extended family, studio, apartment, unwashed brushes and an unfinished painting of a scary picture with sunflowers.
"During the war, my sunflowers began to have a different meaning. So they changed, I changed. Now they show my fight for victory, not only my emotions, but reality. I try to add more optimism although sometimes it is very difficult because emotions are very strong and they want to be on the canvas," Ustianska wrote.
Upstairs, Irina Vishnevskaia, a trained painter who works under the name IraVish, worked as a journalist, reporter and editor before returning to an art career, tells a story with each of her paintings. At the top of a winding staircase, the landing holds four paintings which depict a traditional vision of Ukraine in cheerful colors. "A boy on a red horse," IraVish explains, is her love confession to Ukraine. From his development as a young boy to a married man defending his wife, the smile remains on his face with blue skies and golden, flowering fields in each painting.
A step into the next room means descending into developing tragedy, visions of the Holodormor, a famine created by the Soviet Union's government demanding impossible grain production from Ukraine which killed millions of citizens. "This is Bread' depicts jars of crumbs based on a true story IraVish learned about a woman who stored jarred bread for fear of ever going hungry again after surviving the Bolshevik reign.
Another painting, 'That- Is the Devil!' features a young girl named Irina Svyatova who later told the story of how she proudly showed her Little Octrobrists badge to her grandmother, only to watch her recoil in fear and yell "That is the devil!" upon recognizing the symbol of Vladimir Lenin on Svyatova's dress.
Alongside, more recent works included an IraVish series 'For How Long' with paintings showing modern fathers at a funeral, sons in uniform, mothers mourning with one young girl still innocently painted without any sign of death, and children in a blur, all part of a story on how an ongoing war affects different generations.
IraVish's most recent works are not on professional canvas or woven tapestries, but discarded air mattresses, the kind used in a temporary shelter. 'For How Long' shows the curving railroad tracks of Odesa with piles of discarded luggage tossed aside. So many people, the artist said, took the few belongings which most mattered to them when they tried to escape war. When they realized there was not enough room for every refugee to escape, they abandoned their luggage in piles.
Currently, Ukraine residents who speak Russian as their primary language are turning on their native tongue, IraVish said and cities like Donetsk, a city once called 'the city of a million roses' is now associated with a million blood drops. The artist realized, after painting the image of war on an heirloom rug gifted by a friend, that her refugee friend was repeating her family history on the same slogans that promised equality, prosperity eighty years ago but led to bloodshed.
"How could this all happen again in just a generation? When one generation was little, they used to play at Russians versus Nazis and now it is the Ukraine versus Russia," IraVish said.
The final piece in the room is from Igor Poronik, depicting lack of free will. He was not there to explain his work, stuck in Ukraine while awaiting documentation allowing him to travel.
"I really hope this exhibition shows American people why it is important to fight. It's generational, hundreds of years of dismantling oppression. Poronik and I want to say 'thank you' to every American who gives what they can and even what they don't have," IraVish said.
The art exhibition is open for tours at 1, 2:15 and 3:30 p.m. every Friday, Saturday and Sunday except Easter to April 2.
Anyone wishing to see the display should text (619) 233-8833 for tour reservations. Villa Montezuma is located at 1925 K St. in San Diego