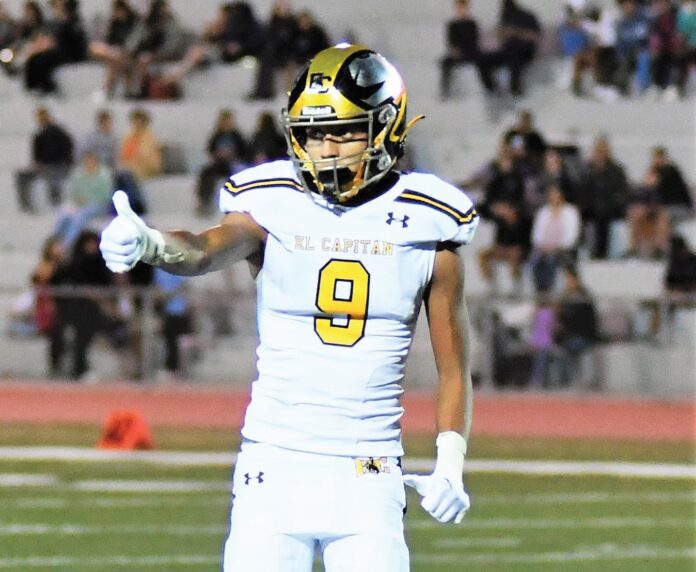 The Grossmont Valley League sent five of its seven teams into this year's San Diego Section playoffs, all in the first round, and one advanced to the quarterfinals.
Three of the teams were included in the Division III playoffs (seventh-seeded El Capitan, ninth-seeded Santana and 11thseeded West Hills). Mt. Miguel was included in the Division IV field as the No. 10 seed while El Cajon Valley was seeded seventh among Division V teams.
El Capitan, the league champion at 6-0, and El Cajon Valley, the fourth-place finisher at 3-3, both received home games.
The league champion Vaqueros ended their season with a 52-28 loss to the 10th-seeded Morse Tigers in a game that was much closer on the field than the final score indicated.
Senior Angel Diaz caught an 11-yard scoring pass from sophomore quarterback Brandt Barker but was overshadowed by a late scoring rush by the visitors.
Overall, Morse (7-4) scored five rushing touchdowns and one passing touchdown.
Senior Damarion Wright rushed for 254 yards and two touchdowns while senior Logan Ramirez rushed for 109 yards and two touchdowns. Ramirez also caught a 20-yard scoring pass.
The Tigers, who rolled up 413 rushing yards and 492 total offensive yards in the game, scored the final 22 points after the Vaqs had narrowed the score to two points in the fourth quarter.
The Lakeside team finished an otherwise stellar season at 8-3 following a 6-0 showing as Grossmont Valley League champions.
"It was a hard-fought game, the final score was not indicative of the game at all," El Cap head coach Ron Burner explained. "It was 30-28 in the fourth quarter. They played just as hard and a few bounces went their way and that was it in a nutshell.
"We played pretty well and were very well prepared, but in the end, they outplayed us. It was a very good season and I am very proud of the team's accomplishments. One of the things about the end of the season is it is so abrupt. We go year-round and then starting in August six days a week, then all of a sudden you are done. Kids are turning in gear for the last time and most will not play again, so to be honest, it is sad. But then in January we start of off-season lifting."
The Tigers advance to play the second-seeded Point Loma Pointers (8-2) in Friday's quarterfinals.
Season leaders for the Vaqueros included Barker with 1,389 passing yards in nine games with 15 touchdowns and Diaz with 694 rushing yards in 10 games with six touchdowns. Sophomore Chance LaChappa had 873 receiving yards in 10 games with 11 touchdowns.
RBV 49, Santana 14
After opening with a 5-0 record, the Longhorns went 0-5 to close regular season play. Conversely, the visiting Sultans finished on a high note following a 0-4 start. RBV got the better of Friday's playoff game, however.
Michael Valenzuela caught scoring passes of 36 and 71 yards in the first half to buoy Santana (5-6 overall) but it wasn't enough to stem the RBV scoring tide.
The Longhorns (6-5) advance to meet top-seeded University City (8-2) in the quarterfinals.
"We are really proud of our team," Sultans coach Tim Estes said. "We started off 0-4 and no one quit. They came together as a team and won the last five of six league games and made the playoffs. We couldn't be happier for them."
Santana was forced into a must-win scenario in its final regular season game in a bid to finish in a possible league tri-championship with West Hills and El Capitan, as well as solidify a playoff berth. The Sultans defeated visiting El Cajon Valley 26-6.
"The guys pulled it off on offense, defense and special teams," Estes said. "Linden Benson rushed for 141 yards on 19 carries and one touchdown. Nick Leger threw a touchdown pass and had an interception. Logan Ellis blocked a punt and Hayden Sheehan recovered the block in the end zone for a touchdown. Landon Bailey caught a TD and caused a fumble and Reed Robertson had 5 catches for 36 yards and a touchdown.
"The nice thing about the Division III playoffs is that we had three teams from Grossmont conference in. The D3 playoffs are full of strong teams and any number of them can take the title. All of us want to meet the challenge of facing the favorites: Uni City, Point Loma, Bishops, and Del Norte.
"For our game RBV is a very good football team that started off great and struggled and the end of the season where we struggled at the beginning and finished strong. We need to keep the momentum going."
SAN PASQUAL 41, WEST HILLS 2
The visiting Wolf Pack (6-5) was held to 22 rushing yards and 53 passing yards in the loss to the sixth-seeded Golden Eagles (8-3).
PALO VERDE 36, MT. MIGUEL 27
Junior Matthew Barton passed for 293 yards and three touchdowns — all to junior Jeremiah Castillo (nine catches, 170 yards) — in the loss for the visiting Matadors (4-7).
In another Division IV game, 11th-seeded Mountain Empire (3-8) fell short by a 42-6 score at sixth-seeded Vincent Memorial (7-3).