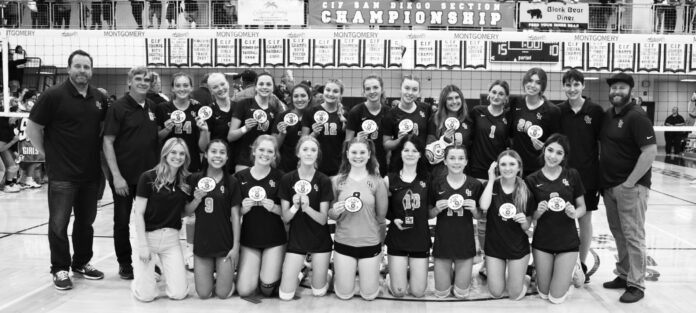 The San Diego Section girls volleyball championships took place across six divisions last weekend at three county sites.
Two East County teams were represented in the finals: Granite Hills in Division II and Helix Charter in Division III.
Third-seeded Helix (16-12) defeated top-seeded Holtville (26-7) in four sets to win its first division title in five years while third-seeded Granite Hills (26-13) placed runner-up to top-seeded Bonita Vista (31-9) in a five-set thriller.
Game on
The Division III playoffs were chock full of East County teams: Foothills Christian (second seed), Helix (third seed), West Hills (10th seed), Santana (12th seed), Steele Canyon (15th seed).
Helix and Foothills Christian, however, were the only teams to advance to the quarterfinals.
Santana (8-17) lost in four games to fifth-seeded Mira Mesa (10-16) while West Hills (9-22) lost in a three-game sweep to seventh-seeded Mission Bay (22-15). Foothills Christian (23-5) eliminated Steele Canyon (9-17) in another three-game sweep in an all-East County match-up.
Helix defeated 14th-seeded Valley Center (5-21) and sixth seeded Canyon Hills (18-11) in three-game sweeps before toppling Foothills Christian (23-5) in four games in the semifinals.
The Lady Highlanders advanced to meet top-seeded Holtville in the Division III championship game Nov. 4 at Westview High School. Helix won in four games 25-21, 24-26, 25-11, 25-21.
Helix last won a CIF title in 2017 when the Scotties also claimed the Division III championship.
Head coach Zoe Varella-Beltz said her team stepped up and played up to its potential in taking the final two games to secure this year's CIF banner.
Senior Ella Giordano keyed Helix with 17 kills, seven blocks and three aces while junior Giuliana Guarnotta contributed eight kills and two blocks. Sophomore Kyra Miles had six kills and four blocks while senior Yordie Orelli and junior Temurisa Sagiao both had five kills in a well-rounded effort.
Helix received the No. 14 seed in the Division III state regional playoffs and Woodland Hills Taft, seeded third, in Tuesday's opening round.
Granite Hills tied with Helix for second place in the regular season Grossmont Hills League standings with 7-3 league records behind league champion El Capitan (10-0 in league play).
Granite Hills received the No. 3 seed in the Division II playoff bracket and eliminated 14th-seeded Christian (14-12) in the opening round on Oct. 26. The Lady Eagles won 23-25, 25-20, 26-24, 25-18, 15-6 in a five-set thriller. Granite Hills swept the final three games while on the brink of elimination.
The Lady Eagles extended their next opponent to five sets in dealing sixth-seeded San Dieguito Academy a 25-20, 25-22, 23-25, 23-25, 15-10 setback on Oct. 29.
Granite Hills eliminated second- seeded Point Loma with the same five sets strategy, winning 11-25, 20-15, 25-17, 25-21, 15-13 with a three-game surge at the end. Delaney Fry led the visitors with 16 kills while recording 14 digs.
Rea contributed 29 assists while Bizjak had 29 digs. Stednitz had five serving aces and 18 digs while Vance had five blocks.
The division championship game, played Nov. 5 at Montgomery High School, would be no different as the Lady Eagles engaged top-seeded Bonita Vista with the outcome decided in — you guessed it — five sets.
The Lady Barons won the first game 25-18 before Granite Hills rallied with a 27-25 win in the second game. The Lady Eagles took a 2-1 lead with a 25-21 victory in Game 3. Bonita Vista forced a deciding fifth game with a 25-17 win in Game 4 and won the CIF title with a 15-10 victory in the mini-game.
"These girls fought hard all year as a group and overcame multiple different injuries and different lineups throughout the season," Granite Hills coach Armando Fry said. "There is absolutely no quit in these girls and I'm so proud of each and every one of them. I'm just glad to have been along for the ride this season and see these girls grow and develop as players."
The Lady Eagles coach said the team had some absolutely outstanding performances in quite a few areas.
Junior Delaney Fry had a breakout year offensively by amassing 433 kills and contributing 439 digs to the defensive effort. Senior Madison Bizjack was the team's defensive anchor compiling 646 digs. Senior Madilynn Vance was a dominant blocker with 108 blocks and senior Meghan Rea was consistent at the setter spot adding 827 assists on the year.
Sophomore Paisley Stednitz, a first-year starter, contributed 64 aces.
"It really was a team effort to get to where we ended up and I'm proud to have had the opportunity to coach such a talented group of young ladies," the Granite Hills coach said.
As a CIF runner-up, Granite Hills qualified for the state playoffs as the No. 11 seed with a first-round regional game Tuesday in Huntington Beach against sixth-seeded Marina (19-14).
Net work
El Capitan (sixth seed) and Valhalla (16th seed) both qualified for the Division I playoffs.
Valhalla went up against top-seeded Francis Parker in the first round and exited with a 25-14, 25-17, 25-17 loss while El Capitan advanced as far as the division semifinals.
El Capitan defeated 11th-seeded Rancho Bernardo three games to one in the first round, winning 26-24, 23-25, 25-22, 25-18 in a hard-fought series of games on Oct. 25.
The Lady Vaqueros upset third-seeded Poway, 3-2 in games, in the quarterfinals on Oct.28, winning 20-25, 26-24, 22-25, 25-23, 15-12, to advance to meet second-seeded Santa Fe Christian in the semifinals on Nov. 1.
SFC ended El Capitan's upset bid with a 25-18, 25-16- 25-14 sweep.
The Grossmont Hills League champion Lady Vaqueros (28-11) extended their season with a first-round appearance as the No. 15 seed in the Division II state regionals opposite No. 2 seed Oaks Christian (28-4).
Statistical leaders for El Capitan included junior Madison Triplett (510 kills, 251 digs), sophomore Madelyn Wutzke (73 aces), senior Alyssa DeYoung (83 blocks) and junior Hannah Mc-Grath (874 assists).
Santa Fe Christian upset Francis Parker in four sets in Saturday's Division I championship game at San Marcos High School.
Liberty Charter (13-18) received the No. 12 seed in the Division IV field, ending its season with a four-sets loss at fifth-seeded Del Lago Academy (23-3) in the opening round.
Division V playoffs included Mountain Empire (fourth seed) and El Cajon valley (eighth seed).
El Cajon Valley (20-14) swept the ninth-seeded Cambridge School (5-6) out of the playoffs in the first round before tangling with top-seeded Victory Christian Academy, the eventual division champion, in the quarterfinals.
The Lady Braves bowed out with a loss in four sets.
Mountain Empire (18-11) swept 13th-seeded Gompers Academy (2-6) in the opening round before sweeping fifth-seeded High Tech High North County (6-10) in the quarterfinals en route to a semifinal match-up against Victory Christian, which emerged with a three-sets sweep.
San Diego Section champions
OPEN DIVISION
(1) Cathedral Catholic defeated (2) Torrey Pines 25-10, 25-10, 25-19. Records: Cathedral Catholic 38-0, Torrey Pines 26-9
DIVISION I
(2) Santa Fe Christian defeated (1) Francis Parker 3-1. Records: Santa Fe Christian 23-13, Francis Parker 28-9
DIVISION II
(1) Bonita Vista defeated (3) Granite Hills 25-18, 25-27, 21-25, 25-17, 15-10. Records: Bonita Vista 31-9, Granite Hills 26-13
DIVISION III
(3) Helix defeated (1) Holtville 25-21, 24-26, 25-11, 25-21. Records: Helix 16-12, Holtville 26-7
DIVISION IV
(1) Imperial defeated (2) Horizon Prep 18-25, 29-27, 25-23, 25-23. Records: Imperial 29-13, Horizon Prep 19-5
DIVISION V
(1) Victory Christian Academy defeated (3) High Tech High Mesa 25-17, 25-9, 25-21. Records: Victory Christian Academy 31-7, High Tech High Mesa 18-15