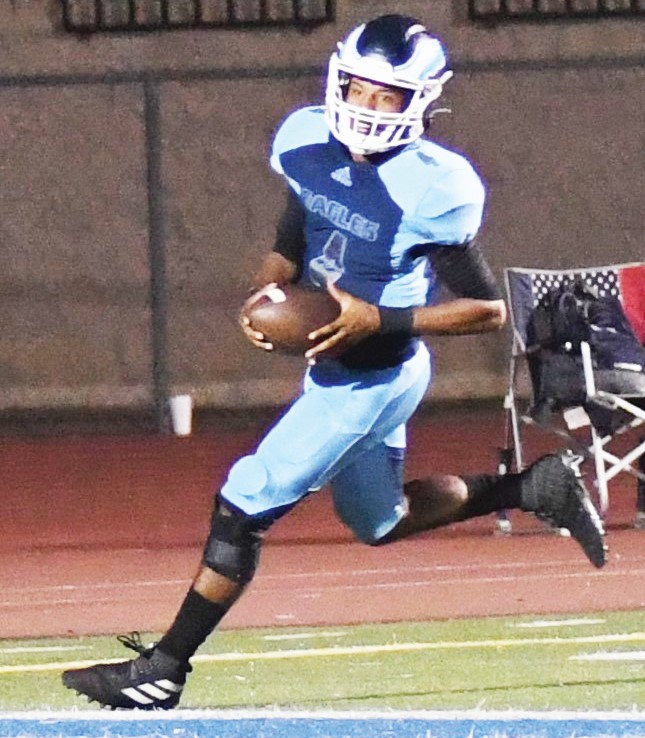 The San Diego Section playoffs enter the second round with five East County team still vying to win a coveted divisional championship.
It's a tough task. Eight East County teams entered the single-elimination fray last weekend and only two survived to advance.
El Cajon Valley (Division V) and Foothills Christian (8-Man) both won their opening games while Steele Canyon (Division I), El Capitan (Division III), Santana (Division III) and West Hills (Division III), Mt. Miguel (Division IV) and Mountain Empire (Division V) all ended their seasons with setbacks.
Grossmont Hills League champion Granite Hills (8-2) and league runner-up Helix Charter (7-3) both enter the quarterfinals with first-round byes, as does City Eastern League champion Christian (6-4).
The five teams hope to remain in the championship pipeline.
El Cajon Valley 21, Clairemont 14
The seventh-seeded Braves drew the home field contest but need a second-half rally to eliminate the visiting Chieftains (3-8).
El Cajon Valley scored three rushing touchdowns, including two by junior quarterback Darick Dubose (12 carries, 106 yards) and one by senior Kal-el Gordon (eight carries, 95 yards).
The Braves (5-6) played on a slanted field with 286 rushing yards compared to just nine passing yards but were able to overcome a 14-7 halftime deficit with the only two scores in the second half and a second half shutout by the defense.
El Cajon Valley advances to meet second-seeded Escondido Charter (8-2) in the quarterfinals. The winner advances to meet either sixth-seeded Vincent Memorial (7-3) or third-seeded Classical Academy (7-3) in the semifinals.
On the season Gordon has rushed for 1,280 yards and 18 touchdowns while DuBose has rushed for 615 yards and eight touchdowns and passed for 361 yards and three more scores.
Senior Elijah Scott led the hosts with 13 tackles, including four for a loss, while sophomore Fabian Carmona had nine tackles and one sack. Junior Joseph Johnson IV and junior Omar Jaimes both had interceptions.
But the killer on defense for El Cajon Valley include five fumble recoveries, including two by Dubose and one each by junior Cristofer Gonzalez, Scott and Carmona.
Gonzalez tacked on all three extra-point conversions.
The Braves have won four of their last six outings while finishing 3-3 in Grossmont Valley League play.
"The boys caught well that night," ECV coach Nick Osborn said. "We had to overcome the Clairemont defense, which played was really tough in the first half. Our defense kept us in it with multiple turnovers and stops on first down. We adjusted by second half and were able to find some momentum moving the ball.
"Our OL adjusted to the defensive front and started to figure it out. Darick Dubose had two big TDs in the fourth to seal the win with only 30 seconds left on the clock after he had just recovered a fumble on defense. It was definitely a game to remember. I have lots of respect for Clairemont. They played us tough. Playoff football begins out the best in everyone. "
Foothills Christian 51, Rock Academy 8
The sixth-seeded Knights (8-3) gave up 243 yards, including 169 rushing yards, but still breezed to the quarterfinal-round win over the third-seeded Warriors (8-2) in a game played Saturday at Francis Parker.
Foothills Christian advances to Friday's semifinals against second-seeded St. Joseph Academy (8-1) at Vista High School. The winner plays the winner of the top-seeded Victory Christian Academy (9-0)-Coastal Academy (9-2) semifinal clash in the division championship game Nov. 19 at Escondido High School.
The Knights led, 7-0, at the end of the first quarter before taking a 28-8 halftime lead. The Knights tacked on 23 points in the second half, leading 38-8 entering the fourth quarter.
Foothills scored eight touchdowns in the blowout victory while amassing 683 total offensive yards. Five players scored rushing touchdowns: senior Jayden Gascon (six carries, 148 yards), sophomore Kameron Brown (nine carries, 133 yards), senior Trey Clark (three carries, 48 yards), senior Kevin Mayer (four carries, 35 yards) and sophomore Ben Hernandez (two carries, 17 yards).
Hernandez passed for 187 yards with a 17-yard touchdown to Gascon, who finished with a team-high 237 total offensive yards (26 passing, 148 rushing and 63 receiving).
Hernandez had 204 total yards (187 passing, 17 rushing) while freshman Hunter Hamilton garnered 190 total yards (84 rushing, 106 receiving). Brown had 149 total yards (133 rushing, 16 receiving).
Mayer tacked on four extra-point conversions and a field goal.
Gascon was active on both sides of the ball with a team-best 17 tackles, including 14 first hits, while senior Jason Hardison was next with 16 tackles (12 solo) and Clark was third with 14 tackles. Hamilton registered 12 stops in the game.
The Knights racked up six sacks, including two each by Clark and Hamilton and one each by Gascon and junior Logan Hamilton. Clark and sophomore Jackson Bailey both had interceptions.
Foothills also prospered with three fumble recoveries — one each by Bailey, Hunter Hamilton and Gascon. Clark also had one punt for 40 yards while returning two kickoffs 70 yards.
Next up
Granite Hills, Helix and Christian have each had a week to heal and regroup and get chomping at the bit to get back on the playing field after first-round byes.
Granite Hills will host the eighth-seeded La Jolla Vikings (6-5) on Friday in a Division II quarterfinal clash while Helix will host the fifth-seeded El Camino Wildcats (8-3) in a Division I encounter.
Christian will pair with the fifth-seeded Mira Mesa Marauders in a rematch from what proved to be the City Eastern League championship game.
The Christian-Mira Mesa game will be played at a neutral site because of home field availability (Granite Hills is home).
The Vikings are coming off a 28-22 first-round win over the visiting Santa Fe Christian Eagles last Friday in which junior quarterback Jackson Diehl threw for 220 yards and three touchdowns.
"La Jolla is a well-coached team with a lot of playoff experience," Granite Hills coach Kellan Cobbs said. "Their quarterback does a nice job in the passing game and throws a good ball. The keys to success for us will be to be able to get pressure with just our front four. If we are able to do that, we should be good. Offensively, we have to run through arm tackles and make the first guy miss."
Season leaders for the reigning Grossmont Hills League champions include senior quarterbacks Nico Tomasello (741 passing yards, eight touchdowns) and Parlan Sanders (450 passing yards, four touchdowns), sophomore Isaiah Jackson (601 rushing yards, eight touchdowns), senior Zak Darling (546 rushing yards, five touchdowns), sophomore Maxwell Turner (536 rushing yards, six touchdowns), junior Josh Zander (375 receiving yards, four touchdowns), senior Colin Riley (231 receiving yards, four touchdowns) and senior Joaquin Thomas Jr. (256 receiving yards, four touchdowns).
Sanders (44 carries, 322 yards) has also scored six rushing touchdowns.
Junior Jordan Glaze tops the GH defense with 85 tackles while senior Royce Harper has four sacks and senior Easton Peterson has eight interceptions. As a team, the Eagles have 16 picks and 13 fumble recoveries.
Granite Hills will remain at home for the semifinals with a win over La Jolla and would host either Christian or Mira Mesa.
The Eagles defeated Christian, 41-3, in a game delayed by lightning on Oct. 6.
Helix will look to get back in the win column after the Highlanders' epic 46-44 four-overtime loss to visiting Granite Hills in the Grossmont Hills League championship game two weeks ago.
El Camino is no stranger to the Scotties after the teams met in last year's Division I semifinals.
The Wildcats look to be a strong opponent again after eliminating 12th-seeded Scripps Ranch by a score of 35-6 in last Friday's opening round. El Camino, braced by 210 rushing yards from 10 players, led 35-0 at halftime.
"This will be a very tough task for us this week," Helix coach Damaja Jones said. "El Camino is a very good team that has a mix of juniors and seniors at key positions. I believe our strength is their strength, which is at the line of scrimmage. We will definitely be prepared and ready to play because this time of the year is win or go home."
Season leaders for the Highlanders include junior quarterback Ryland Jessee (1,708 passing yards, 27 touchdowns), junior Kevin Allen III (900 rushing yards, 12 touchdowns), junior Jason Sisneros (576 rushing yards, eight touchdowns), senior Quincy Herron (562 receiving yards, 11 touchdowns) and junior Jackson Daniels (326 receiving yards, five touchdowns).
Allen has also caught four scoring passes.
The Helix-El Camino winner advances to meet either top-seeded Mission Hills (7-3) or ninth-seeded St. Augustine (4-7) in the division semifinals.
Christian defeated visiting Mira Mesa, 21-20, on Oct. 15 en route to ta 4-0 finish in league play. The Patriots also defeated La Jolla, 20-14, on Oct. 21.
The Marauders enter Friday's rematch after dispatching the 12th-seeded Otay Ranch Mustangs, 38-12, in the first round.
Makei Thompson rushed for 172 yards and scored four touchdowns. Christian counters with senior quarterback Jake Davila, who has thrown for 1,326 yards with 15 touchdowns. Leading receivers include senior Hunter Provience (618 receiving yards, 10 touchdowns) and junior Dylan Eads (three touchdown catches). Leading ball-carriers include seniors Aidan Hypes (440 yards, three touchdowns), Brady Bingham (332 rushing yards, four touchdowns) and Davila (332 rushing yards, three touchdowns).
Davila has amassed 1,658 total offensive yards (184.2 per game) to lead the Pats.
Senior Aaron Shebloski tops the team with 43 tackles, three sacks and two interceptions.
All quarterfinal playoff games are slated for 7 p.m. starts.