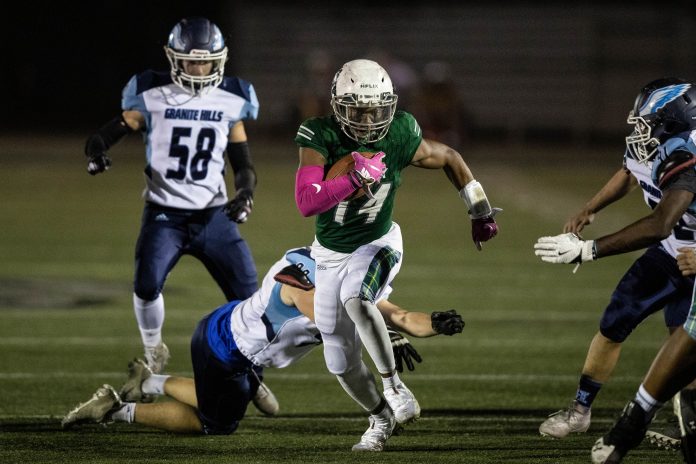 The Helix Highlanders earned the No. 1 seed in the San Diego CIF Open Division playoffs as the county's top team in the regular season following their 35-23 come-from-behind win over host Steele Canyon to capture the Grossmont Hills League championship last Friday.
The Cougars led 21-7 at halftime but sophomore Christian Washington scored four touchdowns, including three in the second half, and rushed for 218 yards to lift the 9-1 Highlanders back into the elite bracket after losing the Division I championship game last season by one point to the team it will face on Nov. 15, the St. Augustine Saints (8-2).
Washington has 14 touchdowns this season, including 13 in the last five games since an injury to superstar senior back Elelyon Noa, who had 11 touchdowns in six games before being sidelined with a season-ending foot injury.
Helix senior Delshawn Traylor threw a scrambling 53-yard game-clinching touchdown pass to Jahari Hill after a safety by Steele Canyon (9-1) closed a Highlander lead to 28-23.
Cougars sophomore quarterback Elia Kirisimasi was passed for 221 yards and a touchdown pass to Antoine Walker, who made a one-handed catch in double coverage. Kirisimasi also rushed for a pair of scores.
Helix, which has won 48 of its last 50 Grossmont League games, would advance to the section's Open Division title game with a win. The other semifinal matches No. 2-seed Carlsbad (9-1) and No. 3-seed Cathedral Catholic.
The Scotties defeated the Saints, 44-38, at Mesa College on Sept. 20. Helix also owns a win over the Dons, 45-27, in La Mesa a week earlier.
Steele Canyon, meanwhile, earned No. 1 seed in Division I. The Cougars won the section's Division II championship in 2017.
The Cougars await the winner of a game this Friday between Eastlake and Oceanside in an 8-9 seed matchup. Steele Canyon dominated the Titans in an early-season meeting in Spring Valley.
Elsewhere in Division I, fifth-seeded Grossmont (7-3) will host 12th-seeded San Marcos (4-6) at Jack Mashin Stadium on Friday at 7 p.m.
Senior Jaime Odom passed for 292 yards and four touchdowns to a season-ending road win at El Capitan last Friday. 
The Vaqueros rallied from a 28-6 deficit to tie the game at 28-all after three quarters as senior Wick Hauser passed for a touchdown, rushed for a score and returned a fumble for a scoop-n-score.
But Odom rushed for the go-ahead touchdown in the fourth, then passed to Kadon Tedokon for another score.
Senior Brody Schicker had eight receptions for 123 yards and two touchdowns.
Granite Hills (5-5) was seeded 11th as an automatic qualifier to the postseason in Division I and will travel to face sixth-seeded La Costa Canyon (5-5).
The Eagles made it look easy on Senior Night in a 43-6 win over visiting Valhalla as junior quarterback Justus McComb passed for four touchdowns, including two to junior Jacob Setterberg, and a 73-yard score to Matt Keeley. 
Granite Hills freshman Jaylen Hall had a 69-yard punt return for a touchdown. 
Eagle senior James Johnson had six catches in the game and finished the regular season with 73 receptions.
In the Division II playoffs, the Monte Vista Monarchs, which won the Grossmont Valley League championship for the second-straight year with a 42-0 win at West Hills last Friday, earned the No 8-seed and will host ninth-seeded Poway (6-4) in a game which is sure to be decided on the ground.
The Monarchs are riding a five-game winning streak heading into the postseason.
Monte Vista senior Isaiah Gardner rushed for 138 yards and three touchdowns and threw for another to senior Julian Robledo.
Also qualifying for the Division II playoffs were the Christian Patriots (5-5), who fell to the sixth-seed and will host 11th-seeded Otay Ranch (4-6) at Valley Stadium on Friday at 7.
Last Friday, the Pats lost at La Jolla, 20-19, on a touchdown in the final seconds. A Christian win would have clinched a share of the league title with the Vikings.
Gabe Krug, Christian Salacup and Nate Stine scored touchdowns for the Patriots.
In Division III, a pair of East County clubs will meet for the second time this season when the eighth-seeded Norsemen host the ninth-seeded Wolf Pack.
Valhalla (4-6) defeated West Hills (6-4), 24-14, in Santee in a Week 2 conference matchup as senior Kegan Baker rushed for over 200 yards and three touchdowns. Senior Jake Maheu had 100 yards rushing for the Pack, who were shutout in the second half.
The Santana Sultans earned the top-seed in Division IV following their 42-7 victory over El Cajon Valley on Senior Night last Friday. 
Senior quarterback Nathan Temple passed for four touchdowns.
The Sultans will host the winner of a first-round game between Escondido and Classical Academy in a quarterfinal matchup on Nov. 15.
The Mount Miguel Matadors returned to the playoffs, earning the seventh-seed in Division IV following an impressive 49-26 win over visiting Del Norte in a memorable Senior Night last Friday.
Mount Miguel (5-5) will host tenth-seeded Coronado (6-4) on Friday at 7.
Matador senior Jahiem Allen-Pompey, who leads the country in receiving yards, set the San Diego Section record for most yards and most receptions in a single season in the victory in the victory over the Nighthawks.
Allen-Pompey caught a section-record tying 17 passes, including four for touchdowns, as Mount Miguel pulled away from a 28-20 halftime lead. He finished with 269 yards, which ranks in the top ten in single-game reception yards in the county all-time.
The 5-foot-7, 130-pound star has 102 receptions for 1,921 yards and 22 touchdowns this season. He passed current Ohio State receiver Chris Olave to set the yardage mark and is just four touchdowns away from tying him for the single-season TD reception record.
Mount Miguel junior quarterback Jacob "J.D." Laverdiere passed for 365 yards and five touchdowns. 
Laverdiere's 3,099 yards this season ranks him 15th in the section all-time for single-season passing yards and is 13th all-time in the section in career passing yards with 2,034. He ranks 14th all-time in the section with 57 career passing touchdowns (30 this season).
The El Cajon Valley Braves (3-7) will host a home game in the Division V playoffs on Friday at Daryl R. Priest Field.
The eighth-seeded Braves will host ninth-seeded Mountain Empire (2-7) at 7.
El Cajon Valley senior Joe Malone tossed a 69-yard touchdown pass to Clarence Johnson in the loss to the Sultans last Friday.
The defending section eight-man champion Foothills Christian Knights (9-0) advanced to the championship game with a 61-14 win over visiting Ocean View Christian (5-3) at Seau Field last Saturday.
Foothills Christian will face second-seeded San Diego Jewish Academy (7-0) in the final at Mission Bay High on Saturday at 7 p.m.
The Knights defeated the Lions, 41-14, to capture last year's eight-man section banner.