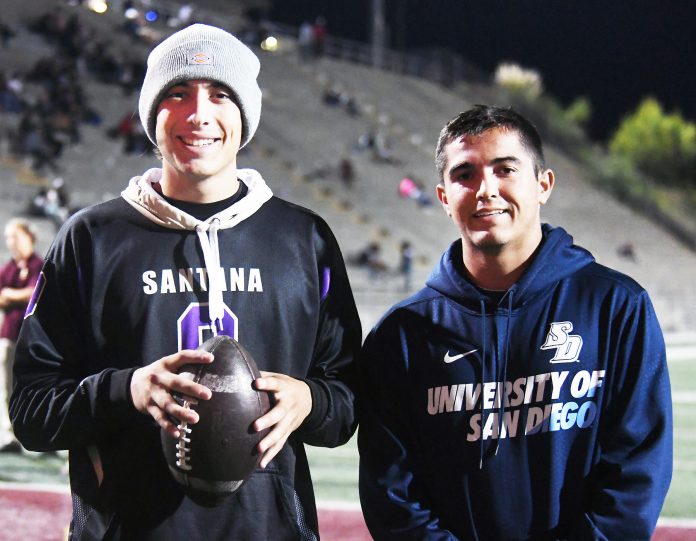 Santana High School seniors Nathan Temple and Nathan Hughes, standouts on this year's football team, have started the college recruiting process.
Both young men were in attendance at last Saturday's community college football game between Southwestern College and Grossmont College, a game won by the host Jaguars 42-3.
Both are hoping to return to DeVore Stadium as members of the top-ranked Santana gridiron squad for the San Diego Section Division IV championship game on Nov. 29.
The Sultans have advanced to the CIF championship game twice in school history —2011 and 2016.
Santana dropped a 20-14 decision to Valley Center in 2011 in a game played at what is now SDCCU Stadium while the Sultans fell short, 38-24, to La Jolla Country Day in 2016 in a game played at Southwestern College.
Santana is bidding to retain its No. 1 ranking among Division IV teams when it closes out regular season play Friday, Nov. 1, with a key Grossmont Valley League game against visiting El Cajon Valley.
The Sultans are 8-1 while the Braves are 3-6.
Monte Vista, which handed Santana its first loss of the season after an 8-0 start, resides in first place with a 3-0 league record. Santana and West Hills follow with 2-1 league records while Mount Miguel is 1-3 and El Cajon Valley is 0-3.
Monte Vista closes it season at West Hills on Friday, Nov. 1, seeking a win to claim outright possession of this year's league title. However, depending on the bounce of the ball, the Grossmont Valley League could conceivably field a tri-championship this season.
The Monarchs denied the Sultans a perfect season with a 37-10 victory on Oct. 18.
Monte Vista pounded El Cajon Valley, 35-0, last week while Santana had a bye week.
"We're ready to rebound against El Cajon Valley," said Temple, who has passed for 1,476 yards with 24 touchdowns against just two two interceptions this season. "We have weapons on both sides of the ball."
Eleven players have scored touchdowns for the Sultans this season, led by senior Randall Smith with 13.
Smith (25 catches, 468 yards) and Hughes (10 catches, 305 yards) have been top targets for Temple, who owns a lofty 143.3 quarterback rating and looks to be one of the section's top college recruits in 2019.
Temple, who has also rushed for three touchdowns, leads Santana with 1,591 total yards.
Hughes plays several positions: receiver on offense, safety on defense as well as handling kicking and punting duties.
He ranks second on the team with 58 points, including 33 kicking points.
Hughes has kicked 30 of 33 extra-point conversion attempts and tacked on a 33-yard field goal this season while also scoring four receiving touchdowns.
He has made 28 tackles on defense with two interceptions and one fumble recovery.
"We've been sticking to our game plan and not worrying about the game plan of the opponent," Hughes said of the secret to the Sultans' runaway success this season. "We've got to keep our chemistry going, working hard in practice and keeping our grades up."
Both were impressed by the quality of community college football during their visit.
"It's faster, more physical," Temple said.
Southwestern (5-2) was keyed by five interceptions, including three interception returns for touchdowns, to keep Grossmont (0-7) winless on the season.
Pigskin playoffs
The Division VI (eight-man) playoff bracket has been set. Top-seeded Foothills Christian (9-0) will face fourth-seeded Ocean View Christian Academy (6-2) in one semifinal pairing while second-seeded San Diego Jewish Academy (7-0) will face third-seeded San Pasqual Academy (7-1) in the other semifinal matchup.
Both games are scheduled for Saturday, Nov. 2.
The winners will advance to the championship game Nov. 9 at Mission Bay High School.
Foothills is the defending division champion.
Foothills and San Pasqual finished as the top two teams in the Ocean League while SDJA and Ocean View finished as the top two teams in the Citrus League.
Senior Tony Mroz leads Foothills with 1,275 passing yards and 19 touchdowns while rushing for 517 yards and nine touchdowns.
Four receivers each have caught three touchdown passes: junior Jason Oliveira (10 catches, 351 yards), senior Blake McIntyre (14 catches, 288 yards), senior Jay Mayer (seven catches, 166 yards) and senior Tanner Corey (10 catches, 150 yards).
Junior Christian Liang keys Ocean View with 558 rushing yards and 11 touchdowns while passing for 392 yards and five touchdowns. Sophomore Tony Valdez leads the Patriots with 63 tackles on defense while sophomore Kevin Yuan has recorded five sacks.
The Foothills-Ocean View semifinal clash is set for a 7 p.m. kickoff at Seau Field in La Mesa.