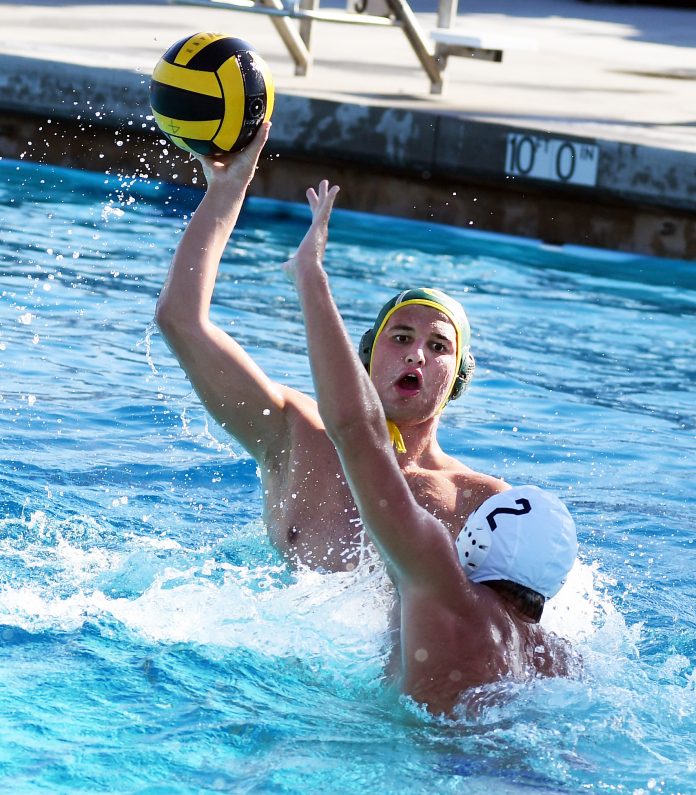 The Pacific Coast Athletic Conference will hold its 2019 water polo championship tournament Nov. 8-9 at Southwestern College.
Grossmont College's men's team finished a strong 2018 season as PCAC champions while San Diego Mesa College won the women's title.
Both teams are fighting to stay above the waves in 2019 with large roster turnovers.
The Griffins have elected to field an all-freshman team this season with the aim of gaining experience for next season.
The result has been an 11-15 regular season record, including a 3-2 mark in conference seeding games.
"We've red-shirted three starters from last year's team," Grossmont head coach Ty Lackey said. "They're all hanging out, waiting for next year.
"The new guys are young but enthusiastic. It's very different having an all-freshman team. They're still learning but still working hard to see this through."
The Griffins could have another championship team in the making for next year, though Lackey isn't counting out his young water warriors quite yet.
Several Grossmont players already rank among the state and PCAC leaders.
Emiliano Castro (Bonita Vista) leads the state with 114 goals while teammate Thomas O'Carrol (Valhalla) ranks second in the state with 62 assists.
Castro leads the conference with 42 steals while teammate Keith Patrick (West Hills) ranks fourth in the conference with 33 assists.
Daltin Collie (Granite Hills) ranks second among conference goalies with 227 saves. 
Castro almost didn't play this season.
"I was going to stop playing after high school but at the last minute I decided I wanted to keep playing at a high level," Castro said. "I feel I've improved from high school and club. Now I'm glad I continued to play."
"He's really talented," Lackey said of Castro. "We've asked him to do a lot of things he didn't do in the past. His real position is two-meters but we've had him play everything else."
Driver Ryan Llewellyn, a 2019 Valhalla grad, admits playing on an all-freshman team has had its challenges as well as rewards.
"It's different, really different playing with everyone from different high schools," Llewellyn said. "But it's also been a good experience. JC water polo is much different. It's more competitive. In high school it was competitive but not like this level, so this is new."
Garrett Fernandez, a 2018 West Hills grad, echoed much of what his teammate said. He said he is proud of what the team has been able to accomplish this season.
"It's tough but at the same time it makes us tougher," Fernandez said. "Basically, on an all-freshmen team we don't have a lot of guys, so we don't have a lot of subs. It makes it more difficult but it makes us stronger."
The Griffins ended regular season play with a 2-2 showing at last weekend's inaugural Día de los Muertos tournament at Southwestern College.
Grossmont defeated Santa Monica (8-3) and Cypress (18-14) on the first day of the Nov. 1-2 event and dropped matchups to Saddleback (12-11) and Orange Coast (21-8) on the second day.
San Diego Mesa College (16-8 overall) is seeded first for this weekend's tournament with a 5-0 conference record, followed by Palomar College (12-11 overall) as the second seed with a 4-1 conference record.
Grossmont College is the third seed, followed by Southwestern College (2-3 in conference, 7-20 overall) as the fourth seed. Crafton Hills College (1-4 in conference, 1-11 overall) is the fifth seed while San Diego Miramar College (0-5 in conference, 1-17 overall) is the sixth seed.
The top two-seeded teams receive a bye in the opening round, with the third seed taking on the sixth seed and the fourth seed meeting the fifth seed. Winners advance to the semifinals.
The final day of competition will feature championship games as well as third-place games in both gender fields.
Lackey is hoping his team can put it all together at the right time of the season.
"I think we'll pull an upset in the semifinals and hopefully pull another upset after that," the Grossmont coach said.
Grossmont College's women's team, on the other hand, will attempt to defend its top seeding in the upcoming championship tournament after finishing 5-0 in conference play, 14-5 overall.
Palomar (16-8) is seeded second at 4-1 in conference play, followed by Southwestern (12-5) with a 3-2 conference record and Miramar (11-10) with a 2-3 conference record. Mesa (7-17 overall) and Crafton Hills (1-11 overall) bring up the rear in the conference standings.
Sophomore Jasmine Miller (Valhalla) ranks second in the PCAC with 65 goals while goalies Alissa Brindley (Ramona), a freshman, and Ally Mitchell (El Capitan), a sophomore, have allowed the least goals in the conference.