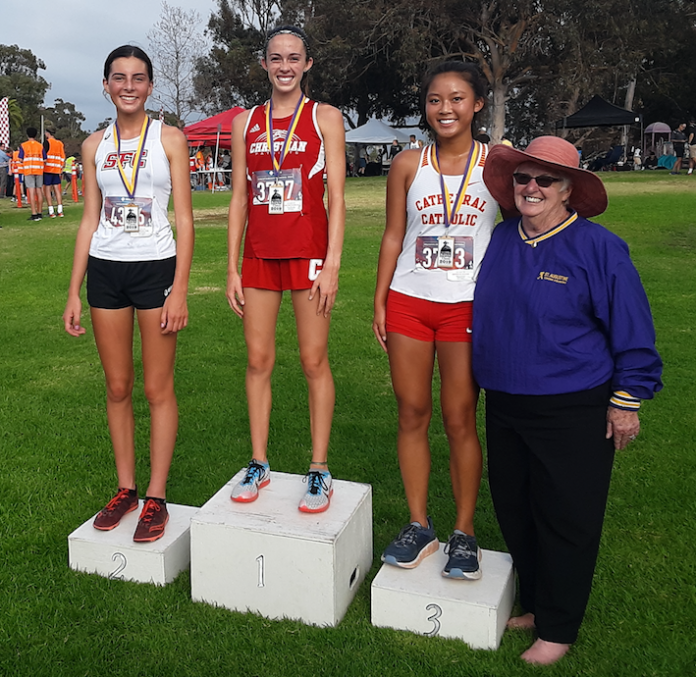 Christian High School junior Alaina Zamorano not only won the girls varsity race at the Coach Downey Cross Country Classic meet Sept. 27 on the Morley Field course in San Diego but also set a meet record.
Zamorano completed the 5,000-meter (3.1-mile) course in 18:54.  The previous record of 18:58 was set by Lexi Watkins of La Jolla Country Day in 2017.
"Today I didn't have a specific time in mind," Zamorano said. I just wanted to run my best, give 100 percent."
Zamorano's previous race was also at Morley Field; she finished third in the Division 1 senior and invitational race at the September 21 Mount Carmel/Asics Cross Country Invitational.
Not winning the Mount Carmel race didn't bother Zamorano, as she set a course personal record by 40 seconds with a time of 16:07 in the 2.75-mile race.
"I wasn't upset at all where I finished," she said.
Christian coach Rhonda Kirwin placed Zamorano in the more competitive Division 1 senior and invitational race rather than in the Division 2 competition which matched Christian's enrollment.
"I was running against amazing girls in that race," Zamorano said.
Zamorano's time would have won the Division 2 junior race, whose first-place finisher took 16:15.  That winner attends Salpointe Catholic High School in Tucson, and the first CIF San Diego Section finisher in the race, Kate Baranski of Valhalla, had a time of 17:08.
The Coach Downey Cross Country Classic race was Zamorano's fourth of the season.
"It's gone really well," she said.
Her first race of 2019 was the Vaquero Stampede meet Aug. 24 at Lindo Lake Park in Lakeside, and she finished second in the girls junior-senior Division 3 race behind Mission Vista junior Bella Longo.
"I was really happy about that," Zamorano said.
The Ian Cumming/Tim Latham Invitational meet was held Sept. 6 at Rohr Park in Chula Vista, and Zamorano won the girls Mustangs Division race.  She completed the 2.5-mile course 21 seconds faster than second-place finisher Rachel White of Escondido Charter.
In addition to the Coach Downey Cross Country Classic and the Mount Carmel/Asics meet, Morley Field is also used for the City League cluster meets and championship meet and for the CIF San Diego Section championship meet.
"I know the course well," Zamorano said. "I've run it many times."
Zamorano was in front for most of the Coach Downey Cross Country Classic race.
"I feel like I had a pretty good lead the whole race," she said.
"My coach told me: 'go, go, go.' She just told me to run, give it all I got."
The first 800 meters took Zamorano approximately 2 minutes and 30 seconds.  "It was a little too fast," she said.
Her time after the first mile was approximately 5:45.
"I was okay with that," Zamorano said.
The girls varsity race had 112 finishers. Santa Fe Christian sophomore Eloise Martenson had the second-place time of 19:38.
Cathedral Catholic junior Trang Woolridge completed the course in 19:48 for third place.
"She didn't have any competition," Kirwin said. "She really had to dig deep."
What is now the Coach Downey Cross Country Classic was founded in 1988 by St. Augustine coach Jerry Downey and was originally the St. Augustine Invitational. After Downey passed away the annual meet for small schools was renamed after Downey in 2016.
When Watkins set the meet record in 2017 Zamorano ran in the junior varsity race.  She won that with a time of 20:03.
Zamorano and Watkins both ran in the CIF San Diego Section Division V championship race in 2017 with Zamorano finishing first and Watkins taking second place.
"Racing her freshman year was the craziest race of my life," Zamorano said.
The CIF course was 2.96 miles. Zamorano was eight seconds faster than Watkins.
Zamorano won the varsity race of last year's Coach Downey Cross Country Classic in 19:23; Gina Queck of Mission Bay was the second finisher at 19:33 and Martenson finished fifth in the 5,000-meter race.
Martenson was second at last year's CIF San Diego Section championship meet, finishing 32 seconds behind Zamorano in the Division V race.
In that 2.96-mile race Zamorano had a time of 18:38.
Zamorano's mother also ran cross country at Christian High School. Her father ran track but not cross country in the Sacramento area.
Zamorano lives in El Cajon and attended Christian Elementary School before advancing to the school's next level.