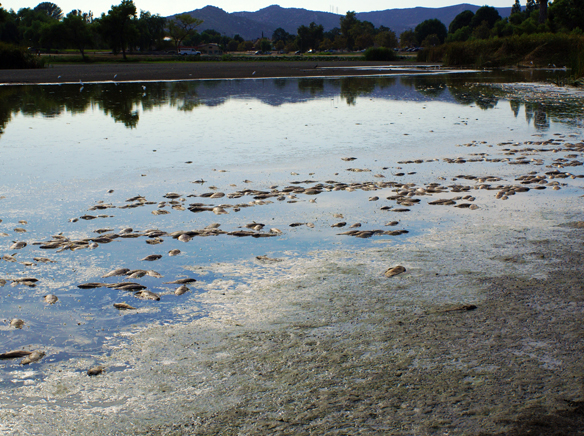 In Lakeside, the East County community named for its body of water, the lake these days is all on one side.
Lindo Lake in the center of town is drying up. Part of it anyway.
But that's nothing new. Only this summer the dryout has been severe.
In Lakeside, the East County community named for its body of water, the lake these days is all on one side.
Lindo Lake in the center of town is drying up. Part of it anyway.
But that's nothing new. Only this summer the dryout has been severe.
"This year we've had extreme heat and that's caused the level of the east basin to go down," said Christine Lafontant, Lakeside district manager for San Diego County Parks and Recreation, which is responsible for maintaining Lindo.
Unfortunately, there has been one casualty thus far.
"This is the first time it's affected the fish this way," said Lafontant admitting scores of fish, perhaps hundreds, are dead or dying in the lake's east basin. But she said the die off has apparently only impacted one species.
"The ones that have died are carp," she said. "It's gotten to the point where fish are dying because of lack of water and oxygen."
Given the extreme circumstances, Lafontant said what the department is doing now is replenishing the west basin, while doing damage control in the dehydrated east basin.
What we're trying to do is really preserve the west side with the boathouse which is close to the community and teen center," she said. "We have two wells that pump water into that. We're working on continuing to pump that west basin to keep that one full. We can keep the west side full. But there's not enough water to keep the east side (where the dehydration is) full."
The park's district manager pointed out Lindo, other than its manmade wells which supplement its water supply, is a naturally fed lake.
"It only replenishes from rain," Lafontant said adding compensating for extreme dry weather in the east basin is an all together different challenge.
"We're working on how to remedy that with volunteers doing debris work, removing the dead fish and weeds, because it is causing a smell," she said.
But mop up work on the dried-out portion of the lake is proving to be an arduous task.
Said Lafontant: "It's very difficult because the lake is hard to access. The bottom is so mucky and soggy that it's become inaccessible by foot or boat. It's really an access issue: We can't get to where the fish are. People can't walk in it – they'll sink."Lafontant said reports began to come in on Aug. 9 that Lindo Lake east basin levels were down so low that fish were dying.
Locals, like Nina Drammissi, principal of Lindo Park Elementary School across the street from the lake, are concerned about its being dried out and about the fish die out which has resulted.
"We residents care deeply about our community and Lindo Lake Park is an amazing asset for us," said Drammissi who volunteered the previous weekend to help clean debris from the dried-out lake's east basin.
Looking out over the east basin of Lindo Lake the morning of Tuesday, Aug. 14, huge expanses of cracked completely dried-out lake bed with some large "puddles" still left in sections were visible, though no dead or dying fish were in evidence.
Passersby on their usual strolls or jogs around the lake shared mixed views about its condition. Some were taken back by its appearance. Others had seen this before.
"A couple years ago it went completely dry, so it's probably going to do it again," said Rich Smith who lives nearby.
Is the lake always this dry, this early?
"I wouldn't say it's like this every year, but I've seen it like this before and I've been here 20 years" said Smith adding, "The only thing is, this year it stinks worse than ever — It's never been this bad."
Brett Ensign walking his four dogs disagreed that the lake water level is low now because of normal variability.
"This is very unusual," he said. "I've seen it down low, probably halfway to here (shore), but not anywhere near this. This is ridiculous."
"Normally it's only a couple of feet deep," pointed out Lakeside resident Paul Hogue.
But Hogue was quick to add, "Ninety-nine-point-nine percent of the time it's got water in it. It's never dry like this."
Is Lindo Lake's east basin's being dried out causing a hardship?
"It does change the scenery a little bit when you walk around through here and you just see a dry lake bed on one side when you're accustomed to seeing a full lake," said Hogue. "It just reminds you this is a semi-arid place and it's a drought again."
"It's not a hardship – it just looks bad," said Ensign, who did have one solution to suggest.
"I think they should just dredge it out, make it 4 feet deep," he said. "At least when it does get rain, it will last longer. Because right now you can tell, if it drops a foot — you got half a lake."
The low lake level left at least one local residents, Amy Chandler, who said she's never seen it this dry before, wondering why.
"I was going to ask the ranger when I was over there what was going on," she said adding, "I've heard, when they drain lakes, it's usually because there's some type of disease from the plants or something."
Chandler also remarked about the lake's smell.
"I picked up my grandson at summer camp here and there was this horrible smell and the lady in the office said it was because of the dead fish over here in the pond."
Lafontant of county parks said everything possible is being done to rectify problems associated with part of Lindo Lake being dried out.
"We're just working diligently," she said. "We are aware of all the inconvenience, and we're doing everything possible to keep people safe."