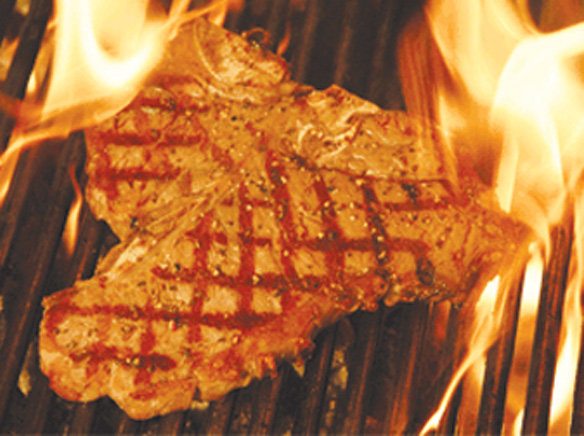 Do not wear a tie unless you want it cut off and mounted on the wall. As drastic as that may seem, it is the eccentric flavor of Pinnacle Peak Steakhouse in Santee.
Do not wear a tie unless you want it cut off and mounted on the wall. As drastic as that may seem, it is the eccentric flavor of Pinnacle Peak Steakhouse in Santee.
Despite rumors, Pinnacle Peak is still in business, open to the public and eager to move forward. Confusion came after the owner of the land requested rezoning of the property. But make no mistake, Toni Petroro, owner said that the old traditions of the 45 year old restaurant has some great new things on its plate and is preparing to move when the time comes necessary—but has no intentions of shutting its doors.
Petroro took ownership of Pinnacle Peak three years ago when told by the owners that they were looking to sell. As general manager, she asked her father for advice on whether to stay or go. They purchased the restaurant. Since then, she kept the original, traditional meals and then added a lot more.
"We focused on fresh ingredients and doing things right," she said. "The same way you would do in your own kitchen. Pinnacle Peak at the time did not have a very good reputation and we had to change that around. I get meat from a different company. I can tell you where everything comes from, what farm, how much it weighs and I send anything back that is not right. There is a quality control in place that was not here before."
Petroro said they make all dressings from scratch and it has nine different sides now.
"We grow fresh vegetables and these are the things that are going to help us survive to the next generation," she said. "We have a full appetizer menu with mesquite grilled bone marrow, and homemade crab cakes. You can definitely feel the love for food here now. I have heard people call Pinnacle Peak the fast food steak house. We have come away from that and the freshness and the quality of the food is much different than what people expect."
She said her bar is full right now and it now has a full wine menu with all western labels.
The biggest thing Petroro wants people to know is that it is beginning to celebrate 45 years in business and looking forward to relocating.
"We want to attract as many people in here now and we need to cut some ties, (literally)," she said. "We need to get our new location stocked with cut ties. That is one way we are focusing this year to get our clients to return. To do a tie drive, because we need crates of ties when we move. We can't move in without any ties on the wall. All year we are going to celebrate 45 years and this summer we will do a big birthday party. I have the original tie that is dated June 1, 1969 from its first location in El Cajon. That is our birthday."
Petroro said they need support from everyone. All the people that Pinnacle Peak has been part of family tradition.
"Talk about comfort food, it is all homemade food at its best," she said. "We work on our new recipes until we get it right and the flavors are outstanding."
Pinnacle Peak employs 23 locals with one employee that has worked there since day one when she was a college student.
Petroro said, at best estimates that she has been told that it will take a minimum of 1.5 to two years before they might be forced to move. But she said since the announcement business decreased significantly and they are inundated with phone calls and is facing the challenge that everyone thinks that it is closed.
"We will have plenty of notice of when the time is getting close. But I didn't think that it would cause everyone to think that we were closed. Pinnacle Peak has been a family tradition for so many people," said Petroro. "Every day, I hear somebody's story. Between my servers, and myself we hear about somebody's grandpa that brought them here, a first date and the stories are continuous."
Pinnacle Peak is at 7927 Mission Gorge Rd., Santee. To see its new menu, with appetizers, entrees and many new additions go to www.pinnaclepeaksantee.com.