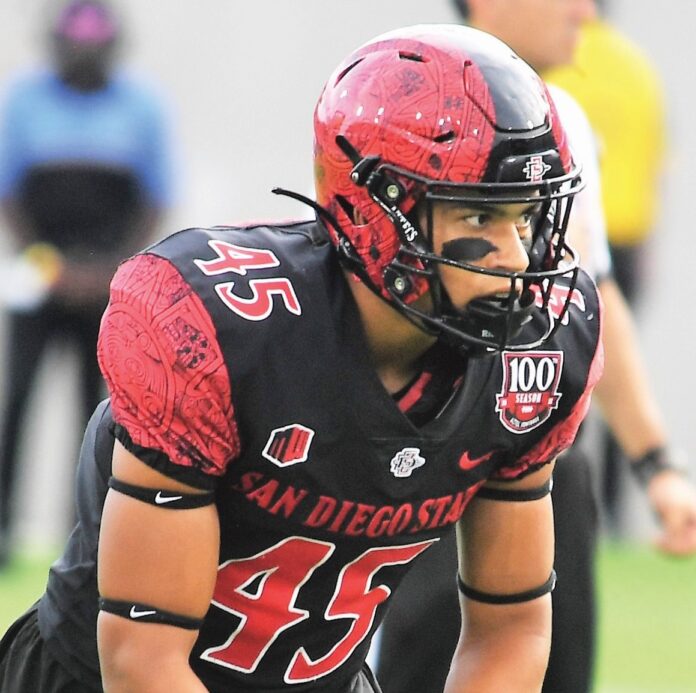 After being sidetracked by two late Fresno State touchdowns in a 32-28 loss on Oct. 29, the San Diego State University football team decided to take the bull — on in this case, the UNLV Rebels — by the horns in scoring the opening two touchdowns in last Saturday's Mountain West game in front of 28,854 spectators at Snapdragon Stadium and ride them to a 14-10 homecoming victory.
The win upped the Aztecs season record to 5-4, 3-2 in conference play. SDSU remains in contention for the MW West Division championship, though there is not much wiggle room.
San Jose State, the Aztecs' opponent on Saturday at Snapdragon (7:30 p.m. kickoff), co-leads the division standings with Fresno State with a 4-1 conference mark.
The Spartans are 6-2 overall and could prevent a roadblock to the division title with a timely win over the hosts.
Concurrently, what better way to get back in the championship race than to beat the team immediately ahead.
Fresno State is 5-4 overall and would hold a head-to-head win should those teams tie in the standings.
SDSU remains ahead of UNLV (2-3 in conference, 4-5 overall) and Hawaii (1-4 in conference, 2-8 overall).
Matthews put SDSU on top, 7-0, on a 28-yard scoring pass from quarterback Jaylen Mayden in the second quarter.
Mayden later threw a 24-yard touchdown pass to tight end Mark Redman in the third quarter to double the Aztec lead to 14-0.
West Hills alumnus Jack Browning supplied the extra-point conversion on both touchdowns to extend his team scoring lead to 55 points (19 PAT and 12 field goals).
The Rebels got on the scoreboard in the third quarter on a 70-yard scoring pass from Doug Brumfield to Nick Williams. The Rebels added a 29-yard field goal by Daniel Gutierrez in the fourth quarter to trim the SDSU lead to 14-10.
Matthews made five catches (on six targets) in the game for 84 yards with one touchdown. His longest catch measured 28 yards.
Redman had three catches for 39 yards and one touchdown, including one catch for 24 yards.
Mayden, who has assumed the role of starting quarterback in recent weeks, completed 19 of 31 passes for 216 yards with two touchdowns and one interception, He was sacked five times.
The Aztecs were less proficient in the ground game, gaining 99 yards on 41 carries. Jaylon Armstead led the hosts with 72 net yards on 14 carries.
Browning continued his standout season with six punts for a 50.2-yard average. He dropped three punts inside the 20-yard line and boomed one punt 61 yards. His only annoyance in the game was missing two field goals (50 and 48 yards) that could have given the hosts more breathing room.
Browning remains 12-of-15 in field goals this season and 19-for-19 on PAT conversions.
The touchdown was the first for Matthews in San Diego.
"That was a pretty special moment for me, and just being in front of my family and friends," he said. "I'm just grateful, and being here is something very special to me. So, I'm just grateful to be in this position that I'm in. I'm just glad we came out with the win."