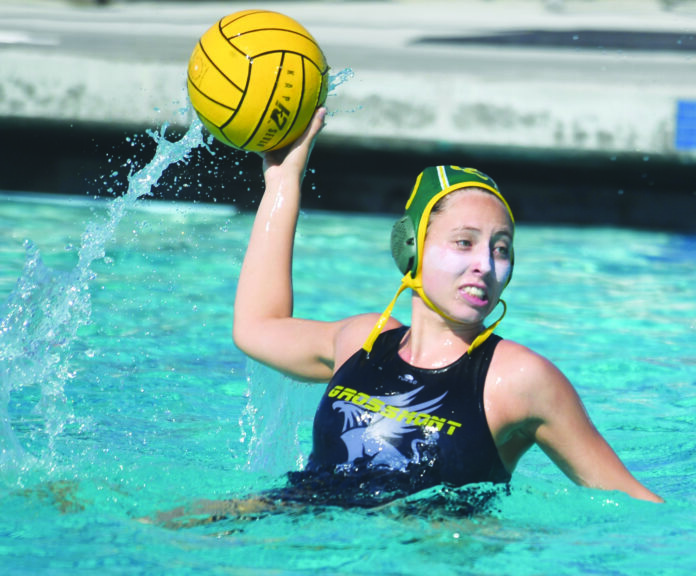 The top-seeded Grossmont College men's water polo team returned to top form after defeating the third-seeded Miramar College Jets, 23-17, in last Saturday's Pacific Coast Athletic Conference tournament championship game at the Southwestern College pool.
The Griffins swept through the season, as well as the tournament, to post a cumulative 12-0 PCAC record. Grossmont College finished 10-0 in regular season play, then tacked on a 17-10 semifinal win over fourth-seeded Southwestern College before defeating Miramar for the third time this season.
Ten players scored at least one goal. Brock Kammerer led the scoring parade with five goals while Garrett Durado had four goals and Austin Gaeir had three goals.
"We just kept setting the ball," Griffins head coach Ty Lackey said. "We knew we were the better team; we had more players. It feels good. That was the goal from the start of the season. It's a great accomplishment.
"Also, one of our goals was to make it on to regionals."
Grossmont College checked that box as well after receiving the No. 7 seed for this weekend's 10-team Southern California regional tournament at Southwestern College.
The Griffins (22-12) were scheduled to play 10th-seeded Mount San Antonio College in Thursday's opening round, with the winner advancing to play second-seeded Long Beach City (21-5) Friday at 1:45 p.m.
Semifinals are scheduled Saturday morning, followed by the third-place game at 1:30 p.m. and the championship game at 3 p.m.
Golden West (23-2) received the top seed, followed by Long Beach City, No. 3 Saddleback (25-6) and No. 4 Cuesta (27-6). Also entered in the field are No. 5 Orange Coast (16-7), No. 6 Cerritos (16-11), No. 8 Riverside (10-15) and No. 9 L.A. Valley (8-13).
PCAC champion Palomar College and runner-up Grossmont College will represent the conference in this weekend's 12-team women's regionals. Palomar (12-0 in conference) defeated Grossmont, 14-7 in last Saturday's tournament finals, though both teams wound up earning berths in the regionals.
Palomar (16-8 overall) is seeded 10th while Grossmont (16-8) is seeded 11th.
Palomar was slated to meet seventh-seeded Riverside City (15-7) in Thursday's opening round while Grossmont was scheduled to play sixth-seeded Cerritos (20-7).
The Grossmont-Cerritos winner advances to meet third-seeded Orange Coast (18-4) in Friday's quarterfinals while the Palomar-Riverside City winner advances to meet second-seeded Fullerton (26-6).
Semifinals are Saturday morning, followed by the third-place game at 4:30 p.m. and the championship game at 6 p.m.
Maddy Ward, Dara Paza and Maddie Logsdon all scored twice for the Lady Griffins in the championship game loss.