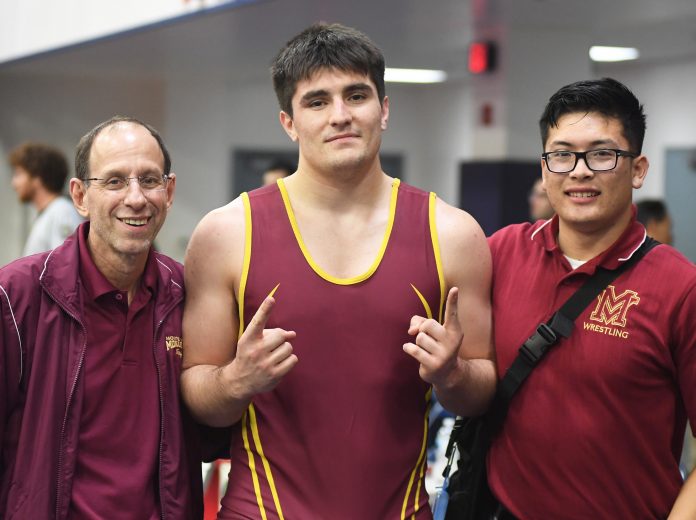 History — or, if you may, herstory — will be made this weekend in Bakersfield when the California wrestling championships take center stage at Rabobank Arena for three days, from Thursday, Feb. 21, through Saturday, Feb. 23.
What makes this year's event so unique is that this will mark the first time in the state's history that both the girls wrestling finals and boys wrestling finals will be contested at the same venue at the same time.
Previously, the two-gender championship meets had been held at different venues and in different time frames.
East County can count itself as part of the history-making event.
Two female wrestlers and four male counterparts from the Grossmont Conference will represent their schools at this weekend's mega-tournament.
The San Diego Section girls wrestling championships took place Feb. 1-2 at Brawley High School. The top three place-finishers in each of 14 weight classes qualified to compete at the state meet.
The section held its boys San Diego Masters state-qualifying tournament at San Marcos High School last weekend. The top four place-winners in each of 14 weight classes punched their ticket to the state tournament.
Ladies first
Mount Miguel's Kerri Gordon and Steele Canyon's Toren Dunbar will represent East County on the mat in this weekend's girls state meet.
Gordon won the 235-pound heavyweight championship at the section finals while Dunbar finished second in her 116-pound weight class.
Gordon, the top-seeded wrestler in her division, recorded pins in all three of her matches to win the championship. She recorded pins of 42 and 46 seconds in her opening two matches and pinned Brawley's Aislinn Hernandez, seeded third in the division, in 1:38 in the finals.
Gordon finished the two-day tournament with three first-period pins.
Dunbar, seeded first in her weight class, scored three first-period pins en route to earning a berth in the championship match opposite second-seeded Victoria Bjork of Westview.
Dunbar was unable to notch a fourth consecutive pin but Bjork did in pinning Dunbar in 1:49 to win the weight class.
Bjork recorded two first-period falls and two second-period falls in pinning her way to the gold medal.
Dunbar recorded pin times of 1:45, 1:19 and 1:06 in winning her opening three matches.
Overall, the Grossmont Conference recorded nine place-finishers at this year's girls section championship tournament.
Fourth-place finishers included Granite Hills' Candee Nunez (111), Steele Canyon's Brianna Schultz (137) and Andrea Orosco (143), West Hills' Diane Baker (150) and El Cajon Valley's Valeria Rocha (235).
Granite Hills' Kailey Smith (106) finished fifth while West Hills' Allyson Byus (111) finished sixth.
Tournament director Trevor Keifer reported a number of positives on this year's section event.
"The tournament grew again this year, registration was at 229, but only 211 made it to the tournament," he said. "I expected a dip with the trip to the desert, but was pleasantly surprised. Brawley hosted an incredible event.
"With San Diego getting three state qualifiers this year, I believe we have enough talent to make some noise at the state level."
Rancho Bernardo 143-pounder Annabelle He was the surprise of the tournament, according to Keifer. "She came in unseeded, beat the one and two seeds to win the tournament," he said.
A total of 54 schools were entered in the team standings, with 51 schools scoring points.
Brawley won the team title with 183 points, followed by Valley Center with 146 points. Eastlake finished third with 98 points while San Pasqual finished fourth with 97.5 points.
Steele Canyon was the only East County school represented among the top 10 teams with 71 points in eighth place.
Mt. Miguel finished 19th with 40 points, followed by West Hills in a tie for 20th place with 35 points. Granite Hills finished in 23rd place with 33 points.
Other East County teams competing at the tournament included Helix, Valhalla, Mountain Empire, Santana and Grossmont.
Stars in their eyes
The Grossmont Conference's four boys state meet qualifiers are West Hills' Saul Sanchez (second at 222 pounds), Mount Miguel's Raul Garcia (third, 122), Steele Canyon's Ezra Cardenas (fourth, 134) and Monte Vista's Blake Schmidt (fourth, 287).