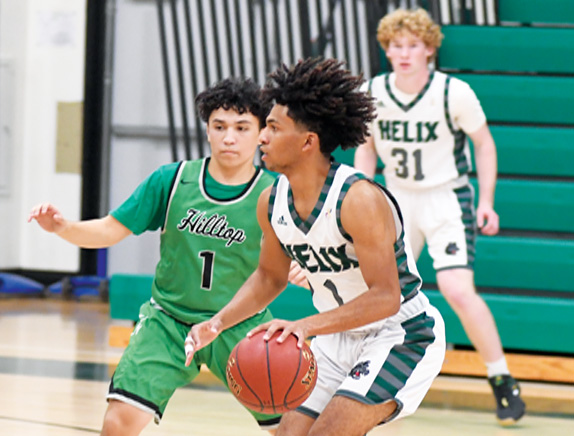 Helix High School boys bas­ketball head coach John Singer admitted his team is a work in progress this season.
"We'll be up and we'll be down," he said. "We don't have great size but we have good high school size, we're very athletic and we have speed."
The Highlanders finished the 43rd annual Hilltop Invitational tournament on an up note by de­feating Hilltop, 74-32, on Dec. 13 to finish 3-2 in tourney play. Helix followed that up with a 2-3 showing at the Sweetwater/ Frank Perkarek Host Lions Club Classic Dec. 14-21.
The Scotties opened the Hill­top tournament with losses to Mission Bay (53-44) and Can­yon Crest Academy (52-44) but finished with three consecutive wins, topping Eastlake (59- 50) and La Jolla (62-49) before speeding past the tourney host Lancers.
Twelve players scored in the blowout win over Hilltop, led by senior Maurice Holmes with 18 points.
Prior to the Hilltop tourna­ment, Helix tipped off the season at the second annual San Diego Tip-Off Classic Nov. 21-23 at Montgomery High School. The Highlanders posted a 2-1 record with a 76-70 loss to St. Augus­tine in the season opener and wins over Mission Bay (63-50) and Sweetwater (73-56).
"St. Augustine is as good as there is in San Diego," Singer said. "They beat us by six. I was happy with how we played. We were missing our football play­ers. Now it's about getting those guys back in the mix. We think we have a lot of guys who can play."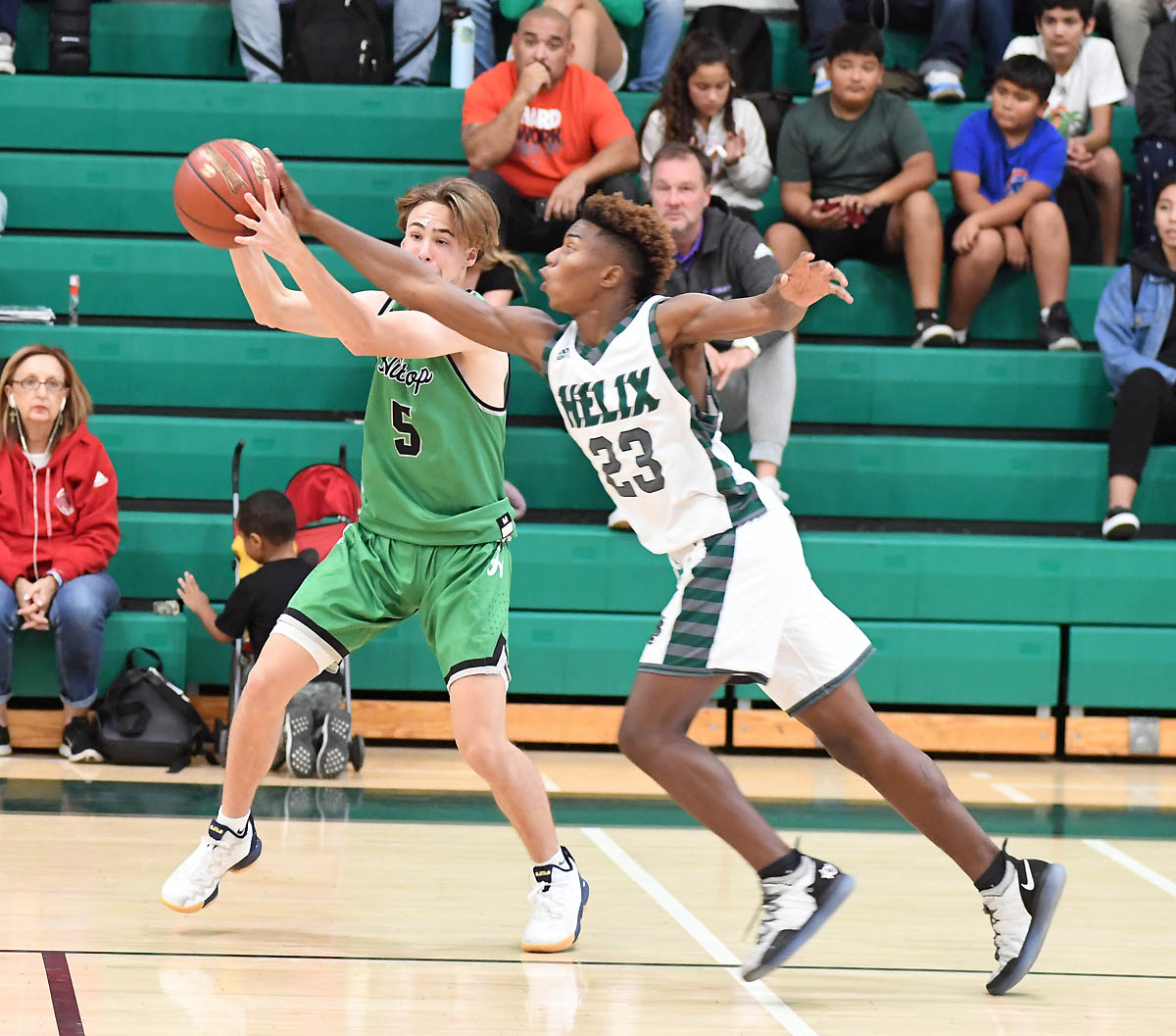 The Scotties' entire line-up, which has been impacted by four transfers, seems it can play, including senior Keionte Scott, who recently concluded the football season in the Southern Cali­fornia regional playoffs with 14 touchdowns —10 as a receiver, two as a running back and one each on a kick return and inter­ception return. ­
"We think he can play," Singer noted of Scott, a transfer from Las Vegas.
Other impact transfers include seniors Xavier Otis (Morse) and Isaiah Robinson (Christian) along with junior Isaiah Thomas (High Tech High San Diego).
Singer said the key to the team's success this season will be creating a fluid mix between the team's returners and new­comers.
"We're going to be slow start­ing out," Singer said. "We're not at where we want to be. We might not even reach our full po­tential. It's going to be interest­ing. Our goals are the same as always — win league, go on to the CIF playoffs and win CIF."
The Highlanders received a test against fifth-ranked Mater Dei Catholic in its opener at the Sweetwater High School tourna­ment, dropping a 65-59 contest. Helix rebounded with wins over Point Loma (69-47) and Morse (84-46) before concluding the tournament with losses to El Camino (47-43) and Lincoln (75- 61) to extend its season opening record to 7-6.
Mater Dei Catholic finished 5-0 at the National City tourna­ment to improve to 9-1 on the season.
Helix tips off Grossmont Hills League play Jan. 10 at Valhalla. The Highlanders will play all their games on the road this sea­son once again due to continued upgrades on the school's gym­nasium.
"We can practice in the gym," Singer said. "We're trying to make the best out of a negative situation.