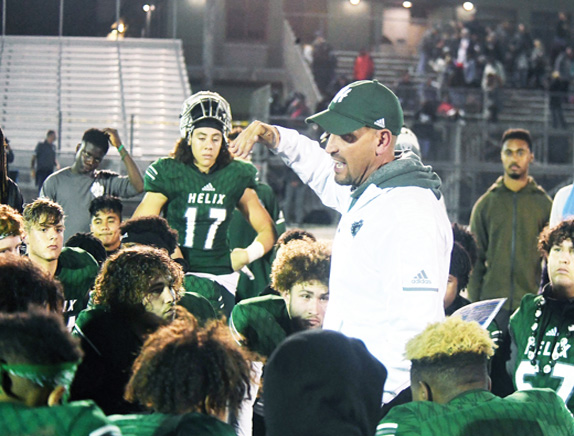 The high school football season is finally over and what a memorable season indeed.
Two teams from the San Diego Section advanced to state cham­pionship bowl games. Both teams came up short in their bid to win a state title — El Camino lost, 31-14, to Santa Rosa Cardinal Newman in the Division 3-AA title game while La Jolla dropped a 52-21 decision to Escalon in the Division 4-A match-up.
The Helix Highlanders repre­sented East County in the state playoffs after winning the San Diego Section Open Division championship. However, the Scotties' state playoffs odyssey lasted just one game after falling, 38-20, to visiting Chatsworth Si­erra Canyon in the Division 1-AA regional on Dec. 6.
The Trailblazers, who finished runner-up in last year's Division 1-A state bowl championship game, proved to be a powerful opponent by scoring on their first six possessions. Junior quarterback Chayden Perry was near perfect, completing 16 of 18 passes for 215 yards with one touchdown.
The visitors rushed for 193 yards and scored four rushing touchdowns — one each by J.D. Sumlin, Jason Jones, Hunter Williams and Brendon Gamble. D.J. Harvey hauled in a scoring pass while Josh Bryan kicked a 44-yard field goal.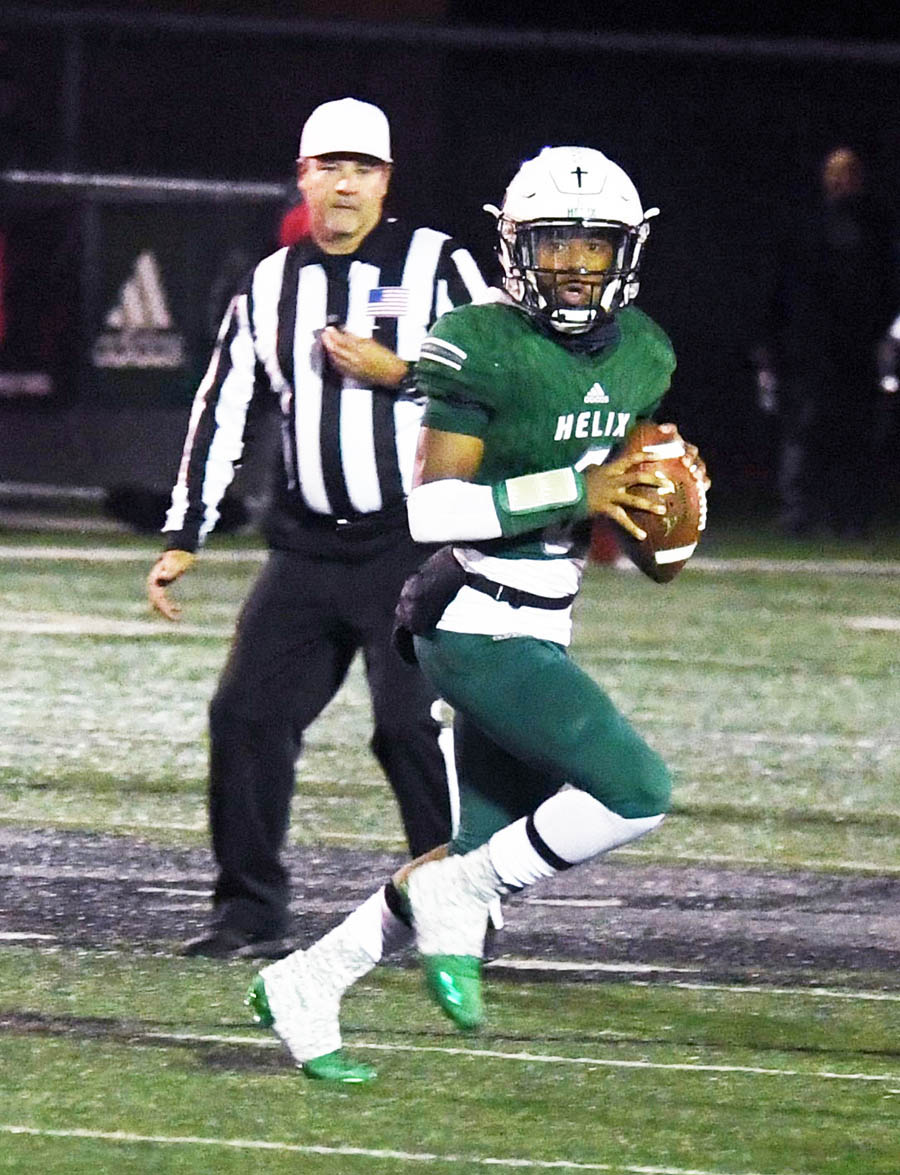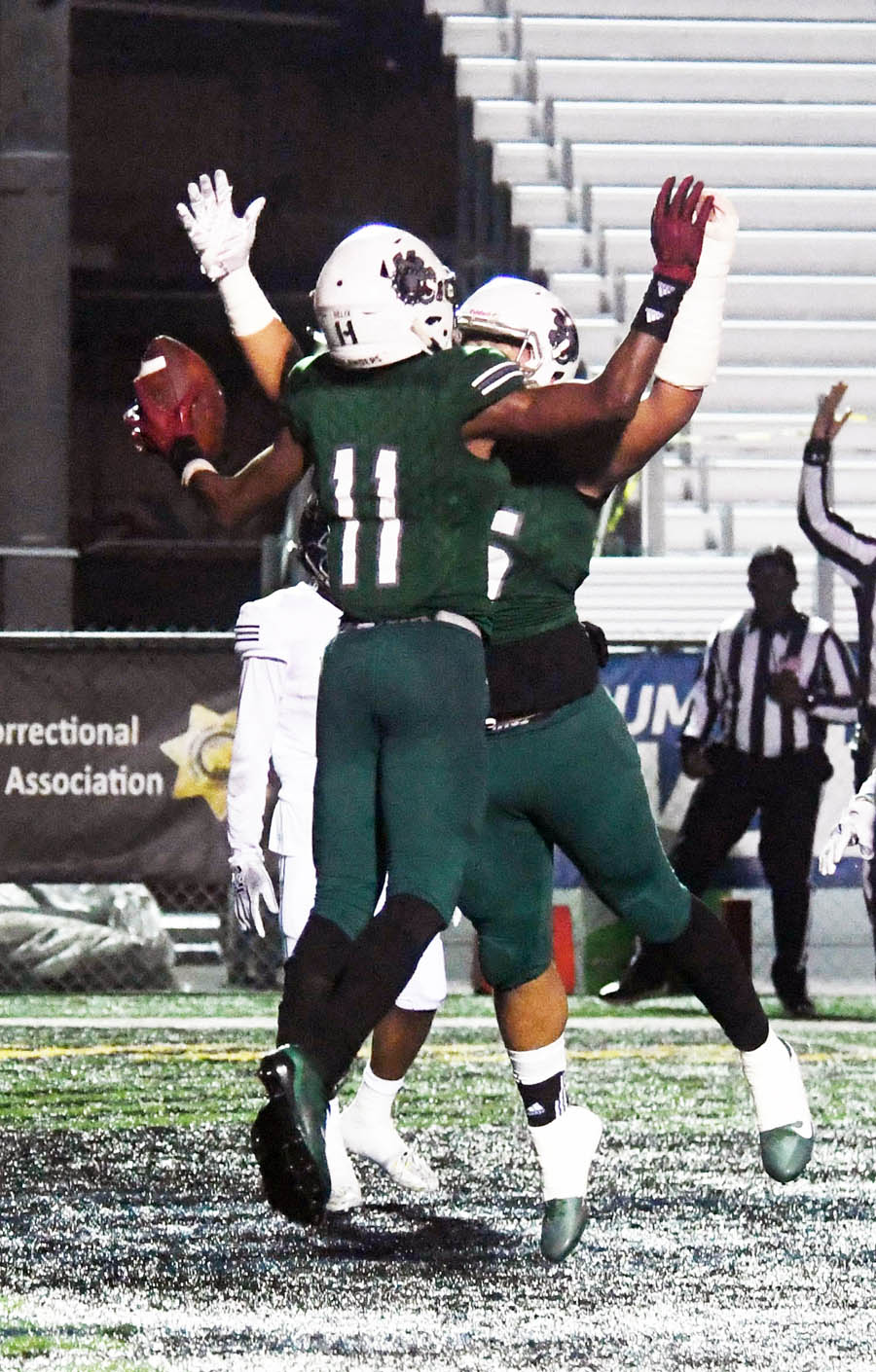 The Highlanders proved to be a scrappy opponent, however. Sophomore Christian Wash­ington scored on a 20-yard run to tie the game at seven points early in the second quarter and Helix senior quarterback Kamryn Brown later connected with senior Keionte Scott on a six-yard touchdown pass in the dying seconds of the first half to knot the game at 14 points.
The second half proved to be a different story, however. Sierra Canyon broke the halftime tie with 24 unanswered points to lead 38-14 deep into the fourth quarter. An 86-yard kickoff re­turn by Washington was Helix's lone score in the second half as the Trailblazer defense held the host team without a first down after halftime.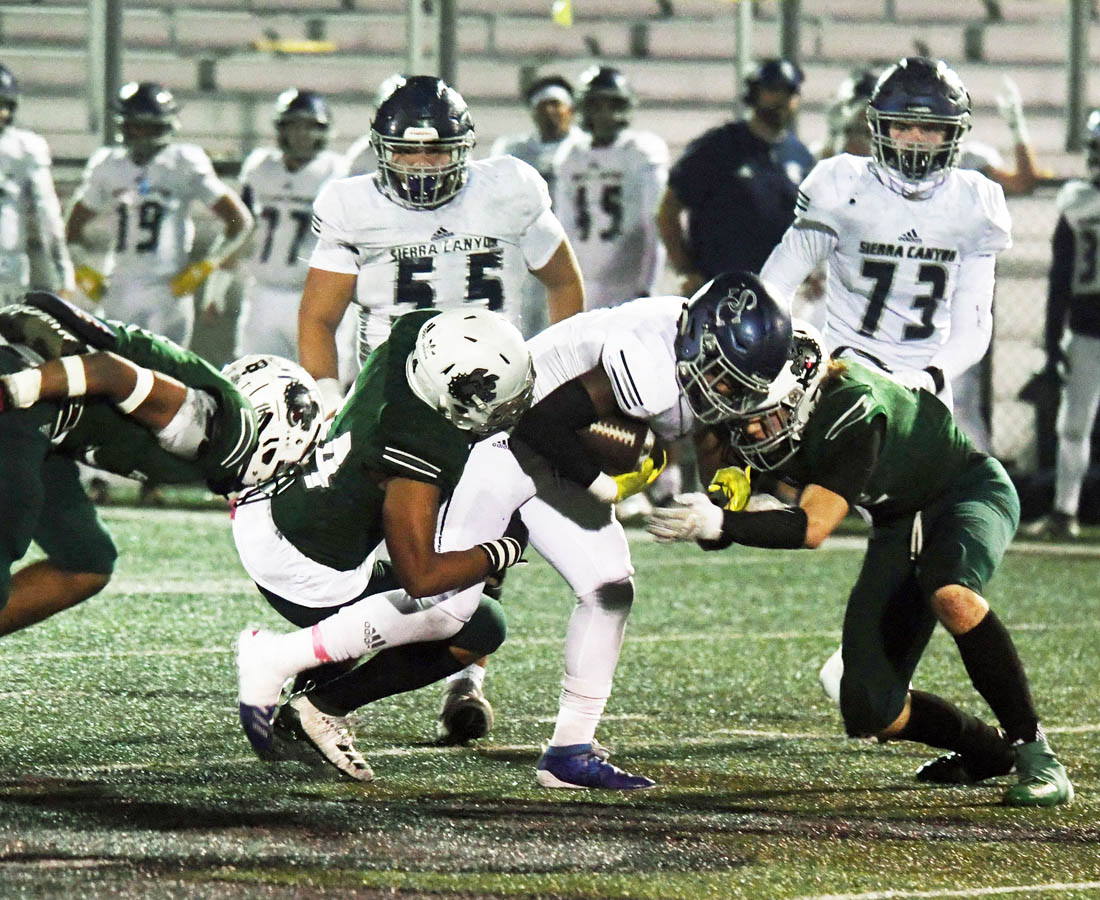 Helix head coach Robbie Owens remained proud of how his team persevered through a season in which the team lost its star player, senior running back Elelyon Noa, likely the top offen­sive player in the section, mid­way through the regular season.
The Scotties rallied to fin­ish the 2019 campaign 11-2, including a 28-21 victory over Carlsbad in the section's Open Division championship game. Helix, ranked first in the sec­tion, finished the season ranked 12th in the state, according to the MaxPreps website.
"It didn't end the way we wanted — it happens," Owens told his team after the disap­pointing loss to the Trailblazers. "We had a tremendous season. Nobody thought we could do what we did."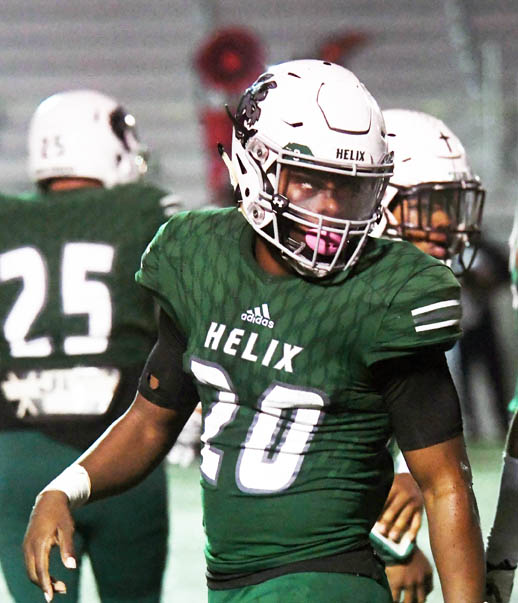 Washington entered the re­gional playoff game with 1,110 rushing yards and 15 touch­downs while Brown had thrown 16 touchdown passes and Scott caught 10 TD passes.
Despite the impressive win over Helix, Sierra Canyon was trampled, 34-19, by Fresno Cen­tral for the state championship on Dec. 13.
Counting the section finals, there were a whopping 20 upsets in the four rounds of the 11-man playoffs, including five of the six division championship games in a stunning outcome.
Section commissioner Jerry Schniepp suggested parity reared its head this postseason.
"A lot of lower seeds won," Schniepp said. "When there is a product of competitive divisions, we should have upsets — any­one can win in any division."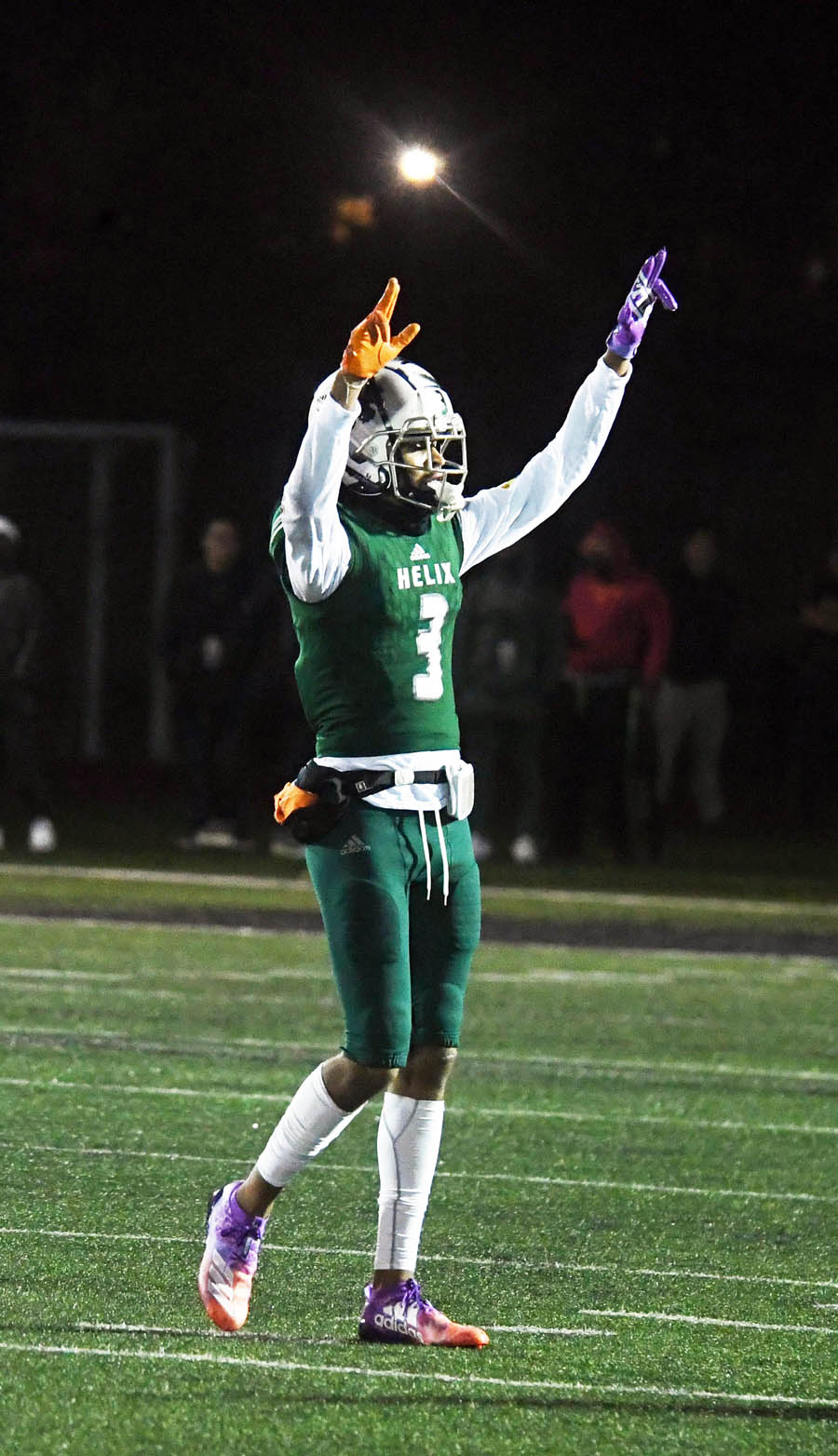 Red and Black
San Diego State University closed out its 2019 football sea­son with a convincing 48-11 win over Central Michigan Uni­versity in last Saturday's New Mexico Bowl in Albuquerque.
Christian High School alum­nus Jesse Matthews caught three passes for 111 yards and two touchdowns to help spear­head the Aztecs' best offensive showing of the season. The 37-point win was the largest margin of victory in a bowl game by the Aztecs in their history.
"It was great to see it all kind of come together at the last game," explained Matthews, a redshirt freshman. "We knew what we could do, we knew what we were capable of, and yeah, I'm just glad we got to show it on this stage and I'm glad we got to send the seniors out the right way.
"The defense has really been kind of carrying us all year, and we just wanted to help them any way we could. I'm glad we could put up 48 points in our last performance."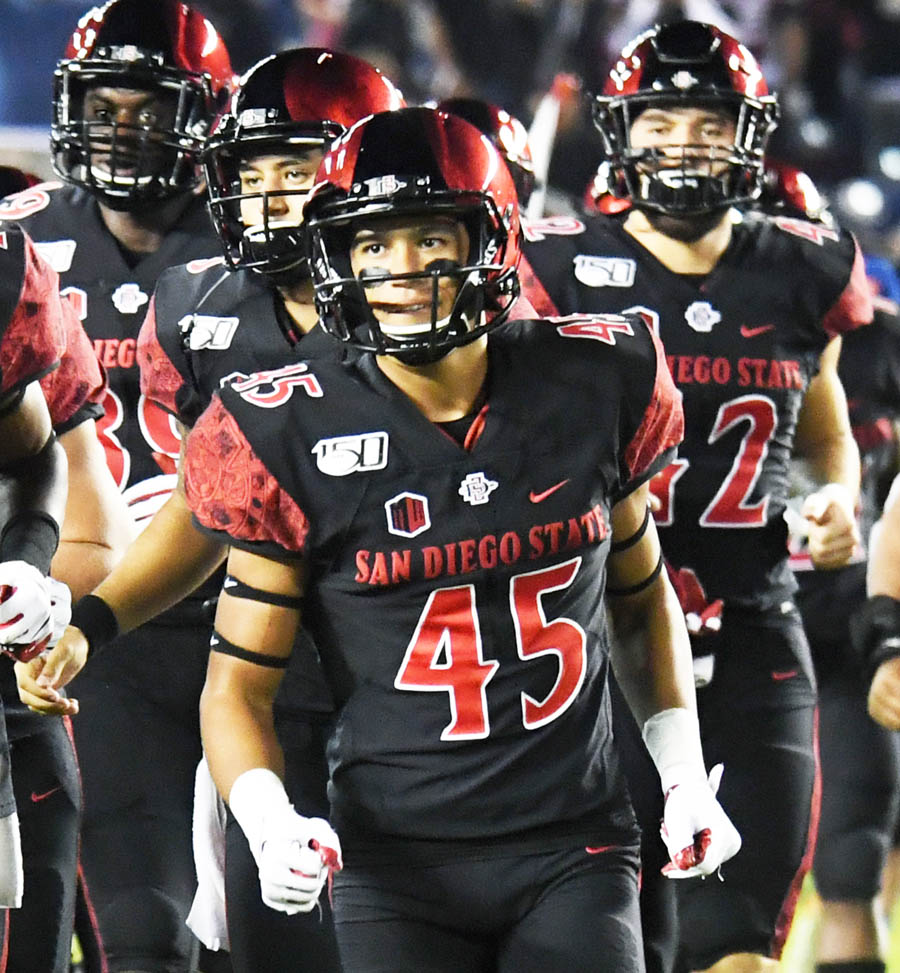 Matthews made a diving 22-yard touchdown catch in the end zone to help set up the Aztecs for an early 7-0 lead. He later scored on a 74-yard catch in the second quarter to make the score 20-3.
The Aztecs (10-3) compiled 510 yards in total offense, in­cluding 287 passing yards.
"It was pretty amazing," Mat­thews continued. "That long touchdown, I thought no one was with me, so I kind of had a look around for a quick second, found a lane, and I'm just glad I didn't get caught. These guys were joking with me saying they didn't know I had any speed, so I had to show them a little something."
The former Christian Patriot finished the season with 48 catch­es for 633 yards and two scores.
Other San Diego County locals who excelled in the game include Castle Park grad Luq Barcoo, who made his FBS national co-leading ninth interception of the season, and place-kicker Matt Araiza (Rancho Bernardo), who made two field goals. Ex-East­lake standout William Dunkle started at right guard.
Barcoo tied for third on the team with 55 tackles and topped the team with 16 pass breakups.
Helix alum Michael Shawcroft did not start but received playing time in the lopsided win. He was credited with five tackles in 13 game appearances this season.
The SDSU defense forced five turnovers that led to 21 points and recorded three sacks and three picks in one of the top de­fensive efforts so far in the 2019 college bowl season.
Senior quarterback Ryan Agnew completed three touch­down passes in his final game as an Aztec while sophomore run­ning back Jordan Byrd rushed for 149 yards and one touch­down. Agnew completed passes to 12 teammates while eight SDSU players were credited with rushing the ball.
Ex-Helix quarterback Carson Baker appeared in one game this season, passing for 172 yards with one touchdown in a 13-3 win over BYU on Nov. 30.
Photo Galley by Phillip Brents
Southern California regional playoff: Sierra Canyon at Helix