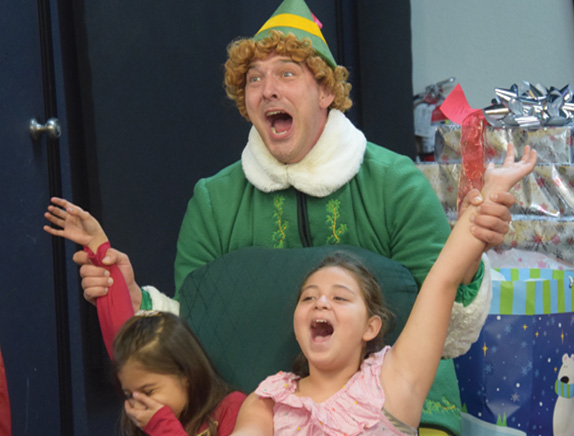 San Diego County ranks fourth of the highest popula­tion of homeless individuals and homeless families with children. Since 2009, the East County Transitional Living Center (ECTLC) in El Cajon has worked to make a difference in these numbers, providing services for both individuals and families to help them get back on track with life and become active members in society.
On Dec. 21, the ECTLC Con­ference Center in El Cajon was filled to the brim with families and children waiting to receive some holiday cheer, with music, ice cream, music and more at its annual Christmas party. El Ca­jon city and community leaders joined the ECTLC event, provid­ing story time, songs and gifts for the children and parents that are part of the ECTLC family program.
El Cajon Police Chief Mike Moulton, along with El Cajon police officers, Heartland Fire and Rescue Chief Steve Swaney and firefighters, and a special appearance by Buddy the Elf helped to distribute toys to well more than 100 children in need.
Harold Brown, ECTLC CEO said that this event is all about the kids and the families liv­ing in transitions. Each year, ECTLC children provide a list that includes their shoe, shirt and pants size and one special gift they would like to receive for Christmas. Children's gifts were provided by the Church of the Nativity in Rancho Santa Fe. Brown said the church has an "Angel Tree" at the church, and the families there take a name and adopt a family for the holi­days, providing them with gifts.
"We are also able to give gift cards to every family so that the parents can go buy gifts for their kids, so that they have gifts on Christmas day or Christmas Eve, whichever day they cel­ebrate," Brown said. "Those gift cards are provided by the East County Posse."
Brown, who has provided these types of holiday services
for 30 years now said that over the years he found that many parents run around from place to place for these gift giveaways He said that they stand in long lines and in many cases, the children do not wind up getting the gifts they want.
"Parents don't give them any gifts because they don't have any money," Brown said. "They are working on getting back into a normal life, but they can't af­ford to buy Christmas presents for their own kids. But by giv­ing them gift cards, they are able to buy gifts for their kids for Christmas without being stressed out that they are going to spend money they are not sup­posed to spend. It's a really good program and the Posse has been doing this for a good 10 years."
Right now, the ECTLC has about 80 families in the pro­gram. A family can be a single mom with one kid. On Friday, they had 163 children in the pro­gram. It also has programs for single men and single women, with about 125 single men and 45 single women. At this time, it is currently serving around 450 people.
El Cajon Mayor Bill Wells, along with professional pianist Mr. Jonnni and Cajon Valley School District Governing Board member Jo Alegria, provided music for the event. Wells per­ formed a couple of songs, but an original song "Lizard Tongue Pie" he wrote for his own chil­dren, was a smash hit for the kids.
"When they [his children] would ask me, 'What's for din­ner?' I would tease them, and I would say, 'We're going to have lizard tongue pie or rat fur tet­razzini or shark tooth nachos,'" Wells said. "I put it into a song, and it is one of my biggest hits for kids."
Wells said that the ECTLC is probably one of the most innova­tive homeless programs in the county and that it is not govern­ment funded.
—About East County Tran­sitional Living Center: Estab­lished in 2009, ECTLC is a 501(c)(3) non-profit corporation that provides housing for those experiencing the dangers of homelessness. Our mission is to provide transitional housing and restore lives. Please join us on Facebook, Instagram, and Twit­ter. www.ectlc.org