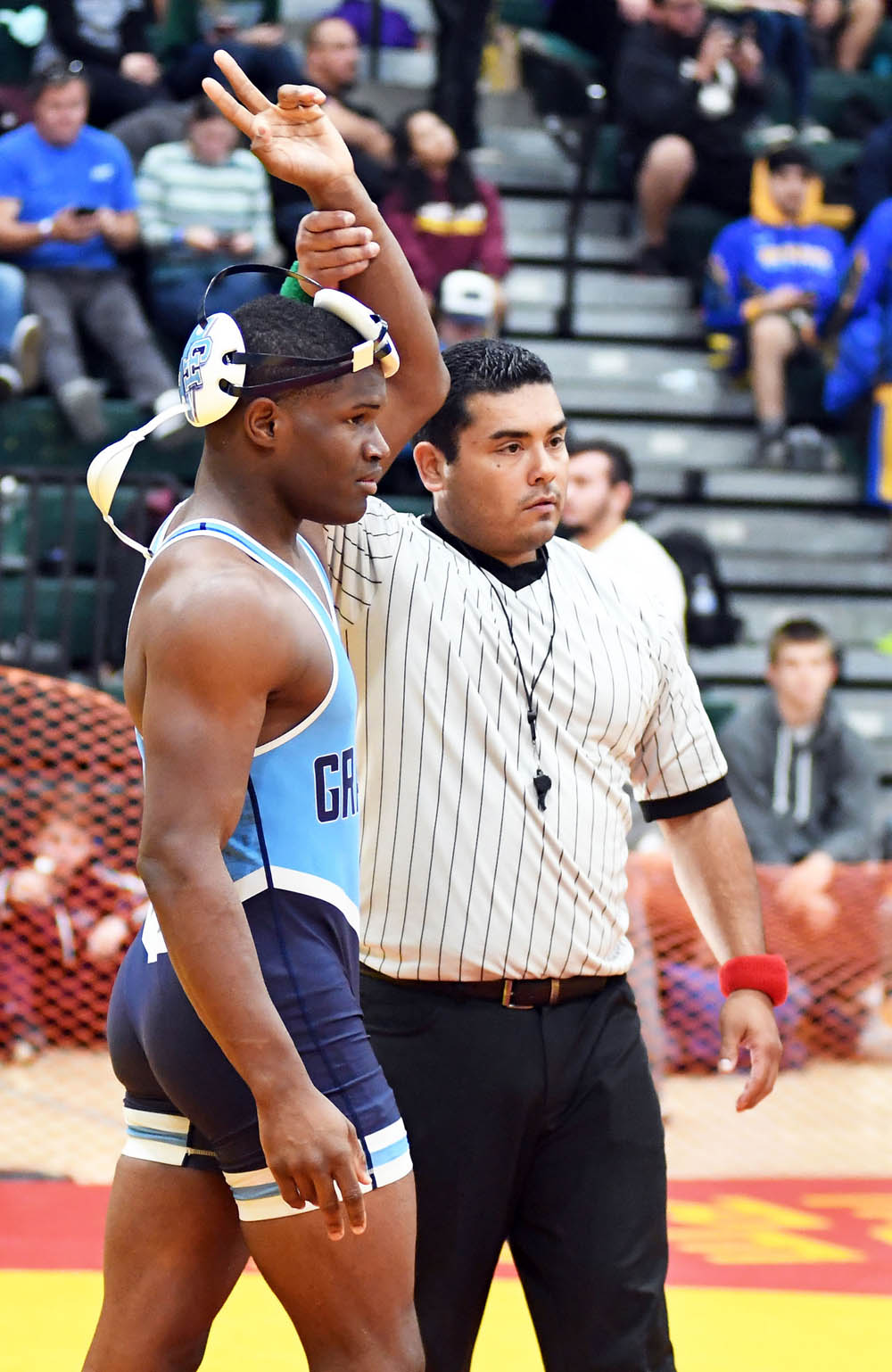 The high school wrestling sea­son is picking up momentum and several teams appear to be in the thick of the race for this year's Grossmont Hills League and Grossmont Valley League championship banners.
Granite Hills has defeated Valhalla (45-45) and Grossmont (53-17) in its opening two Gross­mont Hills League dual meets and needs wins in its final two mat appearances to claim sole possession of this year's league championship.
Granite Hills will travel to West Hills High School for a high impact dual meet encoun­ter on Thursday, Jan. 30, and host neighborhood rival Steele Canyon on Feb. 6 to close out league competition.
Meanwhile, Monte Vista will host Helix for the rights to the Grossmont Valley League dual championship on Thursday, Jan 30.
Varsity duals are scheduled to start at 6:30 p.m.
It looks to be an exciting finish to the season.
Soaring Eagles
Granite Hills finished ahead of West Hills in the team stand­ings at December's 50-team El Cajon Invitational. However, West Hills out-pointed the Ea­gles to win the team title at the 25-team Monte Vista Invitation­al on Jan. 11.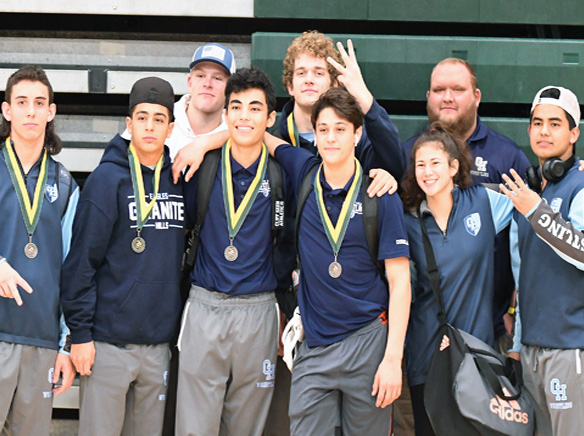 Granite Hills head coach Jes­se Sheard said he felt his team matches up well with the Wolf Pack.
"It's going to come down to a match or two," Sheard said. "It could come down to which wres­tler can last the longest."
Granite Hills scored some ma­jor prestige points when senior Jeremiah Satberry recorded a seventh-place individual place-finish at the Five Counties Invi­tational Jan. 10-11 at Fountain Valley High School.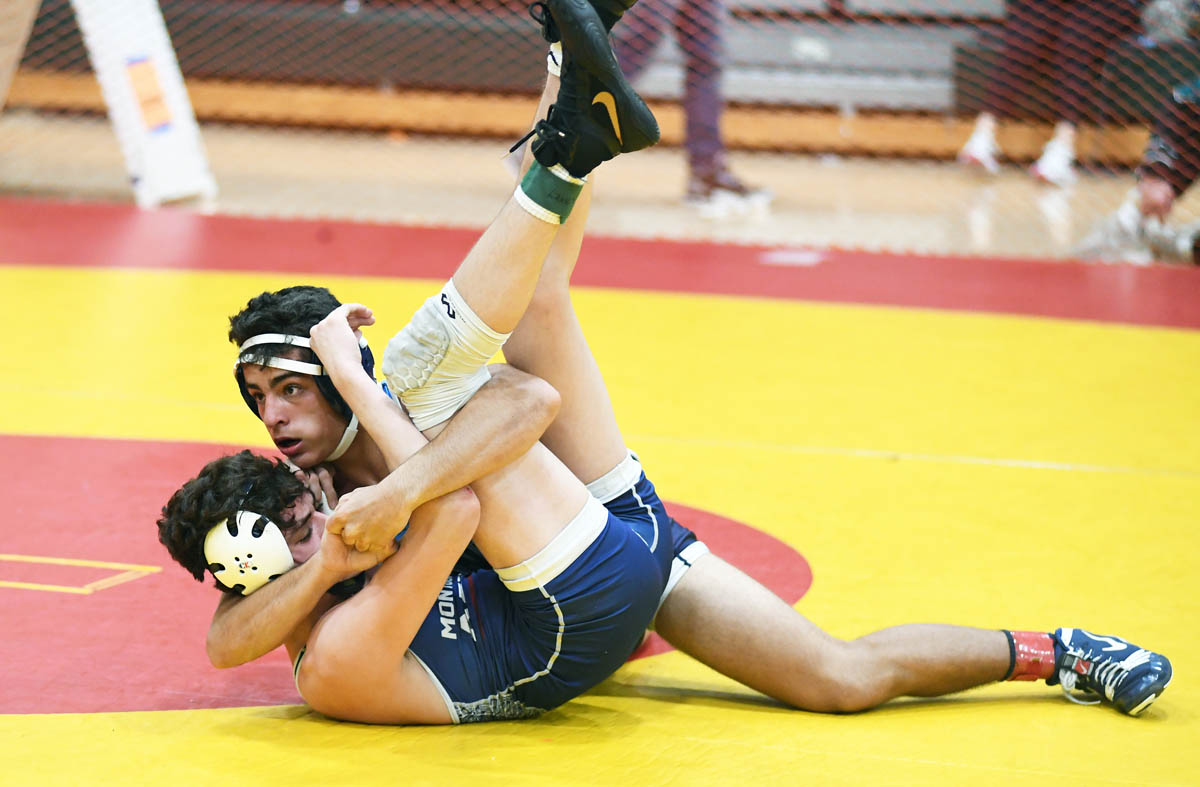 Satberry pinned Justin Gard­ner from Henderson, Nev., in 2:25 to medal in what is considered one of the most challenging regular season tournaments in the state.
"It was a tough tournament," Satberry admitted. "It's one of the most challenging tournaments to wrestle in. You need to be consistent. The competition never lets up. You just have to make it through your matches.
"The finals were fun to watch."
The Eagles sent a split squad to the Monte Vista Invitational that same weekend and came away with a bounty of 11 place-winners.
Ivan Miramontes captured the gold medal his 145-pound weight class while Izak Arredondo fin­ished second in his 195-pound division.
Justin Carroll (138) and Josh Runge (152) both finished third in their respective weight class­es while Joel Corella (138) and Carson Boehm (160) both cap­tured fourth-place medals.
Kaden Lange (132) and Alec Peckman (182) both finished sixth in their weight divisions.
Garrett Smith (sixth) and Tanner Vielguth (eighth) both earned place-finishes in the same 220-pound weight class. Blake Riley finished eighth in the heavyweight division.
Granite Hills placed third at last weekend's 35-team Battle by the Beach tournament at Mar Vista High School in Impe­rial Beach. The Eagles finished with 124 points to top Helix by 4.5 points. San Marcos edged La Costa Canyon 199.5 to 195.5 points for the team title.
Granite Hills recorded six medalists in the tournament.
Carroll finished 4-0 with two pins to win his 134-pound weight class while Skyler Hillberg fin­ished 3-1 with one pin to place runner-up in his 172-pound di­vision.
The Eagles also recorded one third-place finish (Corella at 140), one fourth-place finish (Mi­chael Herrera at 147), one fifth-place finish (Boehm at 162) and one sixth-place finish (Satberry at 197).
Satberry (20-6) defaulted from the tournament after winning his opening two matches by pin.
Helix brought 11 wrestlers to the Mar Vista tournament and medaled three, including two champions: Isaiah Graves at 115 and Ty Dean at 147 pounds. Lex Lo finished third at 172 pounds.
Graves recorded four pins to secure the championship, includ­ing three falls in the first period, while Dean collected three pins and one technical fall to earn his gold medal.
Monte Vista finished with three medalists: Logan Schmidt (fourth at 222), Zahi Davis (fifth at 128) and Ronald Barry (sixth at 172).
Santana had two medal-win­ners: Jessie Hernandez (third at 108) and Griffin Lawrence (sixth at 154).
Leader of the pack
West Hills captured the team title at the Monte Vista Invi­tational with 200 points. Mira Mesa finished second with 187 points while Granite Hills was third with 155.5 points.
The Grossmont Foothillers finished fifth in the team stand­ings with 134.5 points, followed by the Helix Highlanders with 131.5 points in sixth place and the Steele Canyon Cougars with 116 points in seventh place.
Tournament host Monte Vista finished in 10th place with 96.5 points, followed by the Mount Miguel Matadors in 11th place with 74 points.
Helix's Graves (113), Steele Canyon's Emilio Bilbo (120), Grossmont's Sebastian Coates (138), West Hills's Dominic Logaugh (160), Helix's Lo (170), West Hills' Parker Bell (195) and Grossmont's Daryn White (285) all won individual weight class championships.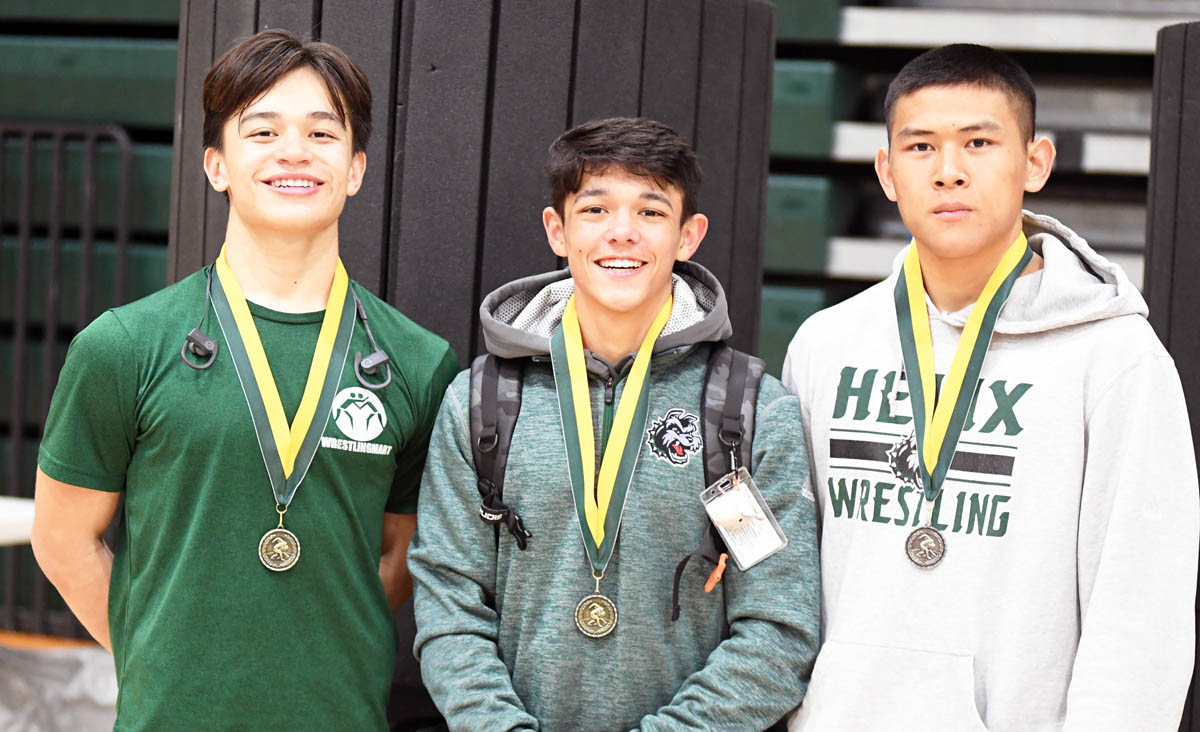 Steele Canyon's Randy Lock­wood (126), West Hills' Norman Stone (152), Jake Maheu (182) and Connor McDowell (220) all received second-place medals in their respective weight classes along with Helix heavyweight Hugo Vargas.
West Hills finished fifth out of 20 teams at last Saturday's San Pasqual Invitational. The Wolf Pack had two wrestlers earn second-place finishes: Jus­tin Zingale (134) and Bell (197).