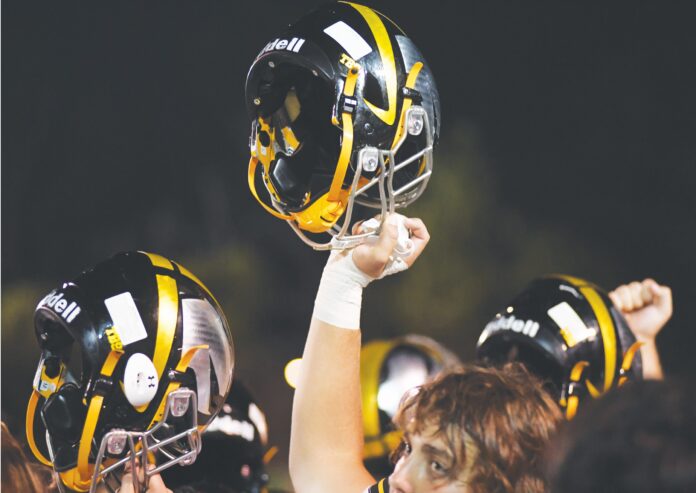 Last Friday's regular season enders in the Grossmont Valley League couldn't have been scripted for higher drama.
Three teams were each fighting for a piece of this year's championship banner. The West Hills Wolf Pack and Santana Sultans desperately needed wins to join the El Capitan Vaqueros in a possible three-way tie atop the league standings.
Easier said than done, the Vaqueros were cornered into an equally must-win scenario to capture outright rights to this year's championship banner.
The Sultans did their part with a 26-6 over the visiting El Cajon Valley Braves to pull their league record to 5-1. But the Wolf Pack fell short, 42-13, in their bid to defeat host El Capitan and move into a three-way tie.
Instead, the Vaqueros are uncontested Grossmont Valley champions this season having beaten all six of their league challengers.
It marks the first time since 2014 that El Capitan won a league championship.
West Hills was last year's Grossmont Valley League champion en route to a school-record 11-0 start.
"It was a great game for us," El Capitan head coach Ron Burner said. "They started off with a fake punt that went for a long touchdown, so we had to play catch-up football. It was a close game at halftime, but we pulled away in the second half and just wore them down.
"Brandt Barker had his best game as a quarterback this year. The sophomore is going to be special if he keeps working hard to get better."
Barker threw for 330 yards and five touchdowns for a 152.6 quarterback rating. Sophomore Chance LaChappa (six catches, 148 yards) caught three touchdown passes while juniors Andrew Conyers (two catches, 76 yards) and Julian May (three catches, 102 yards) both hauled in one scoring pass.
Senior Angel Diaz led the Vaqueros ground game with 13 carries for 62 yards while junior Davion Phillips had four carries for 60 yards. May rushed six times for 48 yards.
Senior Austin Cordeiro led the El Cap defense with 14 tackles while junior Gavin Ames had 13 stops. Senior Dominic Denha lassoed the visitors for 12 tackles. Corderio had one interception for 50 yards. Senior Laila Rodriguez was successful on six extra point tries.
Senior kicker Tyler Haley opened scoring in the game on a fake punt that went for a 70-yard touchdown. He later ripped off a nine-yard gain as West Hills' rushing leader with two carries for 79 yards.
The Wolf Pack managed 157 rushing yards and 124 passing yards. Junior Diego Calderon chipped in with 18 carries for 42 yards. Junior Nate Stevens keyed the Wolf Pack with three catches for 48 yards.
Haley finished the game with 13 total points by tacking on seven kicking points (one extra point and field goals of 21 and 37 yards). He also punted three times for 87 yards.
West Hills coach Casey Ash called last Friday's game a "disappointing loss."
"We we're right there a few times to put the ball in the endzone, but we failed to make plays," the Wolf Pack coach said. "The overall effort was great, and we showed we can compete. Moving forward, we have the confidence in what we can do and how to go about doing it on both sides of the ball."
Now it's off to the playoffs for both teams. Seventh-seeded El Capitan will host 10th-seeded Morse (6-4) in Friday's opening round while 11th-seeded West Hills will travel to sixth-seeded La Costa Canyon (6-4) in another first-round game.
Santana received 141 rushing yards from junior Linden Benson and touchdown passes from senior Nick Leger and junior Alex Rico in the win over the Braves, who benefitted from a nine-yard TD catch from junior Paris Dixon.
Of the seven teams in the league, only Valhalla (1-5 in league, 1-9 overall) and Monte Vista (0-6 in league, 1-9 overall) did not make this year's playoff cut.
Valhalla handed head coach Wayne Cherry his first win as the host Norsemen topped Monte Vista, 22-14, behind a 45-yard fumble return for a touchdown by senior Ashak Reheema and a four-yard TD reception by senior Brasen Madden.