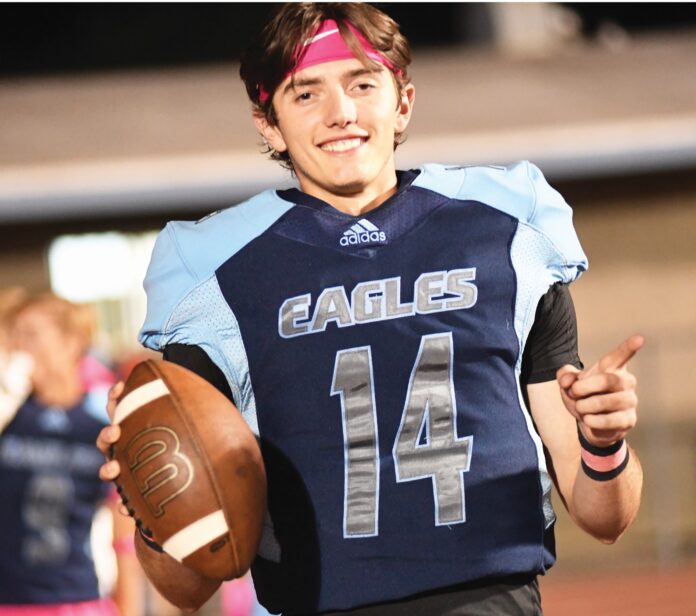 Ninety – count 'em — points and four overtimes determined this year's Grossmont Hills League football championship and the victorious Granite Hills Eagles needed every point and every bit of time to do the deed in last Friday's title contest at Helix High School.
Granite Hills (8-2 overall) emerged with dramatic 46-44
win to finish 3-0 in league play — one notch ahead of the runner up Highlanders (7-3 overall), who finished 2-1 in league play.
Both teams will now prepare for the upcoming San Diego Section playoffs after receiving byes to the division quarterfinals.
Granite Hills coach Kellan Cobbs called last Friday's marathon contest a "great game between two great programs."
"Obviously, Helix has been the standard in East County for a long time," Cobbs said. "Our kids and their kids got battling back and- forth. We were fortunate to come out on top of the end.
"Our kids competed all the way through and went out and earned a league championship. Josh Zander stepped up big time for us in the game. Robbie Petrich did a great job of keeping us in it with two big field goals in overtime. The defense made the final play of the game and got us a big win."
Last Friday's contest pitted the top two teams in East County and the high-profile match-up proved to be a classic as it lived up to all the hype, and more.
The teams were tied at 24 points through regulation play.
Junior quarterback Ryland Jesse connected with senior receiver Quincy Herron on a nine-yard scoring pass for the first points of the game to cap a 16-play, 83-yard drive.
The Eagles quickly countered to tie the game, 7-7, when sophomore Maxwell Turner scored on a two-yard run to punctuate a short 20-yard drive that was set up by a 55-yard kickoff return by senior Davion Green
The Highlanders kept their motor running by converting an 80-yard field march on a two-yard touchdown run by junior Kevin Allen III.
14-7 Helix.
Granite Hills capitalized on a muffed punt to gain possession of the ball at the Highlander nine-yard line in the dying seconds of the first half. Sophomore Isaiah Jackson scooted in from five yards to tie the game, 14-14, with 18 seconds left to halftime. But 18 seconds was enough time for the Scotties to regain the lead.
Senior Amarion Wiley returned the ensuing kickoff 62 yards to set up a 42-yard field goal by junior Josh Hossmann-Lees as time expired in the half with Helix holding a 17-14 advantage on the scoreboard.
The Eagles put up the only points of the third quarter – 10, to be exact – to take a 24-17 lead into the fourth quarter.
Senior Nico Tomasello connected with Zander, a junior, on a 72-yard scoring play, followed by a 26-yard field goal by junior Robert Petrich.
Helix junior Jason Sisneros tied the game on a one-yard run to send the game into overtime. Petrich and Hossmann Lees proved to be center pieces in overtime for their respective teams.
Hossmann-Lees split the uprights from 22 yards out for the first points of overtime; Petrich responded with a 40-yard effort to send the game into a second overtime.
Petrich put Granite Hills ahead on a 20-yard field goal only to have Hossmann-Lees nail a 43-yarder to push the game into a third overtime tied at 30.
Touchdowns and two-point conversions would decide the final two overtime periods.
Jessee passed 12 yards to Herron for the go-ahead touchdown to start the third overtime. The same combination hooked up for the successful two-point conversion.
Tomasello put the pressure back on the hosts when he passed 25 yards to Zander and, in a twist, caught a two-point conversion from senior Collin Riley on a half-back pass. 38-38.
The Eagles opened the fourth overtime with a two-yard touchdown run by Jackson. Zander caught the two-point conversion pass from Tomasello. That put even more pressure on the Highlanders to keep the marathon going.
Jessee did his part with a 25-yard touchdown pass to freshman Brandon Arrington. But something had to eventually give and Jessee's two-point conversion pass fell incomplete.
Granite Hills players promptly stormed the field in wild celebration: The Eagles had just won the league championship.
The game was simply a stunner all the way around.
"I have never personally ever been a part of a game with so many ups and downs," Helix coach Damaja Jones said. "Everything about the game was great, except the outcome for us. A lot of the boys played well in key moments.
"Obviously with us losing, I didn't anticipate we would get a bye. However, it ended up working out for us and I like the side of the bracket we are on."
The Highlanders will host the winner of Friday's first-round game pitting fifth-seeded El Camino
(7-3) and 12th-seeded Scripps Ranch (2-8) in the quarterfinal round, scheduled Nov. 10-11.
Mission Hills (7-3) is seeded first in the division while Cathedral Catholic (5-5) is seeded
second and Mater Dei Catholic (6-4) is seeded third. The Scotties would not have to face either Cathedral Catholic, last year's Division 1-AA state champions, or
Mater Dei Catholic, last year's Division II-AA state champions, until the championship game, should they make it that far.
As the No. 1 seed, Granite Hills would remain at home through the opening three rounds of the playoffs, should the Eagles get that far.
Granite Hills will host either eighth-seeded La Jolla (5-5) or ninth-seeded Santa Fe Christian (8-2) in its opening quarterfinal game.
Central Union (6-3) is seeded second in the division while Ramona (6-4) is seeded third and Christian (6-4) is seeded fourth in the Division II bracket.
"In terms of playoffs, we need to just get re-focused and take each week one week at a time," Cobbs said. "We can't look past anybody."
Petrich finished the game with 14 kicking points while Tomasello passed for 180 yards and two touchdowns. Zander had six catches for 169 yards. Jackson rushed 19 times for 57 yards and two scores.
Helix won the total yards battle 383-326. Jessee passed for 129 yards with three touchdowns and two interceptions while Allen had 31 carries for 141 yards and one touchdown. Sisneros chipped in with 19 carries for 113 yards and one touchdown. Herron had 11 catches for 91 yards and two touchdowns.