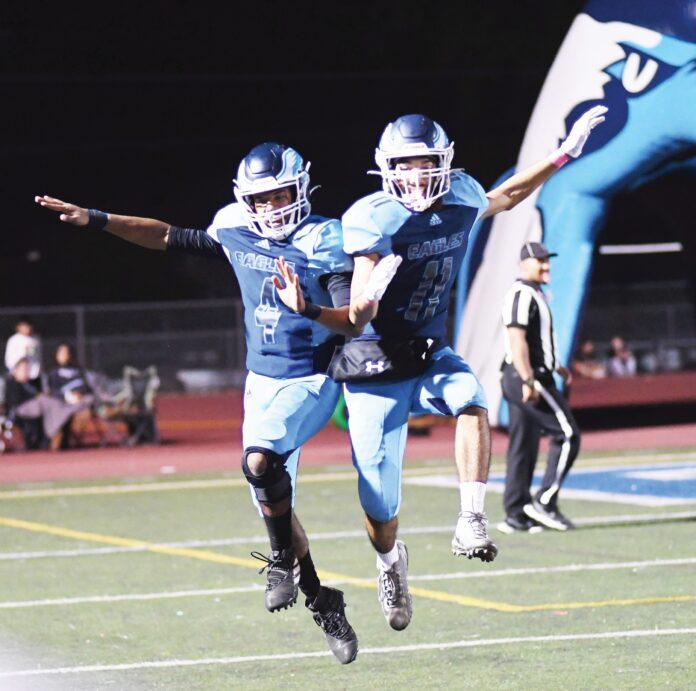 The San Diego Section has issued its football rankings that will be used to seed this year's divisional tournament. As usual, they remain contentious among many coaches.
But they are the correct ones that will be used, so players, coaches and fans will have to live with them, however they turn out over the next two weeks.
There is still room for movement, especially with league play having started throughout the section.
All 16 teams in Division I will make the playoffs – the top four advancing to the Open Division and the remaining 12 teams playing for the Division I title.
The section rankings have Carlsbad (7-1) at No. 1, followed by Madison (8-0) at No. 2, Mission Hills (5-3) at No. 3 and Lincoln (8-1) at No. 4. Poway (8-0) and El Camino (6-2) would be the top two-seeded teams, at present, in the Division I field.
Compare that to the Max-Preps ranking and one can see why some coaches are upset.
The latest MaxPreps rankings, issued Oct. 16, have Carlsbad at No. 1, Lincoln at No. 2, Madison at No. 3 and Cathedral Catholic at No. 4. Poway and Helix Charter (6-2) are ranked fifth and sixth, respectively.
Helix is ranked ninth by the section formula while Cathedral Catholic is ranked seventh. El Camino is seventh in the Max-Preps rankings, which at one time were used by the section to seed the playoffs.
Again, there is still room for movement up or down with many teams separated by hundredths of percentage points.
"I saw that we dropped a couple spots after a win but I'm hoping it all corrects itself by the end of the season," Helix coach Damaja Jones said. "I appreciate the transparency with the formula. I just don't know if this is the best system, especially since so many San Diego Schools play out of town schools and they use either MaxPreps and Cal Preps."
East County schools are generally in a favorable position to make the playoffs, regardless of the division they're in.
Granite Hills (6-2) is No. 1 in both the section and MaxPreps Division II rankings, followed by Mira Mesa (5-3) in both polls. Ramona (4-4) and San Marcos (4-4) are flipped in both rankings systems, with Ramona No. 3 in the section rankings. La Jolla (5-3) is fifth, followed by Central Union (4-3) in sixth, Brawley (6-2) in seventh and Christian (4-4) in eighth. Otay Ranch (3-4) and Grossmont (0-8) are both sitting on the playoff bubble at No. 12 and No. 13, respectively.
There is major disagreement between the CIF rankings and MaxPreps rankings for Division III.
The section rankings have University City (6-2) on top, followed by Del Norte (4-3) and Point Loma (6-2), Imperial (6-2), Bishop's (5-2), Rancho Buena Vista (5-3), San Pasqual (5-3), West Hills (6-2), Morse (5-2), El Capitan (6-2), Patrick Henry (2-5) and Santana (3-5) for the 12 playoff berths.
MaxPreps has a different take on how the teams should be ranked: Point Loma first, University City second, Del Norte third, Bishop's fourth, San Pasqual fifth, Imperial sixth, RBV seventh, Morse eighth, El Capitan ninth, West Hills 10th, Patrick Henry 11th and Santana 12th.
The alignment seems to concur toward the bottom but not at the top. Fallbrook is the unanimous pick in both ranking systems among Division IV teams, though the No. 2 spot is in wide disagreement. La Jolla Country Day (6-2) is No. 2 in the CIF system while Palo Verde Valley (8- 1) is second by MaxPreps, which has LJCD rated sixth.
Division IV seems to be the most competitive for playoff berths, with the top eight teams in the MaxPreps rankings all at 0.500 or better and the top 10 at 0.500 or better in the section rankings.
Palo Verde Valley is No. 3 in the section formula, followed by No. 4 Montgomery (6-2), No. 5 Mission Bay (6-2), No. 6 Calexico (6-2), No. 7 Coronado (5-3), No. 8 Francis Parker (4-4), No. 9 Hilltop (4-4), No. 10 Holtville (3-5), No. 11 Mt. Miguel (3-6) and No. 12 Chula Vista (4-4).
Mt. Miguel defeated Chula Vista in the second game of the season and holds the trump card there, though Chula Vista could secure an automatic trio to the CIF playoffs by winning the Metro-Pacific League.
Sweetwater (3-5) is No. 13 and sitting on the fence with No. 14 Kearny (4-4).
Division V also has a few quirks with Crawford (7-1) No. 1 in the section rankings and Escondido Charter (6-2) on top of the MaxPreps rankings. Crawford is No. 2 in the Max- Preps system, so the Colts are definitely receiving their share of love, and deservedly so.
Classical Academy (6-2) is No. 3 in the CIF rankings, followed by No. 4 Army-Navy Academy (7-1), No. 5 El Cajon Valley (4-5). No. 6 Vincent Memorial (5-2), No. 7 Castle Park (3-4), No. 8 Mar Vista (3-5), No. 9 Southwest El Centro (1-7), No. 10 Mountain Empire (2-5), No. 11 San Ysidro (3-6) and No. 12 Clairemont (3-6).
Interestingly, O'Farrell Charter (0-8) is ranked 15th and Southwest San Diego (4-5) is ranked 16th. Calipatria (0-7) is at the bottom of both sets of rankings.
San Diego Section Football Rankings
Through Games of Oct. 13-14
DIVISION I
1. Carlsbad (7-1), 2. Madison (8-0), 3. Mission Hills (5-3), 4. Lincoln (8-1), 5. Poway (8-0), 6. El Camino (6-2), 7. Cathedral Catholic (3-5), 8. La Costa Canyon (5-3), 9. Helix Charter (6-2), 10. Mater Dei Catholic (4-4), 11. Torrey Pines (2-6), 12. St. Augustine (3-5), 13. Eastlake (2-6), 14. Rancho Bernardo (4-4), 15. Steele Canyon (1-7), 16. Scripps Ranch (2-6)
DIVISION II
1. Granite Hills (6-2), 2. Mira Mesa (5-3), 3. Ramona (4-4), 4. San Marcos (4-4), 5. La Jolla (5-3), 6. Central Union (4-3), 7. Brawley (6-2), 8. Christian (4- 4), 9. Valley Center (3-5), 10. Mt. Carmel (5-3), 11. Santa Fe Christian (7-1), 12. Otay Ranch (3-4), 13. Grossmont (0-8), 14. Oceanside (0-8), 15. San Diego (4-5), 16. Vista (0-8)
DIVISION III
1. University City (6-2), 2. Del Norte (4-3), 3. Point Loma (6-2), 4. Imperial (6-2), 5. Bishop's (6-2), 6. Rancho Buena Vista (5-3), 7. San Pasqual (5-3), 8. West Hills (6-2), 9. Morse (5-3), 10. El Capitan (6-2), 11. Patrick Henry (2-5), 12. Santana (3-5), 13. Canyon Hills (1-6), 14. Olympian (3-5), 15. Escondido (2-6), 16. Bonita Vista (2-6), 17. Orange Glen (0-8)
DIVISION IV
1. Fallbrook (6-2), 2. La Jolla Country Day (6-2), 3. Palo Verde Valley (7-1), 4. Montgomery (6-2), 5. Mission Bay (6-2), 6. Calexico (6-2), 7. Coronado (5-3), 8. Francis Parker (4-4), 9. Hilltop (4-4), 10. Holtville (3-5), 11. Mt. Miguel (3-6), 12. Chula Vista (4-4), 13. Sweetwater (3-5), 14. Kearny (4-4), 15. Westview (1-7), 16. Valhalla (0-8), 17. Monte Vista (1-7)
DIVISION V
1. Crawford (7-1), 2. Escondido Charter (6-2), 3. Classical Academy (6-2), 4. Army-Navy Academy (7-1), 5. El Cajon Valley (4-5), 6. Vincent Memorial (5-2), 7. Castle Park (3-4), 8. Mar Vista (3-5), 9. Southwest El Centro (1-7), 10. Mountain Empire (2-6), 11. San Ysidro (3-6), 12. Clairemont (3-6), 13. Hoover (4-4), 14. Maranatha Christian (3-5), 15. O'Farrell Charter (0-8), 16. Southwest San Diego (4-5), 17. Tri-City Christian (1-8), 18. Calipatria (0-7)
8-MAN
1. St. Joseph Academy (6-1), 2. Victory Christian Academy (7-0), 3. Rock Academy (6-1), 4. San Pasqual Academy (3-2), 5. Coastal Academy (7-1), 6. San Diego Jewish Academy (3-2), 7. Foothills Christian (7-2), 8. Horizon Prep (3-4), 9. Calvin Christian (2-5), 10. Borrego Springs (4-3), 11. Julian (1-4), 12. Warner (2-4), 13. Ocean View Christian Academy (0-5), 14. West Shores (0-3)
TOP 25 TEAMS
(MaxPreps through Oct. 16)
1. Carlsbad (7-1), 2. Lincoln (8-1), 3. Madison (8-0), 4. Cathedral Catholic (3-5), 5. Poway (8-0), 6. Helix (6-2), 7. El Camino (6-2), 8. Granite Hills (6-2), 9. M, 15. Ater Dei Catholic (4-4), 10. La Costa Canyon (5-3), 11. Mission Hills (5-3), 12. Point Loma (6-2), 13. Mira Mesa (5-3), 14. University City (6-2), 15. Torrey Pines (2-6), 16. San Marcos (4-4), 17. St. Augustine (3-5), 18. Ramona (4-4), 19. Fallbrook (6-2), 20. Central Union (4-3), 21. Del Norte (5-3), 22. Bishop's (6-2), 23. Palo Verde Valley (8-1), 24. Christian (4-4), 25. Santa Fe Christian (7-1)
Division I: 1. Carlsbad (7-1), 2. Lincoln (8-1), 3. Madison (8-0), 4. Cathedral Catholic (3-5), 5. Poway (8-0), 6. Helix Charter (6- 2), 7. El Camino (6-2), 8. Mater Dei Catholic (4-4), 9. La Costa Canyon (5-3), 10. Mission Hills (5-3)
Division II: 1. Granite Hills (6-2), 2. Mira Mesa (5-3), 3. San Marcos (4-4), 4. Ramona (4-4), 5. Central Union (4-3), 6. Christian (4-4), 7. Santa Fe Christian (7-1), 8. Brawley (6-2), 9. Mt. Carmel (5- 3), 10. Otay Ranch (3-4)
Division III: 1. Point Loma (6-2), 2. University City (6-2), 3. Del Norte (5-3), 4. Bishop's (6-2), 5. San Pasqual (5-3), 6. Imperial (6-2), 7. Rancho Buena Vista (5-3), 8. Morse (5-3), 9. El Capitan (6-2), 10. West Hills (6-2), 11. Patrick Henry (2-5), 12. Santana (3-5), 13. Escondido (3-6), 14. Olympian (3-5), 15. Canyon Hills (1-6), 16. Bonita Vista (2-6), 17. Orange Glen (0-8)
Division IV: 1. Fallbrook (6-2), 2. Palo Verd Valley (8-1), 3. Montgomery (6-2), 4. Mission Bay (6-2), 5. Calexico (6-2), 6. La Jolla Country Day (5-2), 7. Coronado (5-3), 8. Francis Parker 4-4, 9. Mt. Miguel (3-6), 10. Hilltop (4-4), 11. Chula Vista (4-4), 12. Westview (1-7), 13. Holtville (3-5), 14. Sweetwater (3-5), 15. Kearny (4-4), 16. Valhalla (0-8), 17. Monte Vista (1-7)
Division V: 1. Escondido Charter (6-2), 2. Crawford (7-1), 3. Vincent Memorial (5-2), 4. Classical Academy (6-2), 5. Army-Navy Academy (7-1), 6. El Cajon Valley (4-5), 7. Castle Park (3-4), 8. Mar Vista (3-5), 9. Hoover (4-4), 10. San Ysidro (3-6), 11. Southwest El Centro (1-7), 12. Mountain Empire (2-5), 13. Clairemont (3-6), 14. Southwest San Diego (4-5), 15. Maranatha Christian (3-5), 16. Tri-City Christian (1-8), 17. Calipatria (0-7)