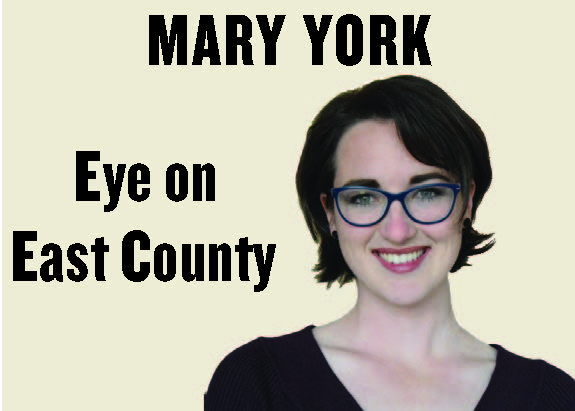 Every year I say it and every year nobody believes me: October is going to be hot.
I am not sure what kind of amnesia San Diegans suffer from, that, during those two isolated weeks of autumn chill that occur typically in late September, we assume we're in for a blustery fall.
Sure enough, as October dawned with temperatures dropping down into the nippy seventies, sweaters were brought out, pumpkin spice lattes were ordered and I think I even saw a scarf.
So now, as we head into our second summer of the season, courtesy of the Santa Ana winds so iconic of our gorgeous region, I hear nothing but dismay.
Now, let me begin by stating my political affliation with weather patterns in general. I am a cold weather girl. If I could move to the far northern quarters of the globe where residents spend half the year slipping in mud and chipping ice off their windshields, I would. There would be no question. I would happily trade having to carve a pumpkin in shorts and a T-shirt for the crisp, clear call of autumn in its bright array of colors and smells, even if that call was followed by a sixth month phone conversation with a Michigan winter.
However, I also believe in making the best of one's situation and Californians are missing an opportunity here.
This is go-to-the-beach weather. This is work-on-your-tan weather. This hot weather is why our housing prices are so high. And here we are complaining.
Perhaps it is because we are watching the rest of the world cool off and slide into back-to-school season and hot cocoa by the fire season and whatever else people do in cold weather.
The weather app on my phone is still set to the Baltics from my summer travels. The high in Helsinki today is 50 degrees. That's some fall I could get into.
It's raining and 53 degrees in New York City today – can you picture Rockefeller Center wrapped in the cold, wet veil of autumn?
My cousin is flying back to Connecticut this week to try to see "peak week" where all the fall trees hit max color. Apparently, it's a big deal.
Even my sister up in Berkeley, though their temperatures are rivaling ours at the moment, is confident that her autumn is right around the corner and has started making her own pumpkin syrups.
It's no wonder San Diegans are feeling left out! We are ready for that gorgeous fall we only get on our calendar covers!
But I am here to suggest we make the most of our endless summer (though it will end – Lord willing – in kind of a disappointing 'meh' as we slide into our hazy winter that lasts approximately sixty-two days).
Let's take advantage of the fact that we still have beach weather and stake out some sand this weekend. As East County residents flocked to the seaside this summer, let us return! Have your kids bring their homework. Bring a book or some scratch paper to work on your to-do list. Make it a working holiday!
Once or twice a month during the summer, I like to prop up at the Hotel del Coronado. With something cold in one hand and an awning overhead, I work remotely with the best view in town.
Find a good trail to hike. Take out those cargo shorts one last time. Know that Julian is just as much fun in the sunshine as in the chilly breezes of the autumn we never get.
October is ours for the taking. Leave your scarves and coats where they are and ask for your PSL on ice. There is more than one way to live your best autumn. And I fully expect to see my fellow San Diegans embracing our good fortune – an extra month of summer!