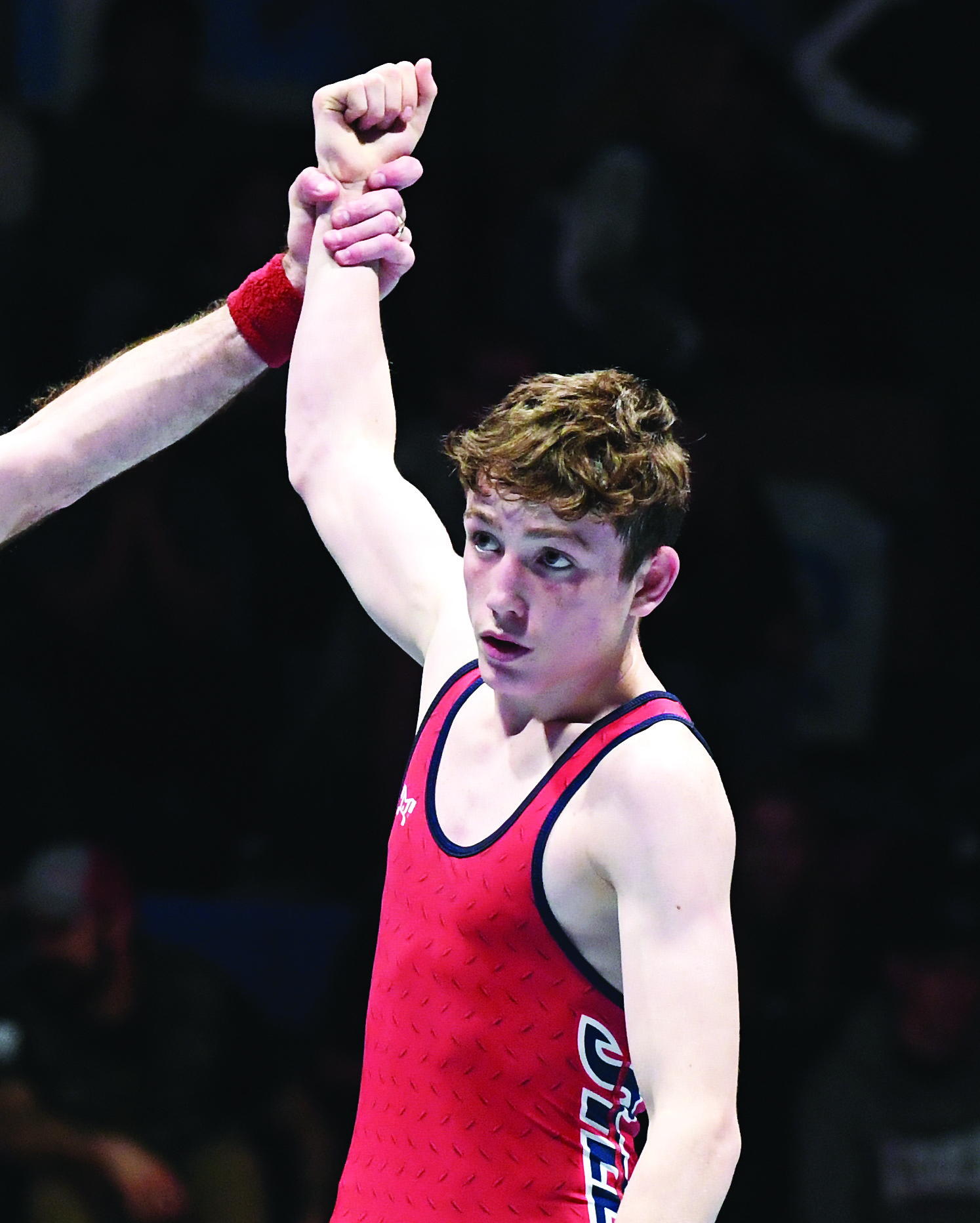 East County high schools will be sending eight wrestlers to this weekend's California state championship tournament after the latest group of three boys punched their tickets to Bakers­field's Mechanics Arena.
The top four place-finishers in each of 14 weight classes at last weekend's San Diego Masters state qualifying tournament at Southwest El Centro High School earned the right to extend their seasons. East County's state hon­or roll includes Steele Canyon's Logan Robinson, Granite Hills' Joel Corella and Monte Vista's Sebastian Valdez.
Corella finished second in his 140-pound weight class while Rob­inson finished third at 108 pounds. Valdez finished fourth in his 287-pound heavyweight division.
The three male grapplers join the region's five female state qualifiers: Granite Hills' Kailey Smith (103 pounds), Steele Can­yon's Toren Dunbar (108 pounds), West Hills' Chole Tolentino (113 pounds) and Diane Baker (172 pounds) and El Cajon Valley's Valeria Rocha (237 pounds).
The inaugural San Diego Mas­ters girls state qualifying tourna­ment took place Feb. 21 at Steele Canyon High School.
Granite Hills will be send­ing two wrestlers to the three-day state tournament that runs Thursday through Saturday, Feb. 27-29.
Live scoring will be offered through www.cifstate.org.
"Joel amazed me," Granite Hills head coach Jesse Sheard said. "He was focused the whole weekend and had his mind set on making the finals. He upset a few kids along the way and wasn't letting anyone or anything get in his way.
"Being the sixth seed, he knew he had some work to do, but as he says every tournament 'seeds don't mean anything.' He didn't let it bother him."
Qualifying for the state meet through the section finals is not an easy task considering that few qualifying slots are left after pe­rennial mega powers Poway (Di­vision II team champion), Rancho Bernardo (Division I team cham­pion) and Brawley (Division III team champion) have laid waste to the field.
Poway, the runaway Masters team champion with 396.5 points, qualified all 14 of its wrestlers for this weekend's state finals and will be looking to nail down an elite place-finish.
Rancho Bernardo, the second-place team finisher with 225 points, qualified eight wrestlers while Brawley, the fifth-place fin­isher with 107.5 points, qualified five wrestlers.
Mira Mesa, which finished third in the team standings with 132 points, and Division IV team champion Imperial (fourth place, 108.5 points) both qualified three wrestlers, as did La Costa Canyon (sixth place, 100 points) and Vista (eighth place, 88 points).
Those seven teams swallowed up 39 of the 56 qualifying spots between them (70 percent). The remaining 17 spots were divided among 14 teams.
Corella, the second-place fin­isher in his weight class at the preceding Division II finals, won his opening three matches to ad­vance to the semifinals.
Corella opened the tournament with a bang by pinning Rancho Bernardo's Richard Sunni in 3:44. The Granite Hills wrestler then captured a tight 3-2 decision over La Costa Canyon's Dylan Drach in the quarterfinals to earn a berth in the semifinal round.
Corella topped Olympian's Mico Gonzalez by an 8-6 decision to ad­vance to the championship round against Poway's Zane Stoddard.
Stoddard stopped Corella's win streak with a 14-0 major decision.
Robinson, the second-place finisher at the Division II finals, won his opening two matches be­fore taking a back door route to the state meet.
The Steele Canyon mat man received a bye in the first round before pinning Mira Mesa's Luca Pasto in 39 seconds in the second round. Robinson then claimed an 8-3 decision over Rancho Bernar­do's Jacob Jones in the quarter­finals.
Robinson lost by a 3:50 pin against Poway's Andre Gonzales in the semifinals but bounced back successfully with a pair of wins to earn the bronze medal.
The Cougar grappler elimi­nated St. Augustine's Dominic Pacheco from attaining a state qualifying berth with a 59-sec­ond pin in the pair's high-stakes matchup.
Robinson then defeated RB's Jones for the second time in the two-day tournament with a 9-3 decision in the third-place match.
Robinson finished 4-1 at Mas­ters.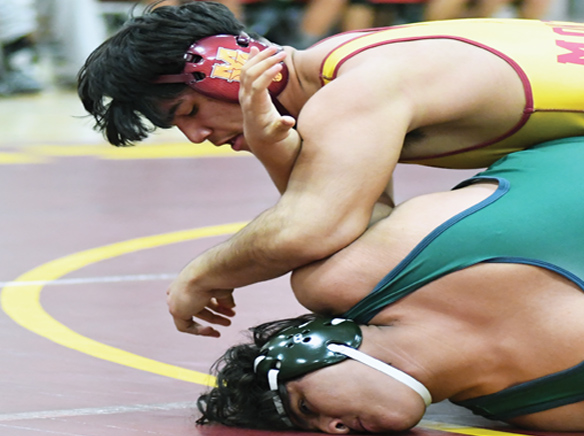 Valdez, the heavyweight cham­pion at the Division III tour­nament, won his opening two matches by pins: 1:18 against Rancho Buena Vista's Nathan Kershaw and 4:48 against Valley Center's Cameron Fuller.
Valdez lost by a 5:29 pin against Imperial's Wolfgang Horner in the quarterfinals but won his next two matches in the single-elimination consolation wrestle-backs to contend for a state-qualifying berth.
Valdez defeated Lincoln's Nich­olas Tinajero by a 7-2 decision and then won a tight 3-1 decision over Rancho Bernardo's Antonio Mejia Perez to advance to the consolation semifinals.
The Monte Vista mat man edged Westview's Erik Cole, 9-8, to win a state-qualifying berth while advancing to the bronze medal match.
Vista's Jared Andrade out-pointed Valdez, 4-3, for the third-place spot on the awards stand.
Grossmont Hills League dual meet champion Granite Hills led the 10 East County teams com­peting at Masters with a ninth-place team finish among the 68 participating teams. The Eagles recorded 71 points to nest among the top 10 teams.
West Hills finished 19th with 42 points while Steele Canyon finished 20th with 41 points. Grossmont Valley League dual champion Helix finished 22nd with 38 points.
Granite Hills entered this year's Masters tournament with eight qualifiers.
Ivan Miramontes (147) finished fifth in his weight division after compiling a two-day record of 5-2. He lost his first match but bat­tled back with four consecutive elimination-round wins, includ­ing two by pin and another by a 14-3 major decision, to advance to the consolation semifinals.
However, Brawley's Jose Guti­errez denied him a trip to the state meet on the strength of a narrow 4-3 victory.
Miramontes scored some per­sonal pride points by winning a 10-8 decision over Mt. Carmel's Sebastian Day in the fifth-place match.
Josh Runge (154) and Skyler Hillberg (172) both won their opening two matches before being eliminated. Runge won by a pair of third-period pins while Hillberg won by a first period pin and a 4-0 minor decision.
Izak Arredondo (184) finished 3-2 with two pins while Justin Carroll (134) finished 2-2. Spen­cer Earp (108) finished 1-2 with one pin.
Helix sent seven wrestlers to Masters and recorded one place-finisher after Lex Lo placed fifth at 172 pounds. Lo finished 4-2 with two pins. He out-pointed RBV's Mario Albarran, 11-4, in the fifth-place match.
Isaiah Graves (115) finished 2-2 with one pin. Heavyweight Hugo Vargas won his opening two matches by pins.
The top six place-finishers in each weight class received medals.
Valhalla's Matthew Jordan, one of five Norsemen competing at Masters, placed fifth at 122 pounds. He finished 3-2 with a 9-0 major decision, 5:02 fall and 5-2 decision over Rancho Ber­nardo's Gavin Concepcion in the fifth-place match.
Jordan lost, 4-3, to Brawley's Anthony Maldonado in the con­solation semifinals to drop from contention for a state qualifying berth.
The Norseman grappler previ­ously dropped a 10-3 decision to Valley Center's Thomas Lavigne in the semifinals.
Valhalla finished 32nd in the team standings. Michael Carmo­na finished 2-2 at 184 pounds.
West Hills advanced eight wrestlers to Masters. Ryder Dear­born finished 3-2 at 147 pounds with a pair of pins and 9-1 major decision while Jake Maheu fin­ished 2-2 at 184 pounds with one pin and an 11-3 major decision. Connor McDowell finished 3-2 with three pins at 222 pounds.
Steele had five Masters partici­pants. Emilio Bilbo (122) finished 3-2 with two pins as the next most successful wrestler in the win column for the Cougars in the two-day mat fray.
Monte Vista's Zahi Davis (128) and Ronald Barry (184) both fin­ished 2-2 with two pins. The Mon­archs placed 27th in the team standings.
Jessie Hernandez (108) and Griffin Lawson (154) both fin­ished 2-2 while representing Santana on the mat. The Sultans fin­ished 44th in the team standings.
Girl power
Smith enters this weekend's state tournament after winning her weight class at the girls Mas­ters tournament while Dunbar, Baker and Rocha all placed second in their respective weights. Tolen­tino finished third in her weight