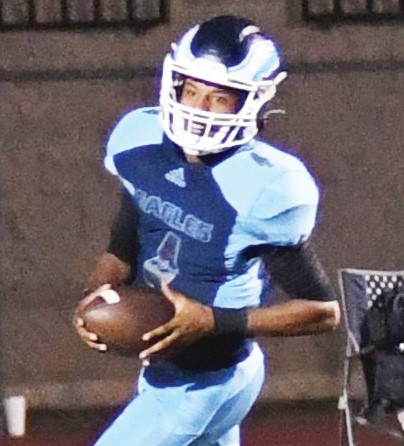 It's down to one game for this year's Grossmont Hills League football championship, and it should be a doozy, to go old school.
The Helix Highlanders will host the Granite Hills Eagles on Friday, Oct. 28. The winner will lay claim to this year's league title and automatic entry into the upcoming San Diego Section playoffs.
Both the Highlanders and Eagles enter the cosmic clash with 7-2 overall records and unblemished 2-0 league marks.
Helix defeated Grossmont, 42-17, last Friday while Granite Hills shut out visiting Steele Canyon by a score of 34-0. Helix is currently ranked sixth among the section's Division I teams while Granite Hills remains on top of the Division II rankings.
Among all section teams, the Highlanders are sixth overall while the Eagles are eighth, according to the latest MaxPreps rankings release.
Both Grossmont and Steele Canyon are 0-2 in league play and eliminated from championship contention. Steele Canyon is 1-8 on the season while Grossmont is 0-9.
Granite Hills held Steele Canyon to 157 rushing yards and just 23 passing yards in crafting its second consecutive shutout win and third straight victory overall.
"The defense played lights-out again against Steele canyon," Granite Hills head coach Kellan Cobbs said. "We created multiple turnovers and held their run game in check. On offense, we continue to get great productions from all three of our running backs.
"Helix has been the top team in our conference for years. They are a complete team and do a great job of mixing things on defense. If you can get the ball on the edge and complete some key throws down the field, I believe we can beat them. The defense will have to continue to play lights-out. They have a great quarterback and a veteran offensive line. It should be a great game."
Senior quarterback Parlan Sanders rushed for touchdowns of nine and 30 yards and caught a halfback pass from sophomore Pablo Sanders for a receiving touchdown to help drive Granite Hills to its latest win.
Jackson scored on a two-yard run while sophomore Maxwell Turner scored on a 36-yard run. Senior Easton Peterson nabbed his seventh interception of the season while senior Davion Green also made an interception.
Senior Major Givens led Steele Canyon with 99 rushing yards on 23 carries.
Junior Manoouel Saka topped the Cougar defense with 11 tackles, including nine unassisted tackles, while senior Keanu Pettiford had 10 tackles, including seven solo stops. Junior Jacob Azevedo logged one sack.
Helix has proven it can both run the ball and pass the ball. The passing game worked wonders last week as junior signal-caller Ryland Jessee passed for 304 yards and a school record-tying six touchdowns.
The six TD mark ties former NFL comeback-player-of-the year Alex Smith's mark set in 2001.
The defending league champion Highlanders racked up 449 yards in total offense against the Foothillers, including 145 rushing yards.
Senior Quincy Herron logged seven catches for 148 yards and three touchdowns while junior Jackson Daniels (three catches, 37 yards) had two touchdowns. Freshman Brandon Arrington (two catches, 91 yards) caught a 60-yard touchdown pass.
Junior Jason Sisneros led Helix rushers with four carries for 101 yards. Junior Josh Hossman-Lees connected on all six extra-point attempts.
The victory by Helix was the 27th consecutive over Grossmont since 1991.
The Scotties led 35-3 at halftime.
Junior Isaac Aceves scored on a short touchdown run in the third quarter while junior quarterback Hudson Herber connected with senior Nolan Kelly on a short touchdown pass in the closing seconds of the game for the Foothillers.