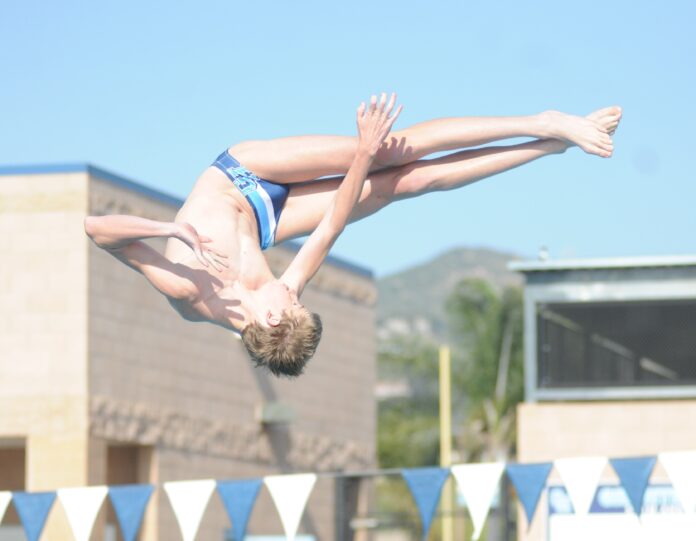 In any athletic competition there is a first-place finisher and a last-place finisher, and a varied number of finishers in between them.
Granite Hills High School sophomore diver Chance Hall experienced both ends of that spectrum as a freshman last year.
He won the Grossmont Hills League diving competition before going on to finish third at the Division I San Diego Section championship meet to qualify for the elite state championships. The end of the rainbow was not potted with gold, however, as Hall finished 25th out of 25 divers in the boys finals last May at the Clovis West High School Olympic Complex.
Hall scored 147.85 points to place just behind Poway freshman Connor Liddle (154.0 points) at the state finals. Both San Diego Section divers were distant finishers behind boys champion Joshua Thai, a senior from Alhambra High School, with 654.15 points.
The top three divers at the section finals qualified to advance to the state meet. Hall finished with 230.30 points to place behind San Marcos sophomore Mason Shin (247.45 points) and Liddle (245.70 points).
Rather than be embarrassed by the state place-finish, Hall took it as a valuable learning experience.
"It was a cool experience," he said. "I didn't place crazy good, but I didn't expect to – there were a lot of good kids. It was mostly to go up there to see the competition. There were kids who were already committed to Harvard and Yale."
Fast forward to this season and Hall continues to progress up the learning curve. His goals remain much the same, defend his league championship, place high at the section finals and finish his season at the state meet. He checked off the first box on his 2023 bucket list by winning his second consecutive Grossmont Hills League boys dive title in competition Monday at Granite Hills High School. Hall tallied 207.05 points in six dives to place ahead of Grossmont junior Bruce Nordloff (179.50 points) and Helix newcomer Jonathan Clay (173.95 points).
Hall has been consistent in his dives this season. He bettered Nordloff by nearly 40 points in the Eagles' 130-49 league dual meet victory last Friday. Hall racked up 229.05 points while Nordloff scored 190.3 points.
The section dive finals are scheduled Friday, May 5, at Granite Hills High School. The combined girls Division I and Division II fields are set for the morning (10 a.m. start), followed by the combined boys Division I and Division II fields in the afternoon (2:30 p.m. start or 90 minutes following the end of the girls competition).
The section swim championships are scheduled Saturday, May 6, at GHHS with the Division II finals starting at 9 a.m. and the Division I finals starting at 3 p.m.
State of mind
This year's state dive championship meet is May 11 at Clovis West High School. Prelims are scheduled in the morning, followed by finals in the afternoon. Swim prelims are scheduled May 12, followed by finals on May 13.
"This year I'm practicing hard but a little slower than last year," Hall explained. "I'm pretty confident in my diving. I want to concentrate more in swimming as far as the breaststroke goes.
"I'm trying to get my most difficult dives back into my list."
Granite Hills dive coach Ron Ortiz has been blessed with topnotch talent the past few years.
Reece Robles won the Division I section title as a junior in 2019 before going on finish 12th at the state meet. He later competed at the next level at Grand Canyon University.
"Chance is really coming along," Ortiz said in regard to his latest dive standout. "He's a lot stronger. His front one-and-a-half twist is starting to dive the way he wants it. He's progressing really well."
With 18 student-athletes in the Granite Hills dive program this season, Hall has received plenty of friendly competition and support as well as acting as a role model for other divers on the team.
"When the practices get closer, it helps," he said.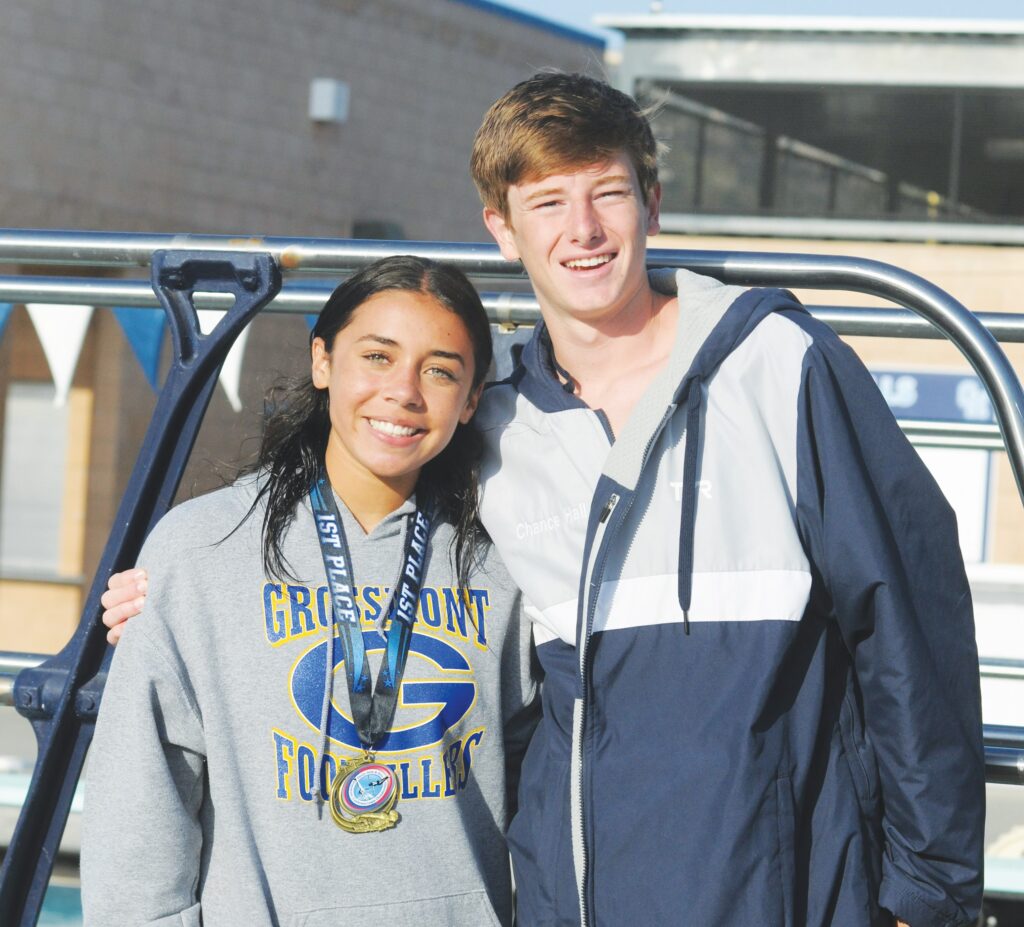 Grossmont sophomore Addyson Clark won this year's girls league title with 200.95 points after placing fifth as a freshman. Clark said she was encouraged by last year's place-finish in league.
"I wanted to at least place fifth this year and I wanted to qualify for CIF because I didn't last year," said Clark, who met the automatic CIF-qualifying standard. "I learned a new dive during warmups that helped my degree of difficulty score."
Hall had plenty of friendly company at Monday's league awards. The top eight divers in the girls junior varsity, girls varsity and boys varsity divisions received medals.
Granite Hills corralled the top three place-finishers in the girls JV competition: freshmen Laynie Allen (first place, 98.35 points) and Natalie Becker (second place, 95.10 points) and junior Reagan Falter (third place, 93.50 points).
Lady Eagles senior Courtney Kelly finished sixth with 77.35 points to make it four medalists for the team.
Granite Hills junior Skylar Parga placed second in the girls varsity field with 171.85 points while classmate Jada Clark placed fourth with 168.8 points. Sophomore Jordan Sterner (seventh place, 152.75 points) made it three medalists for the Lady Eagles.
Junior Jack Spears (sixth place, 120.90 points) and seniors Brayden Johnston (seventh place, 118.85 points) and Jake Haddock (eighth place, 105.00 points) joined Hall among four Granite Hills medalists in the boys varsity field.
Haddock, Johnston and Kelly were among 14 seniors overall on this year's Granite Hills swim and dive team.
Teams could enter four divers in each category. Thus, a large field of 51 divers turned out to compete in Monday's league finals, including 39 girls and 12 boys.
"It's been a really good season," Ortiz explained. "The winter weather made practices and dual meets difficult, but I was really proud of our dual meet against Valhalla. Our girls went 1-2-3 in dive to help provide the difference in a narrow win.
"All those divers, families and dive coaches made the league meet such a success."
The Lady Eagles expect to continue to push this year's field.
Parga (11th, 166.25 points), Sterner (17th, 152.0 points) and Clark (18th, 151.55 points) all qualified to compete in last year's section finals.