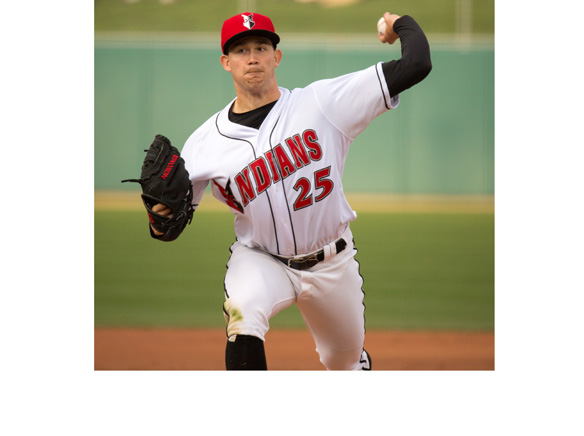 Standing just outside the locker room at Victory Field in Indianapolis with slicked-back hair and a honeycomb-patterned tattoo running up his right arm, Steven Brault looks more like a rock star than a pitcher on the cusp of the big leagues.
That's because he is.
Standing just outside the locker room at Victory Field in Indianapolis with slicked-back hair and a honeycomb-patterned tattoo running up his right arm, Steven Brault looks more like a rock star than a pitcher on the cusp of the big leagues.
That's because he is.
Rock star might be a bit of an overstatement, but the 25-year-old left-handed pitcher has as much training in the studio as he does on the mound — the former Grossmont High School standout majored in music performance with a vocal performance emphasis at Regis University, a Division-II school in Denver.
"It's the thing that's picked up the most chicks for me, singing," Brault says with a wry smile implying there might be some truth behind his joke. "It's funny because you get made fun of for it, but it's a really cool talent to have. I'm really lucky and I'm blessed to have it."
Brault's been tearing up the competition with the Indianapolis Indians, the Pittsburgh Pirates' AAA affiliate, so far this season, going 3-3 with a 2.20 ERA and 58 strikeouts in 61.1 innings, but he had an intentionally unconventional path to professional baseball. As a well-regarded high-school recruit, he picked a Jesuit school in the Rocky Mountain Athletic Conference because it would let him chase both of his dreams — after all, his high-school band Off the Water already recorded an album.
"The reason I went [to Regis] was because I wanted to do both," Brault said. "So baseball was, I mean I love baseball obviously, but at the time I wasn't sure which I wanted to pursue so I found a school that would let me do both and I loved it there."
A tough decision
What sets Brault apart from many other Division-II players who get drafted is that he didn't have to be there. He wasn't a late-bloomer whose arm wasn't ready for bigger programs, and his grades were high enough to get into Division-I schools.
If anything, he was too good. As a senior at Grossmont, Brault went 8-1 with a 2.56 ERA while hitting .378.
"He had a couple different offers, and this is what makes him special," said Dan McDermott, Brault's head coach at Regis. "He had a scholarship offer from Southern California, USC … but the head baseball coach told him, 'You know what, we want you but you can't do vocal music.' So [Brault] says, 'I'm sorry but I won't be a Trojan.'"
In USC's defense, vocal performance is a time-consuming major. Like baseball, repetition is key for singers. For every series, there's a performance. For every bullpen, there's a rehearsal. For every drill, there's a warm-up exercise.
Even when a coach believed in Brault's ability to balance velocity with vibrato, it wasn't enough. McDermott said UC Irvine's coaching staff was ready to let Brault do both until the music department put a rest to those plans.
"The coach up there, Coach [Mike] Gillespie, he said 'Sure you can do vocal music,'" said McDermott, now the head coach at San Francisco's Academy of Art University. "But the head of the vocal music department said 'No, you can't be in this program if you participate in athletics.' So Steven said, 'I guess I'm not gonna be an Anteater.'"
Mark Davenport, Director of the Regis University Music Program and professor of music, said most students have to make a choice between music and sports because "your voice is like training a muscle," meaning it takes repetition of correct techniques to improve. Improper or inconsistent training can damage vocal cords, just like how poor mechanics can blow out an arm.
"Very few athletic or music programs will [let students do both] understanding how much time commitment it is in both of those areas," Davenport said. "They'll pretty much say you've got to do one or the other. You can't do both."
Regis, however, wasn't going to make Brault choose. McDermott didn't even make Brault pick a position — by Brault's junior season he was an all-conference pitcher and third-team All-American outfielder.
He didn't take long to make an impression in the music department, either.
"As soon as he opened his mouth and started singing, we were looking at each other going, 'Wow,'" Davenport said. "We thought he would be just a perfect candidate for a performance major."
Balancing act
Once Brault arrived at Regis's campus in Denver, he split his time between the stage and the diamond with the blessing of both McDermott and Davenport. Before classes began, they all sat down and worked out his schedule.
"Luckily with a small school, we could arrange for concerts and performances and things like that to happen around his games," Davenport said. "And then [McDermott] was also flexible, too. There were a few times when he'd have to miss practice or miss something. Not miss a game, but he had to miss things on that end as well."
And Brault still had to go to class.
"It was a lot of time," Brault said. "High School Musical basically was my life in college, running from baseball practice to performance."
Brault's easy-going attitude belies the discipline it took to jump between singing and pitching, let alone do both at a high level.
"Not many kids could do both," Davenport said. "Often times maybe they'd want to, and they'd start to, but one would suffer over the other. But in his case, he was a great athlete but also a great student. He'd get really good grades and he was always very well prepared for everything."
Brault's college experience wasn't without hardship, though. He injured his right shoulder playing summer ball after his freshman season, which required surgery to repair a torn labrum on his non-throwing side. He only pitched 8.1 innings as a sophomore, though he still hit .291 with four home runs, 14 stolen bases and tied for the team lead with 44 RBIs.
Back to full health as a junior, he hit .397 with a team-high .554 slugging percentage with twice as many doubles (20) as strikeouts (10). On the mound, he posted a 2.63 ERA in 78.2 innings with 103 strikeouts and just 18 walks.
"I thought he was more draftable as a hitter," McDermott said. "If he had not been a pitcher, a dual guy, I would've played him centerfield. He would've gotten big there and I think he would've been a draftable outfielder."
Brault was selected by the Baltimore Orioles in the 11th round of the 2013 MLB Draft and signed a professional contract, leaving Regis before his senior season.
"You sort of have a more limited time range in which you can be a professional athlete, where as a vocalist many singers come into their prime even into their 40s and early 50s," Davenport said. "So I wouldn't be surprised if he came back to that, because I know he has a passion for it."
'The weird guy'
Brault's personality is perhaps summed up best by his choice of song for his junior recital at Regis — "I Believe" from the satirical Broadway show "The Book of Mormon."
A YouTube video of the performance provides a glimpse at Brault's sense of humor and a taste of his strength as a singer, namely how he dives into his performances. He uses the entire stage (or at least as much of it as a vertical cell phone video can show) and his hand gestures support the words flowing from his mouth, like when he touches his chest while belting out "I Believe," before pointing at the ceiling and transitioning into "that the Lord God created the universe."
"He understood that when you're singing, you're taking on what the lyrics are about," Davenport said. "Taking on that character [and] understanding what the emotions are behind the lyric and the music, which are crucial as a singer because your voice is the instrument. It's about the most personal kind of music you can do when you sing, because it's not like you're playing an instrument. It's coming right out of your body."
Though Brault is focusing on baseball now, he doesn't make any attempt to hide his peculiar habits or sense of humor.
"What I've come to realize is that if you're not being yourself, you're not going to help your team as much as you can," Brault said. "If you're pretending to be somebody you're not — and for me that's [being] really serious all the time — I'm just not. It's just not gonna happen."
When he's pitching, though, Brault's nothing but serious. In his first two professional seasons, Brault carried a 2.61 ERA with Baltimore's A-level farm teams, and in February 2015 he was the Player To Be Named Later in a trade with Pittsburgh. He split 2015 between High-A Bradenton and AA Altoona before joining AAA Indianapolis in 2016.
On July 5, 2016, Brault made his major-league debut. He struck out five and allowed two runs (one earned) in a four-inning no-decision. He only pitched in eight games with Pittsburgh, putting up a 4.86 ERA, and opened this season back in Indianapolis, where his clubhouse antics earned him a reputation.
"He's probably the weird guy of the team," Indians pitching coach Stan Kyles said. "Great competitor but he's got a weird side to him. He's great, the guys love him and he's really the king comedian of the team."
McDermott said Brault's personality manifests itself in unique ways.
"He learned how to cut hair and gives all the guys haircuts hair in the clubhouse," McDermott said. "He's a little kid in a man's body, that's it."
Brault said he's come into his own in Indianapolis's diverse locker room — he's shared space with players from the Dominican Republic, Venezuela, Lithuania and even South Africa.
"It's really cool that we all have the freedom to kind of be ourselves," Brault said. "And yeah, I'm a bit of a jokester, I make inappropriate jokes all the time, but I love it and it's fun and we have a great time with it."
Considering his teammates' far-flung origins, as well as the fact that Brault's played for nine different teams since being drafted, maybe it's fitting his latest band is called the Street Gypsies. They only play in the offseason — it's difficult to book gigs when the band's lead singer is playing baseball — but they're successful enough to have a San Diego House of Blues performance on their resumes and their cover of Led Zeppelin's "Hey Hey What Can I Do" has more than 32,000 plays on SoundCloud.
Maybe Brault's weirdest decision is the one he didn't make. He could've given up music to play at a baseball powerhouse, or he could've given up baseball to attend a more established music school.
Instead, like any rock star, he rebelled.
"How many kids do you know that would turn down a Division-I scholarship to a place like USC just because the major wasn't there?" McDermott said. "Most kids do whatever they can to play ball, and they let the academics figure themselves out. That's not the way Steven is. … That's why I think he's going to make it as a professional ballplayer."
Or maybe he'll make it as a singer whose slicked-back hair and honeycomb-covered arm aren't hidden by a baseball uniform.
"We're sorry he didn't stay [at Regis]," Davenport said. "We think he could've been rich and famous and a superstar as a singer, but, you know, he went to do the athletic thing. I guess it didn't work out too bad for him."