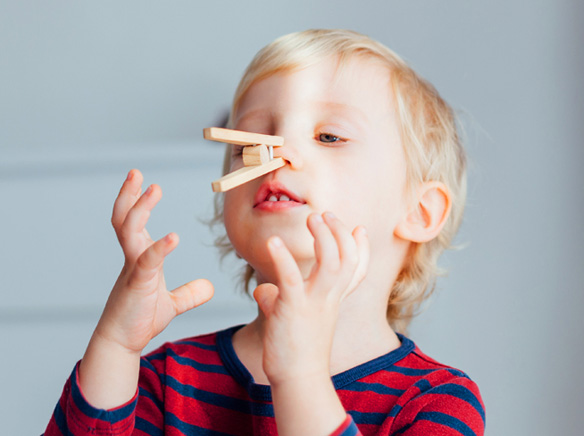 Crayons, small blocks, peanuts and beads—all are things that Dr. Corrie Clay, a board-certified pediatrician affiliated with Sharp Grossmont Hospital, has removed from kids' noses. One of those noses, wedged with a pebble, belonged to her preschool son. "Children are naturally curious," she says. "They just want to see what will happen."
Crayons, small blocks, peanuts and beads—all are things that Dr. Corrie Clay, a board-certified pediatrician affiliated with Sharp Grossmont Hospital, has removed from kids' noses. One of those noses, wedged with a pebble, belonged to her preschool son. "Children are naturally curious," she says. "They just want to see what will happen."
For toddlers, the act of stuffing objects up their nose helps them learn. But for parents, this common phenomenon seems more like a natural disaster. Can their child breathe? Does it hurt? Can it travel to their brain?
The good news is that these incidents are rarely dangerous. As long as the object is removed in a timely manner, everyone lives to tell the (somewhat embarrassing) tale. But parents should keep the following in mind when faced with a loaded nostril:
Don't let it linger.
Although objects in the nose are not an immediate problem, they can cause irritation or infection if they stick around.
Hide the batteries.
Batteries, including the alluring "button" variety, can cause damage to the lining of the nose. The results are even worse if the battery is ingested.
Be mindful of magnets.
They seem harmless, but magnets—in the nose, ears or intestines—pull toward each other and can cause damage.
So the big question is: Can the parents remove the object themselves? Dr. Clay advises against it. "This may result in pushing the object further in or causing pain," she says. "If a child is showing discomfort from the object, see a doctor or visit the ER right away."
Another common occurrence is for children to stay mum about the lodged object. Parents either learn about it later or discover the object themselves—while the child shows little to no discomfort. In these cases, Dr. Clay is less concerned, and suggests checking in with a doctor. "Often the child's doctor can remove the object," she says, "but sometimes this requires a referral to an otolaryngologist."
Regardless of the circumstance, the most important thing to do is to stay calm. Raising an alarm can riddle a child with anxiety, making the situation far worse. "Relax," says Dr. Clay. "Lots of children do this—including mine."
This article features experts from Sharp Grossmont Hospital. For more health stories visit www.sharp.com/news.