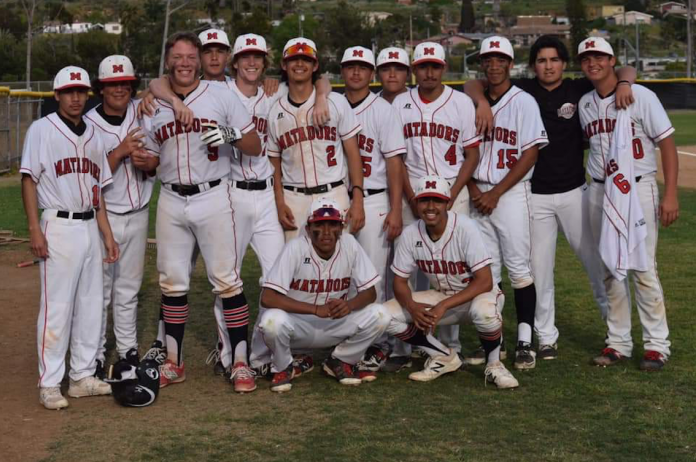 Santana High senior Brandon Glowacki and Steele Canyon High senior Billy Tellous were selected as the Players of the Year for their respective Grossmont Conference leagues, it was announced last week.
In addition, Helix High junior Jordan Thompson and Valhalla High junior Joseph Ingrassia were named Pitchers of the Year in their respective leagues.
Glowacki, a first baseman, was the Player of the Year in the Grossmont Hills League, a circuit loaded with talented players, including several Division I college commits. He finished with a .455 batting average for the season with 16 RBI, including a 12-game hitting streak.
Tellous, who finished tied for the San Diego Section lead with 10 home runs this season, was the Player of the Year in the Grossmont Valley League. He was expected to compete in a home run derby featuring county sluggers at Petco Park this past Wednesday and was considered as a possible mid-to-late-round draft choice in this week's Major League Baseball draft.
Thompson, who has already committed to Louisiana State University, finished with a 1.17 ERA this season in 13 appearances on the mount (seven starts) compiling a 3-1 record (one save). He struck out 32 batters in 50 innings. The Highlanders won the Hills League banner for a third-consecutive season.
Ingrassia, meanwhile, became the first Grossmont Conference pitcher to throw a second career no-hitter in 35 years when he spun a gem against Mount Miguel on March 23. He finished 8-3 on the campaign, striking out 116 in 65 2/3 innings. He had an ERA of 0.85, allowing 23 runs (eight earned).
All four players were named to the All-CIF San Diego Section's first team.
Helix senior Eric Smelko and Granite Hills junior T.K. Parker was named to the all-section second team.
The Norsemen, which captured a third-straight Grossmont Valley League championship this season, won the San Diego CIF Division III championship by defeating San Pasqual, 6-5, on a one-out single by Ryan Perot to cap a two-run rally in the bottom of the seventh inning, giving Valhalla its second-ever section baseball crown.
Grossmont (Division I) and Mount Miguel (Division V) also reached section title games but lost.
Chambers, Williams, Venzor are leading gems on softball diamond
Granite Hills High junior Staci Chambers and El Capitan High junior Alexa Williams were both named to the All-San Diego CIF Section first team, it was announced on Saturday.
However, it was Steele Canyon senior shortstop Jessica "J.J." Venzor who was named the Player of the Year by the coaches in the Grossmont Hills League. She hit .477 this season with eight home runs and 23 RBI, along with 34 runs scored.
Williams was the Player of the Year in the Grossmont Valley League for the 8-0 league champion Vaqueros, batting .568 with nine home runs while also going 6-3 in the circle with a 2.33 ERA.
Chambers (14-4, 1.28 ERA) was named Pitcher of the Year in the Hills circuit for the 10-0 league champion Eagles. She hit .383 with eight home runs and 32 RBI on the year, as well.
Helix freshman Sophia Ramuno was announced as the Pitcher of the Year in the Grossmont Valley League. She finished with four wins and a 1.81 ERA with 75 strikeouts in 69 1/3 innings.
Grossmont senior Samaria Roope (17-7 record, .387 avg., 10 HR, 40 RBI) and junior Catalina "Kati" Contreras (.511 avg., 10 HR, 33 RBI) were named to the all-section second squad, as was Granite Hills junior Bailey Wallace (.376 avg., 13 doubles).