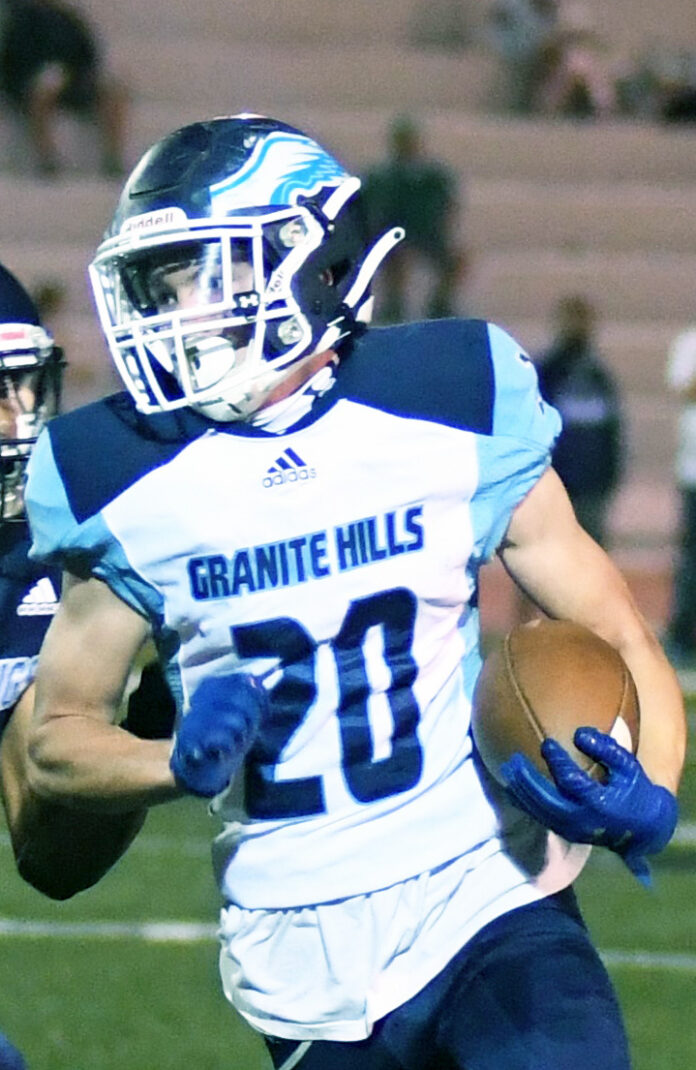 The San Diego Section football playoffs kicked off with 12 East County entrants. Eight remain in title contention entering this weekend's divisional quarterfinals.
The Helix Highlanders were the lone Grossmont Conference team to receive a bye to the second round. Of the remaining 11 teams that participated in last Friday's opening round, seven won to advance.
Division I
Three of the four East County teams entered in the division remain in title contention. At least one team is guaranteed a berth in the semifinals.
Ninth-seeded Grossmont defeated eighth-seeded Steele Canyon, 17-14, to meet top-seeded Helix (6-3) in Friday's quarterfinals. The winner advances to the semifinals on Nov. 19.
The Foothillers (4-7) snapped a two-game losing streak to advance to meet the Highlanders in reversing a 23-10 Grossmont Hills League loss to the host Cougars the previous week.
"Execution and finishing each individual play will be the key to making a successful playoff run," Grossmont head coach Chris Holmes said. "We know we will play with tremendous effort, but we must take advantage of opportunities and we need guys to rise up and make plays."
That is essentially what happened last Friday.
Grossmont was the first to strike with a 60-yard interception return by senior Christian Espino to take a 7-0 halftime lead. Steele Canyon (3-8) tied the playoff contest, 7-7, in the third quarter on a short scoring run by junior Major Givens and went in front, 14-7, on another Givens TD run before the visitors closed out the game with 10 unanswered points.
Senior quarterback Trenton Giles tied the score on a seven-yard run, followed by a 32-yard field goal by senior Joe Garcia in the final 40 seconds of regulation play for the game-winning points.
Giles finished the game with 214 passing yards while senior Giovanni Burns caught seven passes for 126 yards. Senior Ryan Rodieck had three receptions for 37 yards while senior Elijah Williams had four catches for 41 yards.
Steele Canyon limited the visitors to just three rushing yards on 15 attempts, forcing the Foothillers to find success through the air.
Giles connected with Burns on one occasion for 53 yards while Rodieck had one 23-yard catch. Williams logged one 22-yard pass-grab.
The Grossmont defense limited Steele Canyon to 64 passing yards but had more difficulty containing Givens, who rushed 27 times for 247 yards. As a team the Cougars piled up 256 rushing yards.
Senior Nathaniel Gills had three catches for 62 yards to account for the bulk of the team's passing yards.
Junior Adrien Chargualaf keyed the Steele defense with nine tackles, including seven unassisted stops. Senior Leon Gillis had one interception.
Helix defeated Grossmont, 29-14, in a league game on Oct. 22. The winner of Friday's quarterfinal meets either fourth-seeded La Costa Canyon (5-5) or fifth-seeded El Camino (6-5) in the semifinals.
Tenth-seeded Granite Hills, which finished at the bottom of this year's Grossmont Hills League standings, will play at second-seeded Madison after recording a 31-14 upset win at seventh-seeded Oceanside last Friday.
The Eagles (5-6) snapped a cumulative four-game losing streak with the first-round playoff win. The East County visitors employed timely defense and offense in eliminating the Pirates (4-7).
Granite Hills head coach Kellan Cobbs said his team was looking forward to the challenge of playing its way up the playoff ladder.
"We have a tough road to a championship but as a young team we are excited for the challenge," Cobbs said.
Cobbs said his team's assignment against Oceanside was to slow down the passing game and get to the quarterback. On offense, the Eagles had to handle senior Jason Mageo, who Cobbs called "a very good linebacker."
The game tipped in the Eagles' favor early on as Joaquin Thomas Jr. blocked a Pirate field goal attempt and junior teammate Easton Peterson returned the ball 80 yards for the game's first touchdown.
The Pirates fought back on a nine-yard scoring pass from Max Mullen but the visitors proceeded to build a 24-7 lead into the fourth quarter. The hosts trimmed the Granite lead to 24-14 but junior Zak Darling scored his second touchdown of the game on a school-record 95-yard breakaway run to seal the playoff win for the Eagles.
Thomas also rushed for a touchdown while the Eagles tacked on a field goal for an early 10-7 lead.
"It was a good win," Cobbs reiterated. "Oceanside is a tough school and tough place to win. Our defense did a great job of getting to the ball and forcing turnovers. Our offensive line stepped up big in the second half."
Madison (8-2) handed Granite Hills its first loss of the season, 34-14, in a non-league game on Sept. 3. Friday's winner advances to meet either third-seeded Lincoln (6-3) or sixth-seeded Eastlake (8-3) in the semifinals.
Division II
The ninth-seeded Christian Patriots (6-4) will play at top-seeded Mira Mesa (6-3) after eliminating the eighth-seeded San Diego Cavers (8-3) by a score of 31-28 in a first-round game last Friday.
Junior quarterback Jake Davila passed 20-yards to junior Joey Merritt with 43 seconds to play to provide the winning margin. The touchdown was the third of the game for Davila, who completed 15 of 19 passes for 206 yards.
Davila also rushed for 56 yards and scored twice to have a hand in five touchdowns in the game.
The Patriots, who scored 18 points in the first quarter to get out to a fast start and closed the game with 13 points in the fourth quarter to earn the road victory, withstood a 401-yard rushing barrage by the Cavers.
The upset win was among five in the first-round of the playoffs.
Division V
El Cajon Valley slipped into the playoffs as the No. 10 seed and promptly upset No. 7 Army-Navy Academy, 21-14, last Friday. The Braves (3-8) advance to Friday's quarterfinal matchup at No. 2 Mission Bay (8-2).
Junior Kal-el Gordon rushed for 164 yards and scored one touchdown while sophomore Omar Jaimes scored on a two-yard run and senior Daniel Jacobs scored a defensive touchdown on a fumble return to account for El Cajon Valley's three touchdowns.
The Braves defense came up big with three sacks, one interception and four fumble recoveries. Jaimes led the team with nine tackles.
Senior Ruben Cosio tacked on three extra-point conversions.
Mountain Empire received the No.9 seed and dropped a 19-0 decision at No. 8 Crawford (4-7) to end its season at 4-7 overall.