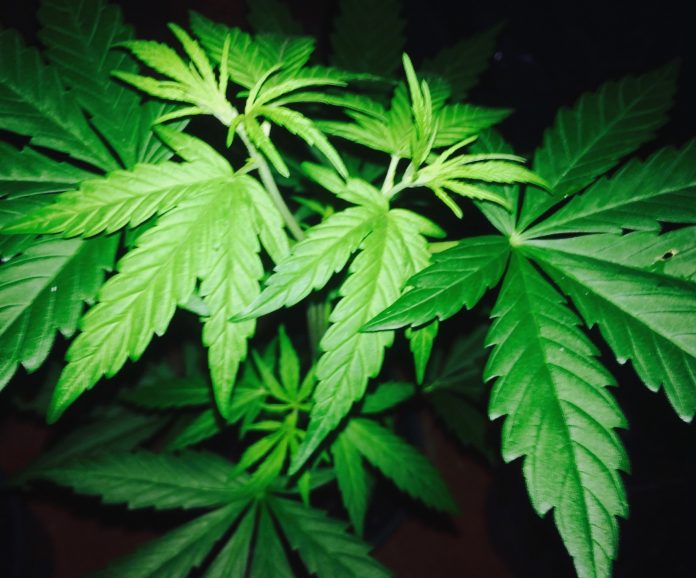 Since the state of California legalized recreational marijuana sales in 2016, municipalities throughout the state have established local cannabis business regulations. On July 27, Santee held its sixth public meeting since city officials first started discussing how to roll out cannabis policy.
City of Santee Finance Director and City Treasurer Tim McDermott enumerated steps in the process to move forward with a regulatory agreement. First, he said, a vote should be held to determine whether council would proceed with a regulatory agreement. Then, city council would need to vote on which version of a regulatory ordinance to approve.
The June 22 ordinance, version 'A' was presented alongside a newer version 'B' which incorporates Community Benefit Agreement information. The newer version would allow the city to charge cannabis business owners unspecified fees which may expire when a local commercial cannabis tax is established.
McDermott said the key word is 'may' and that the second version was intended to give City Council some flexibility in negotiated agreements.
If the regulatory measure passed a city council vote, McDermott said, council could then decide whether to submit a tax measure to voters on the November 2022 ballot.
Public comments on whether or not to pass the regulatory measure which would allow cannabis businesses to set up shop included a cautionary tale from Eric Wiese, a Santee resident who has spoken against cannabis businesses in the city since the possibility was first raised in 2021.
"You're on the verge of approving four cannabis dispensaries in the city and I predict if you do so, you're going to have a bunch of hyenas descend upon you, a bunch of trial attorneys," Wiese said and cautioned elected officials against approving anything that could potentially lead to a lawsuit in the event a resident is involved in a driving accident due to cannabis use.
Any tax revenues gleaned from cannabis businesses, Wiese said, would go "up in a puff of marijuana smoke" as the city spends taxpayer dollars to offset the cost of cannabis-related lawsuits.
Former Santee Mayor Jim Bartell said he has personal experience helping permit over 20 dispensaries across California and supported ordinance 'A' which essentially grants more leeway to cannabis businesses.
Last year, Bartell said, he was instrumental in Gov. Gavin Newsom signing State Bill 311, commonly known as 'Ryan's law' into legislation. Ryan's law is named for Bartell's son who wanted an alternative to fentanyl for pain relief due to terminal pancreatic cancer and asked his father for help obtaining medical marijuana in his final days.
"I'm here to support ordinance 'A'. A dispensary in Santee would not be a problem for our residents. There's been no law enforcement issues in any of the 40-plus dispensaries throughout the San Diego region," Bartell said, and would represent an opportunity for law enforcement to shut down illegal dispensaries while providing owners an opportunity to seek legal means of operation.
There are churches in Santee located next to liquor stores which provide flavored vape products, Bartell said, with "no concern from the opposition" as well as smoke shops which he said contribute to lung and liver cancer.
Cannabis-related lawsuits like the ones Wiese described due to personal injury are "stories that never came to fruition in the cities that have adopted them," Bartell said.
Lynda Marrokal said legal dispensaries would provide a safe place for customers to obtain cannabis where underage customers would not be allowed to enter, unlike illegal dispensaries.
"You can't go and hang out in a dispensary parking lot,
you have to have your license, there's security, you have to go through a medical detector. You have someone talking about suing people but what about drunk drivers? There's a lot more deaths in alcohol than marijuana," Marrokal said, although she did not supply statistics to support her anecdotal statement.
Council Member Rob McNelis said he is absolutely more in favor of option 'B' as it "gives the city council the ability to maneuver quickly should we find something needs to be tweaked" without having to go back out for a two-thirds vote with the citizens. He made a motion to approve the mitigated negative declaration as a first step but was not seconded before discussion ensued on the dais.
Council Member Laura Koval said her opinion has changed since the city first began holding public hearings for potential cannabis businesses.
"This has been a learning process for me and we can clearly see recreational use laws are evolving at state level but may also be changing at the federal level. Our job is to be prepared. I reviewed Concord, Corona, Contra- Costa County, Antioch, Lathrop, Ceres and Riverbank; I also researched community agreements after they went live and found there were some lessons learned," Koval said.