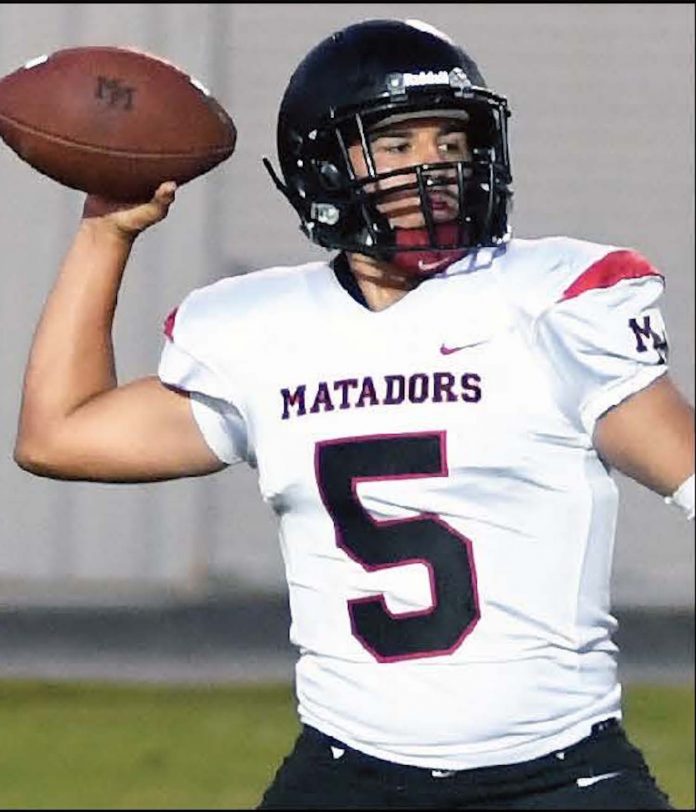 The high school football season's second week of play featured some memorable performances by East County teams.
Grossmont 44, West Hills 3
Senior quarterback Justin Brown passed for 194 yards and two touchdowns while also rushing four times for 41 yards and another score to lift the host Foothillers past the Wolf Pack last Friday in the season opener for both teams.
"We played really well and I enjoyed seeing our players excited again about the team and their school," Grossmont head coach Tom Karlo said. "It was a great night."
Brown, who led the Foothillers with 235 total yards, completed 16 of 21 passing attempts while junior Trenton Giles completed nine of 13 attempts for 82 yards with two touchdowns.
Juniors Nathan Acevedo (six catches, 100 yards) and Jawad Rivera (four catches, 29 yards) both caught two touchdown passes.
Grossmont racked up 472 total offensive yards in the victory. Acevedo led the Foothillers with 169 all-purpose yards, adding 69 yards on punt returns, while senior Robert Tucker tacked on 81 rushing yards and one returned one punt 32 yards.
Acevedo averaged 34.5 yards on two punt returns.
Defensively, seniors Kyle Zoellner and Blake Keeling both had fumble recoveries while senior Matt Knight and sophomore Brayden Armstrong each had one sack.
Junior Joseph Garcia tallied 14 kicking points on five successful point-after-touchdown conversions and three of four field goals, including a long of 42 yards.
Grossmont kicks off Grossmont Hills League play this Friday at undefeated Granite Hills (2-0). Kick-off is 7 p.m.
The Eagles are coming off another commanding victory after defeating visiting El Capitan, 48-21, last Friday.
Senior quarterback Justus McComb threw three touchdown passes while rushing for a pair of scores to lead the Eagles, who have outscored their opening two opponents 104-28.
McComb's first TD run was set up by a fumble recovery by junior Zach Burton. Junior Angel Almazon caught two of McComb's touchdown passes, including a 67-yard sideline catch and carry.
McComb also passed four yards to senior Matt Keeley while junior Jaquayle Hodges and senior Austin McVey scored on short running plays.
Xavier Peace broke the goose egg for the Vaqueros (0-2) on a 97-yard kick-off return while quarterback Savigon Yokley later scored on a zigzag 22-yard run.
El Capitan has been outscored 83-33 in two games.
Monte Vista 35, Valhalla 0
The Monarchs kicked off defense of their Grossmont Valley League championship with a shutout win against the host Norsemen.
"It was a good win for us," Monte Vista coach Ron Hamamoto said. "We ran the ball well — 313 yards rushing and five touchdowns — and played good defense with a shutout and three interceptions. We look forward to a very good West Hills team. It's great to be playing again."
Senior Lamonta Jenkins keyed the Monarchs, who will visit West Hills (7 p.m. kick-off), with 125 rushing yards.
Mount Miguel 21, El Cajon Valley 13
The Mount Miguel Matadors started out 1-0 in Grossmont Valley League play after defeating host El Cajon Valley, 21-13, last Friday.
Senior quarterback Jacob Laverdiere earned offensive player of the game honors for the Matadors by rushing 26 times for 206 yards with two touchdowns and one two-point conversion. He also completed eight passes for 91 yards for a team-leading 297 total yards in the game.
Senior Joseph Castillo, who had two interceptions, earned honors as the defensive player of the game for Mount Miguel, which hosts Valhalla (0-2) on Friday at 7 p.m.
The Matadors led, 7-6, at halftime before out-scoring the Braves (0-1) by a 14-7 margin in the second half.
Mount Miguel rolled up 351 yards in total offense. Junior Ruben Hernandez had 11 carries for 54 yards and one rushing touchdown while senior Daelen Hayden caught six passes for 72 yards.
Junior Jayden Barnett led the Braves with 128 all-purpose yards on 100 receiving yards and 28 rushing yards while senior Joe Malone topped the team with 149 total yards on 121 passing yards and 28 rushing yards.
Barnett led ECV with two touchdowns in the game — one rushing and one receiving. Malone threw one touchdown pass and one interception. Malone also led the Braves defensively with 10 tackles.
Freshman Eric White had one fumble recovery for Mount Miguel while sophomore Yasir Blair had one interception for El Cajon Valley.
Senior Clarence Johnson averaged 27 yards on two kick-off returns for the Braves while Castillo punted twice for a 34-yard average.
El Cajon Valley plays a non-league game at Sweetwater High School on Friday (6:30 p.m. start).
Santana 49, Kearny 16
The Santana Sultans — the runner-up in the 2019 San Diego Section Division IV championship game — kicked off their shortened 2021 season with a 49-16 non-league win at Kearny High School last Friday.
Junior Kayvion Jones rushed for 160 yards and scored three touchdowns while Michael Richter rushed for 118 yards and scored twice to pace the visitors. Senior receiver Jared Forster caught nine passes for 140 yards and one touchdown while senior quarterback Drew Temple completed 11 of 20 passing attempts for 181 yards and one touchdown.
Santana (1-0) hosts El Capitan (0-2) in a Grossmont Valley League game on Friday (7 p.m. kick-off).
"I am glad to see the kids out there playing and having fun," Sultans coach Tim Estes said. "The win was bittersweet because of a car accident that took the lives of two young people after our game.
"This year we are not playing for a league title. We are focusing on each and every game we get to play."
Mater Dei Catholic 19, Helix 2
In another non-league game last Friday, visiting Mater Dei Catholic shocked the sixth-ranked Helix Highlanders, 19-2, to drop the Scotties to a surprising 0-2 start.
Junior Christian Washington keyed the hosts with 109 rushing yards but Crusader quarterback Trevor Appelman tossed three TD passes to air out the victory.
Helix accumulated 166 rushing yards, including 52 by senior Aleandro Van Holten, but just 15 passing yards in the setback.