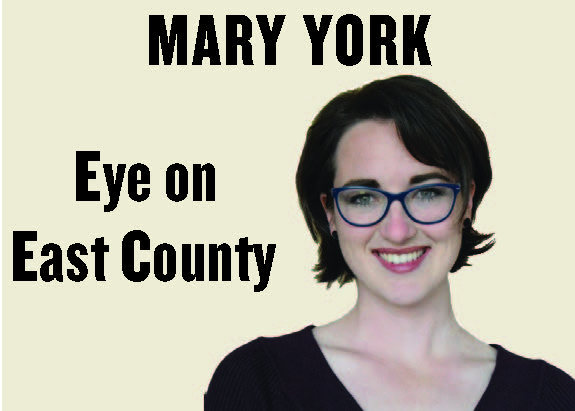 My family has been getting together every third summer for as long as I can remember. All of Dad's siblings come into town in early July, right as San Diego's June Gloom is wearing off, cousins in tow, and we make a week of it.
We always stay at my grandma's house, a pretty place built and bought in the sixties right outside of La Mesa. It's spacious but still a tight fit for the seven adults and twelve cousins we manage to squeeze inside each reunion summer.
It gets harder and harder to meet up, though. The cousins are all grown up now, save one still in high school. Several are married or have serious Significant Others. One even has kids of her own. Everyone works. No one has time. Obviously, we don't all fit in the house anymore.
But tradition is tradition, so last week 26 of us ended up at Grandma's house for a series of dinners – some of us crashing afterward on the living room floor or the couches in the study like the good old days, others driving themselves to their respective abodes around San Diego County.
I stayed at Grandma's with the out-of-towners.
Not much has changed in the family reunion routine in the 20-plus years we've been doing this. Mornings happen slowly, with cousins, aunts and uncles dragging themselves out of bed at different paces to greet the warm East County sunshine with a cup of coffee or orange juice. The only difference is that now the cousins join the adults out on the patio to look at the flowers and listen to the breeze rustling through the canyon instead of sitting on the floor of the den to watch Cartoon Network or black and white cowboy reruns.
"We visited the winery," my aunt tells me as we sip our coffee under Grandma's patio awning. "The one your dad's family owned along the coast."
My cousin pulls out her phone to show pictures from their recent road trip.
"We saw Great-greatgrandpa's town, too!" she says. "They've turned his house into a bed and breakfast."
Our family is really into ancestry. The Yorks can trace their roots back to the early 1700s. There is a lot of color in our family tree – some Tories, a one-eyed Frenchman, Swiss almond farmers, and a man named "Pleasant."
I know so much about my deepest family roots, but very little about the branches from which I shoot off directly. In the last year, I have made a concerted effort to figure out who my parents, aunts and uncles were when they were my age. What were they like in high school? In college?  How have they changed?
Last year, when I visited my New England relatives for a short weekend in the middle of "peak week" fall foliage, I mined my uncle for stories about my dad. When my mom's high school friend came to San Diego for a week, I got her to recount her adventures with my mom.
Who exactly were these people who raised us?
The quest is ongoing.
When the last cup of coffee has been finished and the sunbeams get heavy and hot, we head inside.
In the past, we have hiked up Cowles Mountain or ventured through Mission Trails when the family comes in. Sometimes, we have found ourselves in downtown La Mesa for breakfasts or brunches. On occasion, we have even taken Grandma to the Aubrey Rose Tea Room for a proper ladies' day. But since most of the extended family is landlocked, we spend a lot of time at the beach, joining the swarm of other East County residents fleeing the summer heat waves for salty ones.
Sometimes it's Imperial Beach, sometimes it's Pacific. Sometimes it's Coronado for a bonfire, s'mores and kickball (and drinks on the deck of the Hotel Del).
One of our uncles – the one who always hums "Bali Hai" when someone mentions the beach – taught all us cousins how to body surf 15 years ago and La Jolla Shores is the best place to do it. Parking is a nightmare and the beach is always crowded, but the water is clear and blue-green and the rocky terrain makes for a unique California paradise.
Later in the day, we go to the cliffs to have a picnic dinner. Even though most of us are well into our twenties and thirties, climbing down the cliffs to poke at sea anemones and catch crabs is still somehow fascinating. Then we all plop down on the lawn and watch the sun go down, stretching its golden fingers across the silver sea as water roars over the rocks below us.
This summer, as the sun set across our conversation and empty picnic plates, I watched in silence, studying the faces of my family.
In some ways, we haven't changed at all – some of us are still chatty, still klutzy, still late to everything. Some of us turned out exactly how we expected them to – some jet-setting, some world-conquering, some kind.
But we have definitely changed. We are different people than the kids who would run around Grandma's lawn playing "dinosaur" and eating popsicles. The people sitting on this picnic blanket have chased dreams and lost friends. They have had broken hearts and broken headlights, built futures only to be asked to start all over again. They have experienced the first taste of life beyond childhood in all its bittersweetness and you can see it on their faces, lying just beneath the surface – age.
For the first time in the decades of this tradition, I realized what a privilege it was to have parents and aunts and uncles who made a priority out of keeping the cousins together.
Our family, like any other, has not been without squabbles. There have been ruffled feathers and hurt feelings. Very few of us share the same religious or political convictions (especially now that the cousins are all grown and have minds of their own). And, certainly, not everyone agrees on what to do with the one week we all have together. But our parents set the pattern of not letting those things come between us.
All this searching I have been doing to find out who my parents were at our age, I get to watch first hand with my own cousins and siblings.
Let me tell you, once you realize you have front row seats to the miracle that is life, the world becomes a stage and everyone on it is their own captivating story, an unfolding drama, an adventure.
East County is made up of a lot of small towns. When I used to cover high school sports in the area, I would be amazed at the generational nature of the community. Parents and grandparents would show up to homecoming – three generations that had all attended the same high school. What a blessing it must be to have families so close. Mine has always been spread out, far away save for every third summer.
One day we'll each have kids of our own who will be chasing each other with sticky hands and popsicle sticks. I hope our kids get to know each other the way we did. Family is a link to a shared past, a piece of where you come from. But they are also a pair of steady arms to support you where you're going. You can change and grow and venture far away and rest assured that family will always be waiting for you when you come home.
Time will take us where it wants and our parents' big summer reunions may become impossible. But maybe we will start our own.