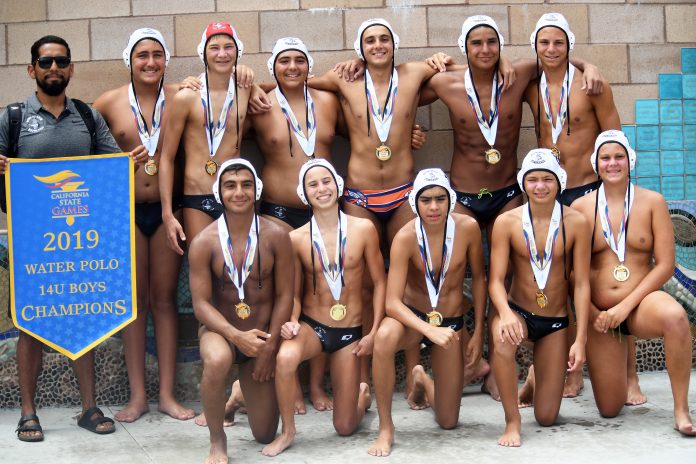 Kent Houston is entering his 35th year of coaching water polo at Valhalla High School. Highlights along the way include winning 10 San Diego Section championships and producing one Olympian and two USA national team players.
It's been an illustrious coaching career, and one that's not quite finished.
"I want to coach two more years," Houston, 65, said during a break in a summer tournament with his offseason Sons of Odin club. "We graduated 14 of 15 last season and I could have retired with that group. But I really liked the freshmen and sophomore class we had and I want to see them through. It's a good group to be around."
Valhalla finished 20-11 in 2018, advancing to the San Diego Section Open Division playoff bracket as the No. 7 seed. The Norsemen concluded the season with losses to second-seeded Bishop's (18-9) and third-seeded La Jolla (9-7) in the double-elimination bracket.
"We did well," Houston reflected on last season's showing. "The final game we played against La Jolla, we were in the game until the last two minutes."
Valhalla has regularly been counted among the section's top teams. The Norsemen finished 24-5 in 2017, 17-10 in 2016, 25-8 in 2015 (as Division I runners-up), 20-12 in 2014 and 20-11 in 2013.
While under Houston's direction as a head coach, Valhalla has won six CIF boys water polo championships: four in Division I from 1994-96 and 2000, plus two Class 2A titles from 1990-91.
He's won two more section titles with the Norsemen as an assistant coach and collected a pair of Division II swim titles in 2003 and 2005.
In an amazing run, Houston coached Norsemen squads to the Division I finals eight consecutive seasons from 1994 to 2001, recording runner-up finishes in 1997-99 and 2001 besides winning four section titles. 
He said there's no comparison to winning a CIF championship.
"Just getting to the CIF championship game is enjoyable but winning CIF is the best feeling in the world," he said.
Brett Ormsby competed in the 2004 Athens Summer Games while Mike Allen and Doug Sutherland, both 1987 VHS grads, both made the U.S. national team in 1988.
Both Allen and Sutherland were two-time CIF champions with the Norsemen (1985-86) and two-time high school All-Americans.
Ormsby returned home to guide Cathedral Catholic to four CIF championships from 2012-15 as a coach.
Houston said coaching is what keeps him coming back.
"The kids keep me young, they keep me enthused," he said. "It's so much fun to watch them progress, and not just as players but as people."
The Sons of Odin club program (formerly Norse Polo) fields teams in the 14U, 16U and 18U boys divisions, drawing players primarily from Valhalla High School.
This summer's group has started to connect the dots after qualifying for the upcoming USA Water Polo National Junior Olympics in the 14U and 16U divisions and winning the 14U division at last weekend's California State Games.
The 16U team placed runner-up in its division at the Coronado Summer Classic held July 6-7 at Coronado High School.
Houston said the offseason program is worthwhile, especially for new players in terms of helping to establish fundamentals and strategy.
"When the high school season starts I don't have to teach them how to egg-beat or body positions," Houston said. "They already know what it's about."
Houston said that offseason tournament place-finishes are not the focus of the club program. "It's not about winning or losing but getting better at what we do," he said succinctly.
The upcoming high school season will hinge heavily on that philosophy.
"We're going to be very, very young," Houston admitted. "We'll have one senior, 10 juniors, two sophomores and maybe a freshman goalie on the roster. "My first goal is to always win league but Steele Canyon (CIF champions in 2017-18) graduated nobody, so they're going to be strong. Our goal might be to compete for second place.
"Our second goal is to qualify for the CIF playoffs. We may not qualify for the Open Division this year but I think we have a good shot at being champions in Division I."
Houston serves as tournament director for the annual San Diego Open, the section's largest regular season high school tournament. This year's event is scheduled Oct. 17-19 at various pools around the county, including Valhalla.
Making a splash
Sons of Odin finished 5-0 to win the 14U bracket at last weekend's State Games, capping the three-day tourney (July 12-14 at Coronado High School) with a 13-3 victory against Pacific Polo.
Age-group coach Gerardo Arellano was obviously pleased by the team's performance.
"We beat everybody there," Arellano said. "It was a good tune-up for the Junior Olympics. I'm proud of them."
Arellano noted the group has improved noticeably since the start of the current club season.
"They key has been working hard four days a week, trying to implement character in these boys," Arellano explained. "Last year we were like the 20th seed in San Diego; this year we moved up to ninth in Junior Olympic qualifying.
"Our eventual goal is to be top four in San Diego in the next two years."
State Games
The Helix-infused Waterdogs finished fourth in the 16U girls division while the San Diego East County Aquatics placed fifth in the 14U boys division
Sons of Odin finished 2-1 in 16U boys pool play but were seeded third out of the division on a tiebreaker. The East County-based team won all three of its playoff matches to finish in fifth place despite posting a 5-1 overall record.
Sons of Odin's 18U boys team finished 2-3 in the State Games tournament, defeating Desert Valley Aquatics, 15-6, in its final game on Sunday.
This year's State Games division champions included Sons of Odin (14U boys), Southern (16U boys), South Coast Red (18U boys), San Diego Shores (16U girls) and Coronado (18U girls).
The Junior Olympics are the largest age-group water polo tournament in the nation. This year's 50th annual event is scheduled July 20-23 for 12U-18U boys teams and July 25-28 for Girls 10U-18U and coed 10U and 12U teams.