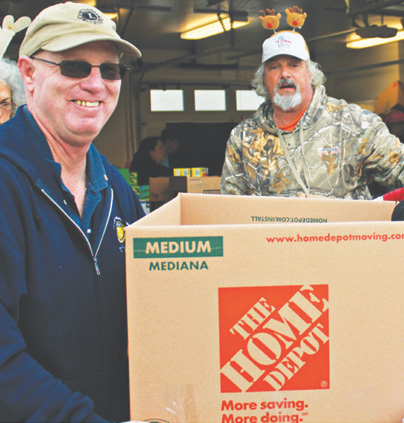 Giving hearts and actions best describes the annual El Cajon Valley Host Lions Club and Leo Club Christmas Basket Food drive with Saturday, Dec. 21 as the delivery day to 100 families chosen to receive the hams, vegetables, and canned goods.
"Brand new to the poverty scene and don't know how to deal with it," said event chairman, Roy Collura, describing some newer families to the list of recipients.
Hoban Management provided the meet-up spot and stored the provisions. Past president, Don Anthony, said the preparation meetings were not just work but an opportunity for the members to "clown around" while doing good deeds.
The Leo Club, youth branch of the Lions Club, was 13 strong with 15-year-old sophomore, Zahara Almosawi, of El Cajon Valley High School showing up for her second year of the food drive. "Families are sometimes in tears," she said. 
The Salvation Army partnered with the Lions with food donations and providing the names of needy families. Deliveries this year encompassed Jamul, Lakeside, El Cajon, Spring Valley, Santee, and Flinn Springs. Mike Raney, teacher adviser for the Leo Club, said this is the best event every year.