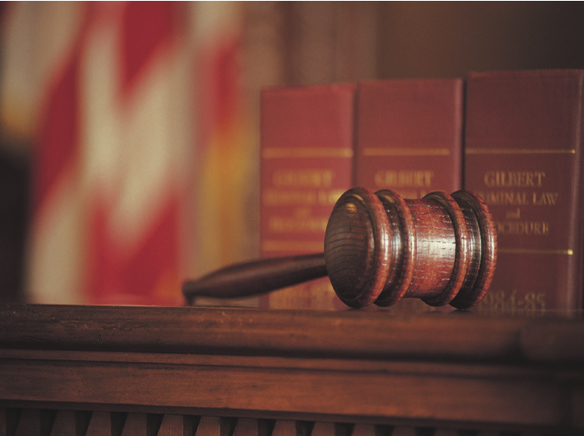 The first preliminary hearing to be conducted remotely with attorneys and witnesses all on video in El Cajon Superior Court was held April 15.
"It actually all worked out very well," said Deputy District Attorney J. Clayton Carr, who appeared on a video screen.
Judge Daniel Lamborn conducted the 2 1/2 hour hearing for Shane Ryan Felix, 34, of Lemon Grove, whose attorney Kelsey Hathaway also appeared on video.
Felix wasn't physically there either, but he  watched the proceedings on video from a room at the central jail.
All of the county courthouses are closed due to the outbreak of the coronavirus, but certain hearings with deadlines have been conducted in the last few weeks.
"It's the first preliminary hearing in El Cajon history that was done remotely," said Carr.
The judge's clerk, court reporter, and a sheriff's deputy were inside the courtroom. Five witnesses were called, all of whom appeared on video from other locations.
Groups with more than 10 people are banned after a public health emergency was declared following orders by county public health department and Gov. Gavin Newsom.
Sheriff's detectives testified about deputies approaching Felix's residence in the 2100 block of Camino De Las Palmas on Jan. 9 at 6:18 p.m. after someone called 911 to report a man who had threatened to commit suicide.
Three deputies made contact with him, but Felix removed what looked a revolver from inside his jacket.
All three deputies fired shots, wounding Felix multiple times and he was taken to a hospital.
Detectives testified about what deputies told them about the shooting. One deputy who fired shots has worked for the sheriff's department seven years, while the other two deputies have worked for five years.
The officers who fired the shots were not called as witnesses.  Felix had lived in the Lemon Grove home with a relative, who may have made the 911 call.
At the conclusion, Lamborn ordered Felix to stand trial for exhibiting a firearm in the presence of an officer, three counts of resisting an executive officer, and felon in possession of a firearm.
Felix was convicted of arson in 2018 and also being intoxicated in public.
Carr said Felix faces up to 25 years in prison if he is convicted. A trial date was set for July 20.
He pleaded not guilty to all charges and remains in jail on $250,000 bail.
After he was wounded, Felix was believed to have been arraigned in his hospital bed. His exact wounds were not discussed at the April 15 hearing.
Felix reportedly did not waive his right to have a speedy hearing, which resulted in the remote hearing being held.
•••
A man suspected of killing Jeffrey Quirino, 17, in 2016 in Spring Valley, will have a preliminary hearing on June 10.
Jeffrey Gomez Lopez, 27, appeared on a jail video camera before an El Cajon Superior Court judge on April 13 in which attorneys also appeared on video remotely.
San Diego Police arrested Lopez on Sept. 2, 2019, on a case of burglary and grand theft. Lopez was charged with murder on Sept. 16, 2019, and he has pleaded not guilty.
Sheriff's deputies responded to a call of men fighting on May 23, 2016 at 4:31 p.m. in the 8900 block of Delrose Avenue in Spring Valley.
A passing motorist had already taken Quirino to a hospital, but he later died of his injuries from stab wounds.
Lopez has pleaded not guilty and he remains in jail without bail.
The case was investigated by sheriff's homicide detectives and the East County Gang Task Force.