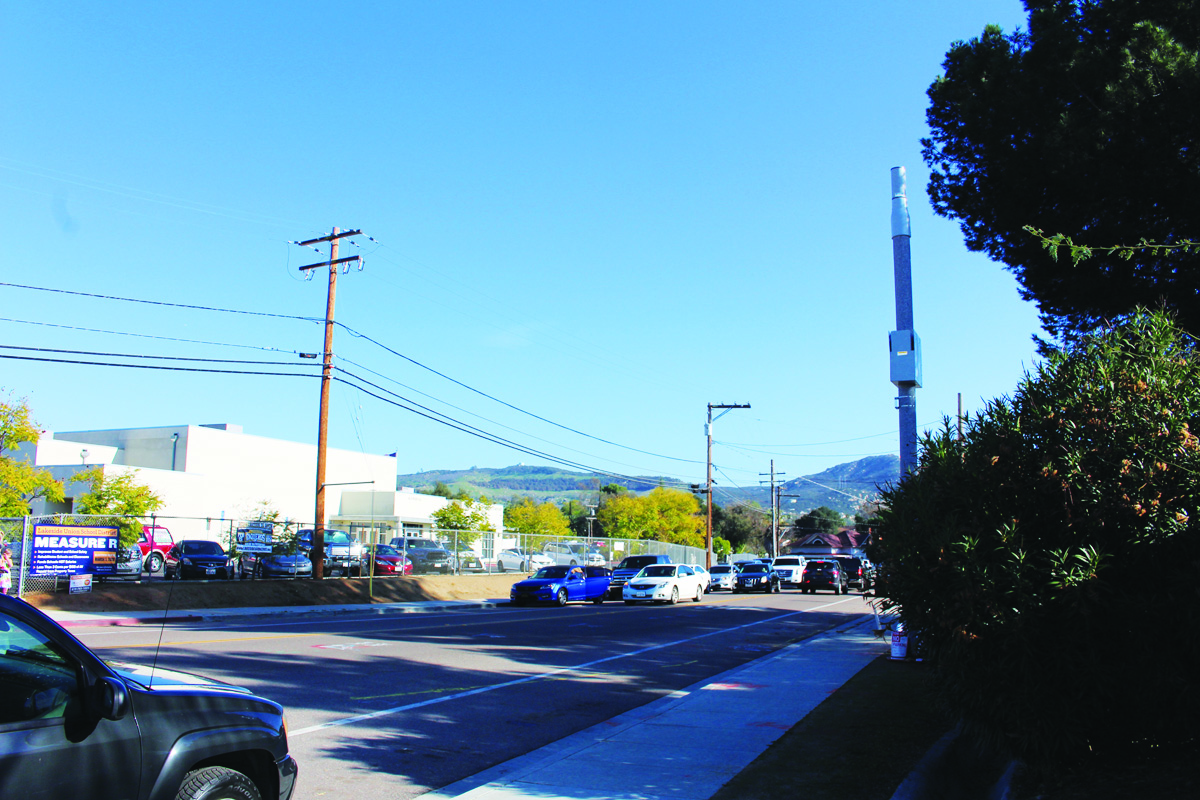 An August 2019 San Diego County ordinance requires a 300-foot setback between small cellular towers and local schools, but that didn't stop AT&T from erecting a 4G tower within 150 feet of Lakeview Elementary School in Lakeside.
The permit for the tower was approved in April 2019, prior to the county ordinance taking effect.
However, Lakeview parent Philip Claessens is part of a growing movement of local parents who are fighting to have the recently installed tower removed. He and other parents claim it was installed last week through a loophole and has the potential to harm young children with exposure to radio waves that have not been fully researched.
"We found out, with a little bit of research, that our (county) District 2 representative Dianne Jacob approved the tower in April so, because it was done before this ordinance, there's nothing illegal about it. It is only a 4G tower but there are plans to make it 5G, and there just isn't enough research on what that will do to our children. We definitely don't want that tower 150 feet from our kids' school," Claessens said.
He said that contacting Jacob and asking to have the tower removed has led to a dead end as Jacob claims the county has no say in where the tower is installed.
"I'm hearing a lot of complaints from parents and others about this tower and I completely understand their concerns. The problem is that the Federal Communications Commission since 2018 has handcuffed our ability to regulate the placement of these towers. It's another case of federal government overreach and the county and other local land-use authorities are fighting it in court. I encourage residents to join me in this battle and contact their federal representatives, and to urge them to restore land-use authority back to our communities," Jacob said.
In 2018 the Federal Communications Commission enacted several reforms, including legislation that removed local authority to deny wireless deployments.
An AT&T representative said that CTIA—formerly known as Cellular Telecommunications Industry Association—is actually the driving force behind the installation of 5G towers throughout the United states.
A CTIA press release states that:
"Small cell deployments will escalate rapidly from roughly 13,000 deployed in 2017 to over 800,000 cumulatively deployed by 2026, according to the analysis."
Lakeside Union School District Superintendent Andrew Johnsen said the school district was unaware of plans to install the tower across from Lakeview Elementary school until the trucks arrived on site and the district began receiving phone calls from concerned parents.
"There has been a lot of learning for us in this process. We've been working with Supervisor Jacob's office and found out that some of the laws are governed by the FCC so the county is limited in saying where the towers should go. It seems to me to be too close to the school," Johnsen said.
Johnsen said they are communicating with Jacob to work out how the district will be included in future discussion of planned tower locations so they can work with the Lakeside Community Planning Group on an earlier warning system and a cohesive plan.
Meanwhile, Lakeview parent Amanda Spirz is taking Jacob's suggestion to push for change at the federal level to heart and has established an online petition that has seen over 2,000 signatures collected over the past week.
"AT&T and the FCC have directly and indirectly decided to place this tower at a ridiculously close range to our children who will serve as lab rats. Shame on them," Spirz wrote.
"Once you start researching, you realize all the possible risks," Claessens said.
He believes AT&T should take the tower down.
"Our group wants to see them do the right thing and take it down. They should recognize that the ordinance was put in place for a reason. They don't need to put this one right by a school.  Show some common sense," Claessens said.
The group plans to hold an awareness rally in front of the school on Thursday at 3:30 p.m. and is planning to present their concerns to the Lakeside Community Planning Group on March 3.
"We're trying to rally as many people as possible and trying to encourage people to plan what they're going to say so it is effective.  We're starting from the smallest levels and working out way out while continuing to write and call as many people as we can. We're not going to go down without a fight," Claessens said.